It's great to look back at key points and prepare for the coming year as we approach a new calendar year. My last company's webinar on "Top Ten Considerations for 2023" was an amazing success. Craig Focardi, Celent Banking Analyst, and Principal, delivered a great webinar that covered the topic. It was a stunning penalty kick that won the world cup for the rest.
Qlik hosted a webinar titled "Top 10 Data Trends and BI Trends for 2023" in this spirit. Qlik is a name I know both from my work in marketing data and analytics and my time at Dresner Advisory Services. This resonated with me as a marketer, who considers himself to be a "marketing technologist" (to borrow Scott Brinker's terminology). Marketing now has more technology budget than IT, and benefits more from high-quality BI, data and analytics than any other function.
Qlik's Senior Director for Global Market Intelligence Dan Sommer presented a webinar using my favorite "top 10" format. (As always, a tribute to David Letterman who popularized this format). It was set up with great "environmental factors", including data and analytics, changing world order, and "key catalysts". He also included a thought-provoking "AI–threat or opportunity" segment. Machine Learning (AI) and Business Intelligence are game-changers. Howard Dresner, the "father" of BI, was my mentor back in the early days. I also worked as an analyst for his team. It's amazing to see newer concepts paired with data, BI, and analytics. They have all lived up to their promises and are now well past the hype phase in many ways.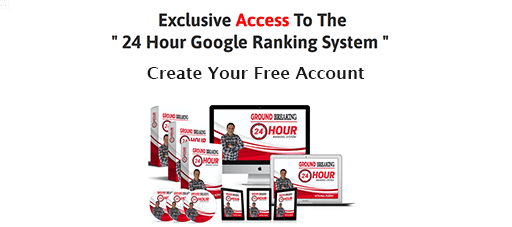 Dan's webinar focused on some key themes, such as calibration for crisis. This includes both decision-making and integration. Key themes like governance and precision of information and data were also highlighted. These are his top ten data trends and BI for 2023
Supply Chain Disruption meets Real-Time Data Given the urgent need for real-time and more accurate information, we must consider hyper-connectivity and the impact of non-human/machine generated data, including the Internet of Things (IoT), as well as the enormous impact real-time data will make. Interesting data from IDC: 60 percent of all organizations will have streaming data. It's not "if", it's "when". This is very timely considering the recent SCM disruptions around the world that we have all seen and experienced.
Decision Velocity At Scale: automation does not mean that there is no place for the "human" role. This includes reviewing data to support decisions and taking action to shorten this decision cycle. Dan talked about having a Chief Decision Officer (yes, another CDO than the Chief Data Officer) as well as big data supporting enhanced decision-making. The combination of speed and scale is what I love – being able to do things faster at greater scale means that you can have greater business impact faster. It's what everyone wants – right now!
Optimize across Low- and High Code: tools don't require advanced coding skills and have an easier-to-use interface. They will allow for "code optimization" in short-term, and "auto-generated code" long-term. IDC has some amazing data that shows this is indeed a brave new world that every organization using BI and data solutions should be prepared for.
Human/Machine Arms Race – No, not the rise Skynet and sentient Terminators. Natural language queries and application generation with human language. The rise of Generative Pretrained Transformer 3 and a transition to GPT4. I have had many interesting conversations with AI bots regarding customer experience (CFX) scenarios. It's not Terminators guided by Skynet, that's a movie!
Data Stories That Compel Action: The importance of having the "right information at the right moment" is still paramount. This is due to the rise in data visualization and data storytelling that all connect to action. Automated alerts are built to drive action in a continuous loop. Data storytelling is the "Holy Grail," of data-driven decision making. Every organization should invest in this core competency regardless of its size, industry or data maturity. Gartner has some interesting data: "By 2025, data stories are the most common way to consume analytics. 75% of stories can be generated automatically using augmented analytics techniques."
Market consolidation: Every market grows, there's a lot of new entry, and eventually, it consolidates. Leaders emerge and take share. Laggards fall out. This is the "circle" of life we learned at business school. I have seen it play out in many industries and organizations over my career. This is a huge opportunity for innovators who will survive. Outcomes-based value is the "secret Sauce" (to quote Bill McDermott, former SAP CEO); this is truly music to our ears after many years (decades?)? as a service marketer for captive software and technology companies.
What's New in the Cloud? DeJa'Vu refers to the transition from client/server computing to the Third Platform (mobile computing and big data and analytics as well as social media and cloud computing), as described by IDC. Yes, the old ideas are still relevant in a new context. Dan talked about the "data gravity" shift, and how many of these same issues reappear on the cloud. The classic need to address "people, business and technology" – This slide from Venn diagram has been used for many years (decades?) It never gets tired!
XFabric Holds Connected Governance Together. key concepts are harmonizing increasingly dispersed data (no easy task), synchronizing multiple applications including BI tools and reusing data and analytics assets and building/leveraging and cataloging shared APIs. Collaboration, certification and orchestration are essential. Dan asked me to be "governance", as success in BI and data initiatives depends on both critical governance and data literacy.
AI moves deeper into the Data Pipeline. is probably my favorite Dan's top 10. Yes, there is more automation but still requires human intervention. However, it frees up classic time for more value-added tasks, and shifts personnel. The 80/20 model, which has been long sought after, finally flips. You spend less time looking for wasted data and more time using it to improve analysis and decision-making. This is something we have been saying since the dawn of BI, and probably even before.
The Rise of Synthetic and Derivative Data: data can be derived, aggregated, transformed and synthetic data can come from machine-generated data or via algorithms. This is a major "game-changer", for AI, and an enabler of ML. I hope that dan and his team will offer another webinar on the "future data and BI", as I'll likely be the first to sign up!
Dan concluded with a summary chart that provided both short-term and long-term benefits of each of his top ten Data and BI trends.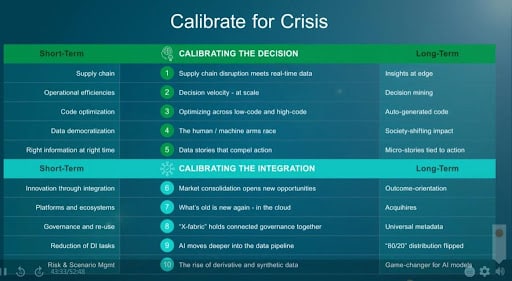 As "Professor Fred", who has given presentations on marketing at conferences and academic institutions and mentored over much of my professional career, Dan's webinar was an excellent example for the "Modern Webinar." This is a concept that Mark Bornstein, my friend and colleague, has evangelized. He considers it an art form. Dan's marketing team recorded the webinar using embedded graphics and visual subheaders (think CNN News). The ON24 webinar console matched the Qlik branding. There were no slides and a live Q&A that generated a lot of questions. Dan promised to return to those people for any questions not answered in real time. Outstanding customer and prospect engagement that shows how Thought Leadership can be properly utilized is key to "executionas an art form" (another favorite of former SAP CEO Bill McDermott).
Register for the on-demand response, which includes a cool eBook about 2023 BI & Data trends eBook. Share it with your colleagues. We are all waiting for great thought leadership and guidance about the future of BI/data!
Marketing Insider Group's Thought Leadership in Action: Top Ten Data Trends and BI Trends for 2023 originally appeared on Marketing Insider Group.
Frequently Asked Questions
What are 3 examples for internet marketing?

Internet Marketing can be described as a broad term that covers online activities to promote products and/or services. Internet marketing includes email marketing, social media marketing, search engine optimization (SEO), pay-per-click advertising (PPC), and website design.
This does not mean you need to spend money to make it happen. There are many methods to generate income, and you don't have to spend any cash. But, the higher your return, the more you will invest in each option.
The most common form of internet marketing is email marketing. This involves sending out emails to potential customers, informing them about your business and its latest offers.
Another popular method to advertise is through social media marketing. Users can interact with family and friends on social media sites such LinkedIn, Twitter and Facebook. Businesses also have the opportunity to reach out to their customers and raise awareness about their products and services through these sites.
Search Engine Optimization (SEO), is a technique that improves the visibility of websites in major search engines. By improving the quality and quantity of relevant backlinks, webmasters can boost traffic to their sites.
Website Design is the art or creating a website that looks good and works well. Website designers create the website's layout and style. Website designers also make sure the website conforms to technical specifications and meets accessibility standards.
Advertising known as Pay Per Click (PPC), is where advertisers place bids on keywords that relate to their products or services. Advertisers only pay for clicks on their ads. PPC ads are usually found at the top and bottom of search results pages.
What are some examples in indirect marketing?

There are many indirect marketing strategies that you can use to promote and grow your business. You might launch a social media campaign asking people to post pictures of themselves using your product. This would help spread the word about your brand.
Advertise in local papers if you are an auto shop owner.
You can also send coupons to customers' email inboxes, or post ads on bulletin boards located in public areas.
Indirect marketing works well because it doesn't cost much money.
You will need patience to promote your business. It takes time for people to trust you.
It is also important to track how effective your campaigns have been. Track the number leads generated by each method.
This will let you know which methods are best for you.
What role does marketing play in business strategy planning?

Marketing is an essential part to any business strategy. Without marketing, there would be no way to tell the world what your company does. Marketing without sales would be pointless. Marketing is essential to any business plan.
However, not everyone is aware of the importance and value of marketing. Many people think that marketing is only about spending money on advertising campaigns. Marketing goes beyond that. Marketing is everything you do to promote your company's brand and position in the market.
Ask yourself these questions when you think about your company: What image am i trying to portray? How will my customers see me? How should I present my self to the world?
If you don't answer these questions you haven't thought of marketing yet.
What are the 5 marketing concepts?

These five marketing concepts are:
Branding – A brand is an image that people have for you. It's what they think of when they hear your name. You need to create a brand identity that is consistent across all media.
Positioning: Your market positioning is what you do. What does it mean to be who you are and why should people care?
Message: This is the message. What is your point What's the point?
Marketing mix is when you combine channels, pricing, or promotions to communicate your message to your target audiences.
How do you measure success?
What is an example of search engine marketing?

Search Engine Marketing is a key component of digital marketing. SEM can include paid-per-click ads, sponsored links and display ads, as well as paid inclusion, search engine optimization, social media marketing (SEO), video marketing, mobile advertising, and more.
What amount should I budget to fund my first digital marketing campaign

It all depends upon the type of campaign that you intend to launch. Your initial campaign costs between $50 and 100.
To get started, advertising space can be bought on search engines Google and Bing. These ads typically cost $10 per click.
Banner ads can be placed at different places on a website that has a website. This will attract new visitors to your site and help them return.
A freelancer can also design banners for your company. Freelancers usually charge between $20-$30 per hour.
After you've created your first ad you can start tracking the results. There are many tools for tracking analytics that you can download from the internet.
You can also manually track data. A spreadsheet can be used to track data about campaigns. It will allow you to record every metric (such clicks, impressions etc.).
After collecting this data, you can determine whether your campaign was successful.
You can also try different methods until one works.
What are the main types?

Marketing is the act or communication of ideas, values and messages to consumers. It is common to hear "marketing" interchangeably used with advertising. Marketing does not just include advertising. Marketing covers all communications that promote and market products or services.
Three key components of marketing are branding, promotion and distribution. Branding refers to how a company identifies itself to its target audience. Promotion is the act that draws attention to your brand by using paid ads, free promotions, or other public relations efforts. Distribution is the delivery of your message to your target audiences. Distribution can be done via traditional methods such as television, radio and print. But, the new technology has made it easier.
Statistics
External Links
How To
Top 10 Marketing Strategies for Affiliates in 2022

Affiliate marketing has become a very popular way for marketers to advertise online.
It allows companies without any upfront expenses to promote their products. Affiliates are paid a commission when users buy the advertised products.
There are two types principally of affiliate programs. They are performance-based and cost per sale. A performance-based affiliate program is one that pays an affiliate after a specific number of sales are made. Cost per sale means an affiliate gets a set amount of money regardless of whether he sells anything.
We'll be discussing the top 10 best affiliate marketing strategies in 2022. We will discuss each strategy and show examples of successful campaigns.
#1. Build a Brand Loyalty Program
eCommerce websites are increasingly adopting brand loyalty programs. These loyalty programs enable customers to accumulate points for every visit to a website and each purchase.
These points can later be redeemed for discounts, rewards, or special offers.
Amazon Prime is one example. It gives members access exclusive deals or perks.
Amazon also has an Associates referral program. The Associates program allows merchants to refer shoppers to Amazon, and they receive a share of the revenue from these referrals.
#2. Use Social Media to Promote Products

Advertising products is easy on social media platforms such Instagram, Twitter, Pinterest, Instagram and Instagram.
Businesses can target potential buyers by running ads. Facebook, for instance, allows advertisers the ability to target specific groups based on their demographics and interests.
Targeting people within a particular distance of a store is also possible.
Twitter is another platform that allows companies reach targeted audiences quickly. Companies can send followers tweets, answer questions, and share their content.
Instagram is similar to Twitter because it allows brands to interact with consumers. However, unlike Twitter, Instagram doesn't allow businesses to send direct messages.
Instead, followers will see posts automatically in their feeds.
Pinterest is another social network that allows businesses and customers to connect. These connections can include asking questions or sharing images.
#3. #3.
Influencer marketing can be a powerful tool to increase brand awareness. Brands have the option to partner with influencers and offer them incentives to post promotional material about products.
This partnership can often involve giving influencers complimentary products to test or review.
These partnerships do not only include product reviews. Influencers can also become brand ambassadors.
Brands can use influencers as hosts to give away products, offer opinions, answer queries, or simply display their products.
#4. 4. Create video ads
Video ads are growing in popularity. Online videos are becoming increasingly popular, particularly since tablets and smartphones have become mainstream.
Advertisers may use video ads as a way to get attention and persuade viewers of their products to click on the links.
YouTube is one the most popular websites where advertisers place video ads. Advertisers can upload short clips up to 60 seconds on YouTube.
Google AdWords, another option, allows you to place video ads. Google uses keywords in order to match ad placements with relevant searches.
#5. Run Mobile Campaigns
Mobile apps are increasingly popular. Mobile apps are becoming increasingly popular as they allow users to download games, view movies, read books, and listen or play music.
People spend hours playing games, reading books, listening to music, and watching movies on their phones.
To drive more traffic to your website, businesses should look into mobile apps.
Apps are available for download on smart devices like iPhones, iPads and Android phones as well as tablets.
App stores are available for Apple iOS, Google Play, Windows Phone, Blackberry OS, and Kindle Fire.
#6. #6.
Shopping carts are an effective method for selling physical goods.
Customers can add items to cart, and then proceed to checkout to complete purchase.
Online shopping carts are growing in popularity. Customers can create accounts to browse product listings and make purchases at online retailers like eBay.
Other online retailers, such as Amazon, integrate shopping carts into their websites. Customers can select the items they wish to order and then pay immediately.
#7. Launch New Product Lines
The best way to attract new customers is with product lines
A press release is usually sent out when a company announces the launch of a new product line.
The release may include information on the new line's features and pricing.
After the launch, the company is free to continue marketing the products.
#8. Develop Cross-Channel Marketing Programs
Cross-channel advertising refers to marketing efforts in multiple channels.
Cross-channel marketing, for example, could include sending emails to subscribers via email list, promoting products through social networks and running banner ads on search engines.
To increase their exposure, some companies use multiple channels.
Some companies, for example, sell their products in brick-and-mortar stores. In addition, they also sell products online.
Some companies may use both channels simultaneously in an effort to increase sales.
#9. #9.
Data analytics helps companies improve business operations and maximize profits. This involves analysing data from different sources to identify patterns and trends.
Analytics can identify problems, evaluate current practices, predict future needs, and suggest improvements.
Analytics tools are able to gather data from many sources, such as web servers and databases.
These tools can be used by companies to better understand the behavior of their customers.
#10. #10.
Every business should be able to satisfy its customers. Customer satisfaction is key to any business. Customers are more likely return for additional services if they feel satisfied.
A satisfied customer is also more likely to recommend your products to others.
Satisfied clients are less likely than others to complain about poor service.
For all businesses, customer satisfaction is a key goal.
This is possible by offering outstanding customer support.
Employees must respond quickly to customer inquiries and address issues promptly.
Fast shipping options are available so that customers don't have too much time before they receive their orders.
Make sure that your website is easy-to-use.
Your site should load quickly, and give clear instructions.
Keep in mind that not all customers are created equal.
Some customers might need extra assistance, while others won't require much effort.
You should therefore tailor your customer service policies to meet individual needs.
This ensures everyone receives exceptional service.
Check out our guide here if you'd like to know how to start an affiliate marketing campaign.
We have covered all aspects of starting an affiliate campaign.
Now that you are familiar with how to launch an effective affiliate campaign, it is time to build relationships and establish trust with other bloggers.
Doing this will allow you to gain experience and increase your credibility.
This knowledge can be then used to your advantage and earn
————————————————————————————————————————————–
By: Fred Isbell
Title: Thought Leadership in Action: Top Ten BI and Data Trends for 2023
Sourced From: marketinginsidergroup.com/content-marketing/thought-leadership-in-action-top-ten-bi-and-data-trends/
Published Date: Mon, 30 Jan 2023 10:00:22 +0000