Disclosure: This content is reader-supported, which means if you click on some of our links that we may earn a commission.
Do you want to skip the read and get right to my top picks? The best WordPress website host for most people is Hostinger and Bluehost.
WordPress is what I use to manage my blog and other sites. Millions of visitors read content and interact with my site each month. Without the best WordPress web hosting, there's no way I could deliver a high-performance experience.
It's different from regular hosting in that your provider is only going to host WordPress on the servers you use. This makes it easier to optimize performance and maintain security because there's only one type of software on it.
So, if you're currently using WordPress or planning to use WordPress for your website, you really ought to invest in web hosting that's made for that platform.
And it's extremely affordable.
Which WordPress web hosting provider is the best? Keep reading for reviews of the top providers I trust. The reviews are followed by a brief guide to help you find a host that makes sense with your goals and budget.
#1 – Hostinger Review — The Best for Cheap WordPress Hosting
Hostinger offers optimized WordPress hosting for as low as $1.99/month. Even at that rock-bottom pricing, it has the essential package of features and resources necessary to get a WordPress site off the ground and looking sharp.
Everything is easy to set up, even if it is your first time getting hosting or using WordPress.
A four-year contract is required to get the best price. So, there is a little bit of a commitment, but the total price tag of four years at those low rates is still well below a single year with other options.
You also save with the free email account, domain name, CDN, and a free SSL certificate that's super easy to enable. Your site will be faster and more secure with hardly any effort on your part.
Hostinger's entry-level plan is not aimed at developers and the like who need to put a big strain on their site. You get 30 GB of storage, two databases, and weekly backups.
The lack of daily backups might not work for some users, but if you don't need to update your site all the time, a weekly backup is a comforting insurance plan.
At the low price, there's obviously no white-glove customer service, but it is still available 24/7/365. Customers tend to review Hostinger's support very well, even if the response time is slower than you get with a managed plan.
There are going to be upsells in the platform, but there's no catch. It's a really great value because Hostinger hasn't cut costs where it counts.
You get a 99.9% uptime guarantee and site speed is reliable for up to 10,000 visitors each month. If you are just getting started, this is more than enough.
And Hostinger has really has optimized the WordPress experience. The LightSpeed cache accelerates your site and works well with most popular plugins.
It's not just increased performance—Hostinger provides a helpful suite of tools to get your site looking professional.
One-click WordPress installation, a site setup wizard, and lots of helpful tutorials. You'll be able to take advantage of free WordPress plugins and themes to improve your site at no cost.
Hostinger has ultra-competitive introductory pricing for all of the WordPress hosting plans they offer: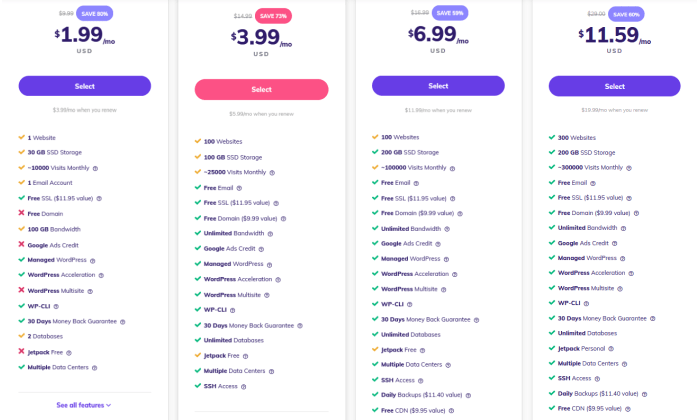 Renewal rates jump a good bit higher than the introductory rate (between $2 more per month to as much as $5 to $7 more on the higher-octane plans), but that has a lot to do with just how deep of a discount they offer. Don't be thrown by the jump in pricing, the full rate is comparable to other shared WordPress hosting.
And, if you snag the best deal by going with a four-year commitment up front, you won't have to worry about paying more for your hosting for a good 48 months.
At the end of the day, if you are looking for a low-cost hosting plan that's optimized for WordPress, Hostinger is a very good option. It's a no-frills plan that covers all your bases and delivers great performance.
You can sign up and try Hostinger risk-free for 30 days.
#2 – Cloudways Review — The Best for Total Customization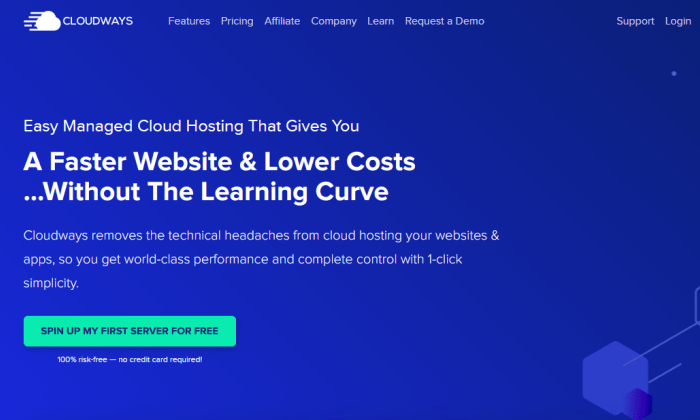 If you've been shopping for WordPress hosting for a bit, you've probably noticed that a lot of providers start to run together after a while. It can be a parade of largely similar options with only slight differences in price, management, or other options.
Cloudways does everything a little bit differently, though—and that could be to your benefit.
This provider's goal is to strike a unique balance between user customization and the stress-free nature of managed WordPress hosting.
It starts with something novel right off the bat. You select the cloud server infrastructure you'd like from five of the top platforms out there:
DigitalOcean
Amazon Web Services
Google Cloud
Vultr
Linode
Each offers at least eight data centers to choose from, sprinkled across North America, Europe, and Asia (with some even having options in Australia, Africa, and South America).
This is just the tip of the iceberg when it comes to customizing your Cloudways package. Each infrastructure option comes with four pre-set pricing packages, but you can easily adjust or reallocate resources after getting signed up (for free).
Plus, all plans are billed monthly for pay-as-you-go pricing, so you only pay for the resources you're actually using and can make plan changes with ease.
There's even an hourly billing option that can come in handy for super short-term site projects and testing endeavors.
Plus, depending on your comfort level with server management, there are a host of ways to fine-tune your hosting experience, including:
One-click backups on demand
Automated backups
One-click application force stop
Varnish cache settings
App web root changes
Supervisord process manager
WP-CLI control over WordPress
Cron job rules and scheduling
You get all of this control, plus deep optimization features for WordPress sites, robust security, and expert support with Cloudways.
Pricing varies greatly based on the server infrastructure you choose, resource levels, and premium options (for DigitalOcean and Vultr). For ease of comparison, here are Cloudways' entry-level plans for DigitalOcean: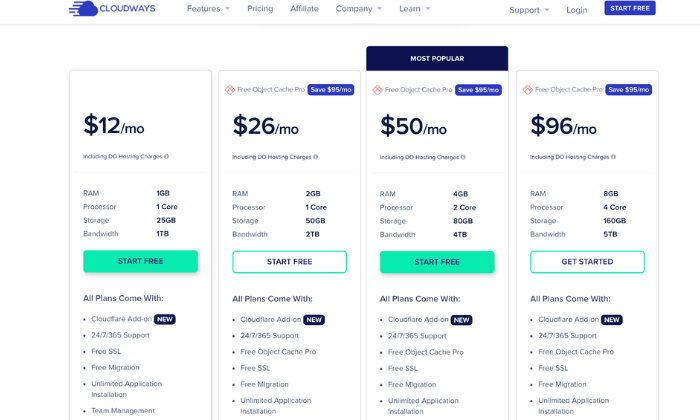 As you can see, you can get started for just $12 per month with no commitment. That gives you more storage and bandwidth than a lot of other base WordPress hosting plans from other providers, while giving you a truly managed hosting experience with extra-fine levels of control on your end as well.
Cloudways isn't for beginners, but if you know enough to handle some server-side maintenance and management, you can really reap all kinds of benefits from this provider. Get everything just the way you want it—without getting a bill that punishes you for customization—by getting started with Cloudways for free. Use promo code NEILPATEL to get 25% off for 3 months.
#3 – Pressable Review — The Best for Agencies, Designers, & Developers
Whether you're designing sites for clients or building their entire marketing strategy, adding web hosting to your service suite is a wise move. You can handle one more thing for your clients (making your services more valuable) and, with Pressable, give them quality hosting while adding more revenue to your own bottom line.
Pressable delivers both managed WordPress and WooCommerce hosting, giving you two options to offer your clients. Whether they need a WordPress site (or multiple) for their campaign or need you to lay the foundation for their web store, you've got them covered.
No matter which web hosting type you need from Pressable, they deliver fantastic speed, uptime, and security with their cloud hosting infrastructure.
And, since their hosting services are fully managed, you get the extra help of free migrations on every hosting plan, true and attentive 24/7 support, and performance monitoring provided by the Pressable team. They'll help you and your clients get the absolute most out of their web hosting.
You can get all the managed hosting bells and whistles from WP Engine, but Pressable is more valuable to those who are designing and building sites for others. For one, you don't get migrations on every WP Engine plan, something that is immensely valuable to client-based website work.
You also tend to get more bang for your buck with Pressable.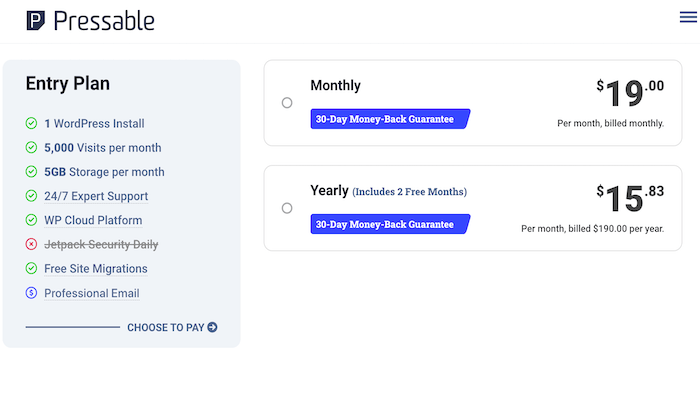 The entry-level plan starts at just $19 per month, and you can get two months free when you prepay for the year. This package supports up to 5,000 visits per month and a single WordPress installation.
For single sites expecting more traffic, you can upgrade to a Personal plan that supports 30,000 visitors for $25 per month.
Pricing continues to rise as your traffic grows and you need more WordPress installations, going all the way up to 150+ installs and more than three million site visits per month. So the platform is built to scale.
If you're selling online on WordPress via the WooCommerce plugin, Pressable has managed WooCommerce packages as well. This service is offered at the exact same price as standard WordPress hosting.
If you need more, Pressable makes it ridiculously easy to scale up. So, none of your clients can ever complain about outgrowing the Pressable hosting you're providing them.
Get to know Pressable's great WordPress and WooCommerce hosting and start delivering a high-quality home on the web to your clients.
#4 – Bluehost Review — The Best for New WordPress Sites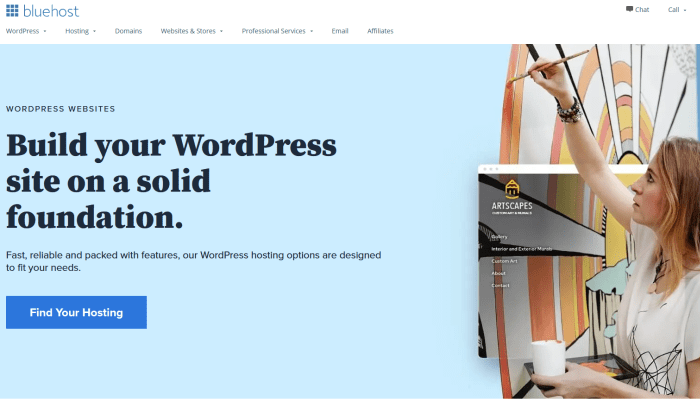 Powering more than 2 million sites across the globe, Bluehost is an industry leader in the web hosting space, especially for WordPress sites. In fact, it's one of the few web hosts that's officially recommended by WordPress.
Bluehost is a great option for anyone building a new website from scratch. When you sign up for hosting, you get a free domain name for a year and WordPress is a one-click install.
Normally a domain name costs $10-15, but your saving time in addition to money. Instead of having to go and register a domain and download WordPress, you can get everything done in a single step.
Plus, the cost of WordPress hosting is about as low as you will find.
WordPress hosting from Bluehost starts at just $2.95/month. You'll have to sign a 3-year contract to get the best deal. If you are always going to need hosting, I say lock in the best discount for as long as possible.
Getting everything set up is really easy. I walk you through the whole process in my post about how to start a WordPress blog.
Trust me when I say you don't need any special skills to start blogging right away.
Navigating around your new WordPress dashboard is fairly straight-forward, but you can reach out to Bluehost support if you have questions. Representatives are available any time of day by phone or live chat.
Lots of the best parts are baked right into the service—a free CDN to boost performance and security and a free SSL certificate is always enabled. You don't have to configure any of it in order to benefit from the faster speeds and safer traffic.
It's easy enough to take advantage of free WordPress themes and find a layout you like. Plus, there are tons of incredible options via the Bluehost WordPress marketplace if you are willing to spend a couple bucks.
Other noteworthy highlights from Bluehost include:
Automatic WordPress updates
Unlimited traffic
50 GB storage
$200 in free marketing credits (Google Ads and Microsoft Advertising)
Securely configure your WordPress login credentials
All of this comes with Bluehost Basic WordPress web hosting, starting at $2.95 per month. For an entry-level plan, 50 GB of storage is a lot. More than twice as much as you get with other plans.
There are no arbitrary limits about traffic, but if your site starts to impact other sites on the server, they may ask you to upgrade to a higher tier plan.
The Plus and Choice Plus plans let you build as many sites as you want, whereas Basic limits you to just one. You will also get unlimited storage (within acceptable use limits, of course) and greater server resources with the higher tier plans.
Or, you can choose to take advantage of either managed hosting plans for WordPress or Bluehost's specialized WooCommerce hosting.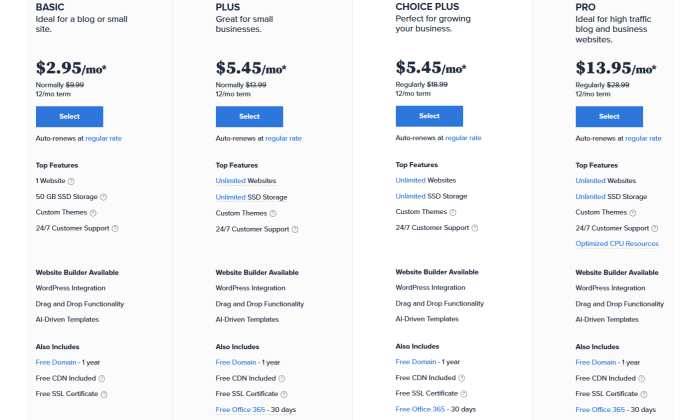 Bluehost's managed WordPress hosting starts at $9.95/month with a three-year contract. The introductory rate is very attractive compared to other managed plans, which is great for getting managed-level service locked in for the near future.
However, it is lacking some features compared to more robust managed WordPress plans, like the ones offered by WP Engine.
But if this is your first site, you shouldn't even be worried about managed hosting. You'll be fine with shared WordPress hosting. Bluehost will get you set up with everything you need at an affordable price.
I really like their online store-specific hosting, as well. It's a great way to get a WooCommerce store set up in a pinch, with its included store builder, preinstalled WooCommerce and Jetpack, one-click install for payment processing, and capability for manual order creation.
Get in touch with Bluehost today.
#5 – WP Engine Review — The Best for Managed WordPress Hosting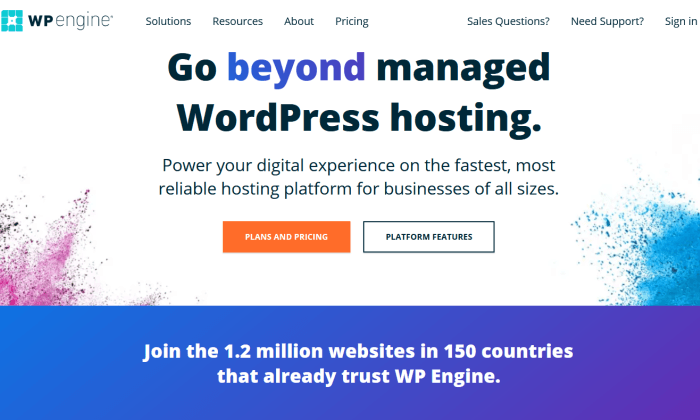 WP Engine is the original managed WordPress hosting provider and still leads the pack in terms of providing concierge service and expert support. The company has also developed a platform full of exclusive tools designed to help you take your WordPress site to the next level.
If you are just getting a small site or blog online, WP Engine is overkill. This is a good option for people with online stores, a bunch of sites, and other complex WordPress hosting needs.
WP Engine allows you to get high-performance sites without having to hire a developer or stress about maintenance.
You'll unlock blazing fast speed, incredible uptime, and best-in-class security without any work on your part.
In addition to optimizing the IT environment, WP Engine will keep the WordPress Core and PHP up to date. The company is constantly monitoring and blocking threats, keeping your sites fast and safe.
WP Engine has a legendary customer service record. The company does not host anything besides WordPress. You are always going to get a rep who knows the platform inside and out and handles relevant issues all day, every day.
With so much taken care of with WP Engine, you have more time to focus on building a great site. 36 premium StudioPress themes are included with every hosting plan.
Normally, that would cost hundreds of dollars, but you are free to experiment and customize these powerful themes as you like.
Some of the other highlights include:
Automatic WordPress updates
Free CDN
Free SSL Certificate
Geotargeted content
Free automated WordPress migrations
Development, staging, and production environments
No other managed WordPress host offers separate dev/staging environments. This is a boon to WordPress developers, as it solves some of the pesky problems associated with one-click staging environments.
Managed WordPress hosting starts at $25/month with a one-year contract. You can also sign up for one month at a time—which some hosting providers don't allow—and it's only $30/month.
Normally, it costs a little more, but the price I'm giving you here includes a discount for being a reader of my blog. So definitely click through the link or remember to use the NEILPATEL20 coupon code at checkout to get the savings.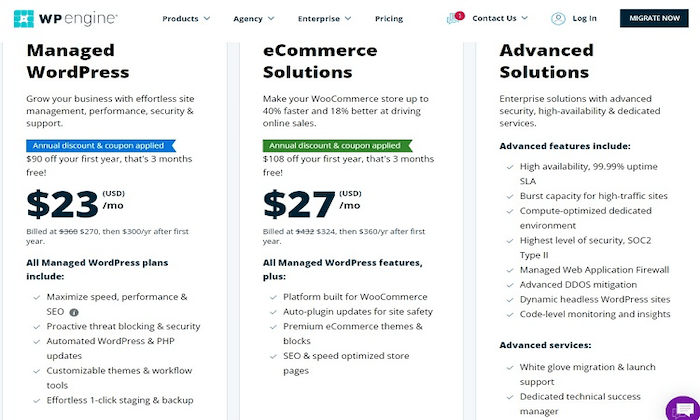 Although WP Engine isn't cheap, there are no skyrocketing rates or hidden charges. However, you can select some extra features for an add-on cost, such as automated plug-in updates for $3 per month or an additional site for $17 per month.
The Startup plan works for one site and comes with 10 GB storage and 50 GB bandwidth, which can handle about 25,000 visits each month. It recently had a minor price drop.
Upgrading to the Professional, Growth, or Scale plans will let you build more sites and host more traffic. At the top end, Scale, you're allowed 400,000 visits each month while getting 50 GB of storage and 500 GB of monthly bandwidth for $218 per month.
There's also a separate track of plans for ecommerce. Those plans scale resources in the exact same way as the standard managed WordPress plans. They include powerful web store features as well. The Startup plan for WordPress ecommerce starts at $27 per month when paying annually.
With the ecommerce option, you receive a platform built to use WooCommerce, as well as premium themes designed specifically for ecommerce. Additionally, the automated plug-in updates I mentioned earlier are included as part of this tier without an extra cost.
For most people, the standard WP Engine plan is everything they need and more. But if you have any expectations about needing ecommerce features, the slightly higher price for this option still provides a good value. Both options have a 60-day money back guarantee. This is my top recommendation for managed WordPress hosting, and I am hardly alone in that opinion.
Make WP Engine your first and last stop for managed WordPress hosting. Sign up for a year today, and get two months free.
#6 – SiteGround Review — The Best Support for Affordable WordPress Hosting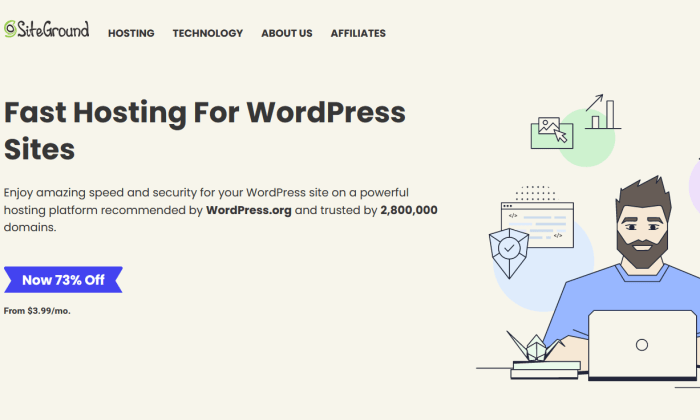 To get the best possible white-glove, rose-petals-on-your-pillow customer service, you have to get a managed WordPress hosting plan. It's an order of magnitude more expensive than shared plans, but you get a level of support that outclasses everything else.
For people that want high quality support, but aren't ready to commit to an expensive managed plan, I suggest checking out SiteGround.
What the company offers is called managed WordPress hosting, but in truth it straddles the gray area between shared and managed WordPress hosting plans. Essentially, you can get a lot of the benefits of managed WordPress hosting at a price that is similar to shared.
SiteGround is officially recommended by WordPress and has consistently outstanding reviews. You don't win two Stevie awards for customer service by accident.
All of their WordPress hosting solutions come with platform-specific support. From assisting with migrations to troubleshooting plugins, SiteGround is ready to help. Customer service is always available via phone, live chat, and tickets.
In addition to solid support, SiteGround takes care of updates, security, and caching configuration that keeps your site fast.
Some of the other features include:
Automated WordPress installation and powerful WordPress starter kit
Free website builder
Free WordPress migrations
Managed security and updates at the server and application level
Performance optimized for WordPress sites
Free SSL certificates
Unlimited free email accounts
SiteGround offers a low introductory rate for all plans, starting at $2.99 per month for a one-year commitment: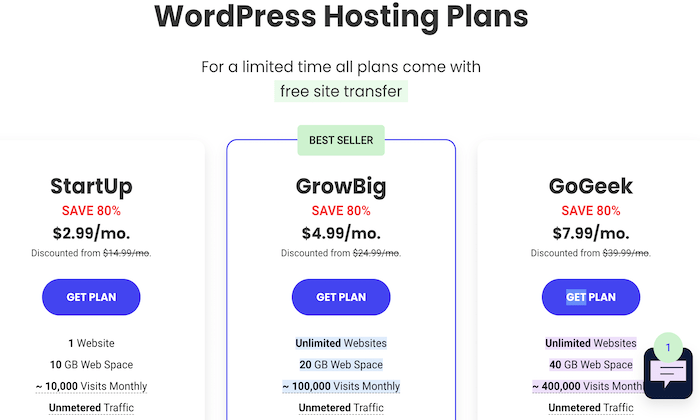 You aren't going to find a more feature-rich WordPress hosting option with as much support as SiteGround's StartUp plan. And, getting it for just under $36 for your first year is a steal.
After the promotional pricing ends, the same plan renews at $14.99 per month. That's a steep increase, but still very competitive considering it's a fully-managed WordPress hosting plan with a lot of great features.
The GrowBig and GoGeek plans can hold their own with other managed WordPress hosting plans. You'll get a staging area, on-demand backups, improved caching, and more resources to power your sites.
During the discount period, the higher-tier plans are an absolute steal as well.
If you aren't ready to pull the trigger on a premium managed WordPress hosting plan, but you still want your provider to handle a good amount of the backend legwork, SiteGround StartUp is a good fit.
The company offers a 30-day money back guarantee.
Try SiteGround today risk-free and see just how good their customer support—and web hosting for WordPress sites—truly is.
#7 – DreamHost Review — The Lowest Day One Spend for WordPress Hosting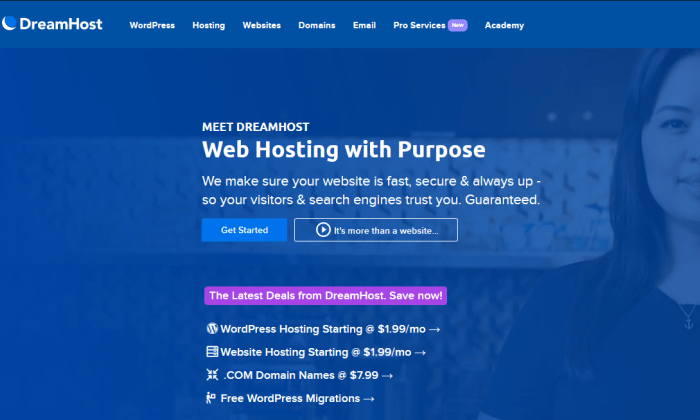 DreamHost, along with SiteGround and Bluehost, is one of the few hosting providers that's officially recommended by WordPress. Unlike the other two providers, DreamHost offers extremely competitive month-to-month rates.
This is really attractive for people who aren't looking to sign onto a long contract in order to get a good price. DreamHost does offer discounts with longer contracts on some plans, but right now you can grab your first month of the WordPress Starter plan for just $1.99.
Another reason DreamHost keeps your day one spend down is that a free domain name is included for the first year. That saves another $10 to $15 right there.
DreamHost also includes domain privacy, which keeps your personal information off the public record. That may cost as much as $15 each year with other hosts.
Bluehost will give you the domain for free, but you don't get as many tools to help you build your site. DreamHost gives you a full website builder.
Get set up quick with more than 200 starter sites built for restaurants, real-estate, fashion, web design, and more. Use the simple drag-and-drop builder to add your content and finishing touches.
DreamHost handles all of the WordPress and security updates and includes automatic daily backups. This is unusual for shared WordPress hosting and saves you the expense of buying a plugin like JetPack to backup your site.
You also get:
50 GB storage
Unmetered bandwidth
Free SSL certificate
24/7 ticket support
Live chat support
Developer access
Free automated WordPress migrations
DreamHost offers a wide range of plans to choose from. In addition to the affordable shared WordPress hosting, the company offers DreamPress, a managed solution, and WordPress hosting on a virtual private server (VPS):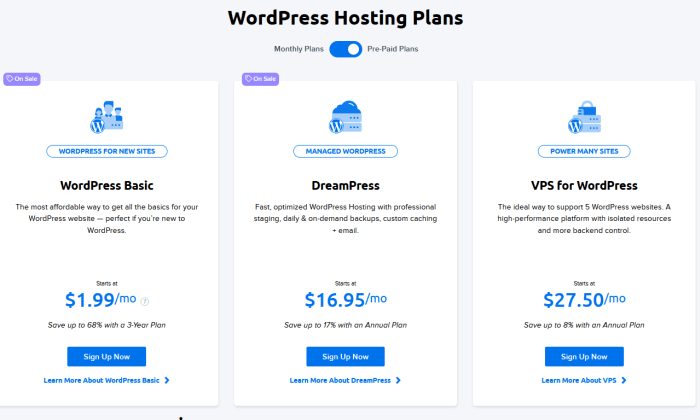 The DreamPress managed hosting solution is a cost-effective no-contract option for people wary of putting down a few hundred dollars to sign up for a traditional plan.
Similarly, the VPS for WordPress plan will work well for people who need more resources and control over their server than a shared plan allows.
The price is competitive across all DreamHost plans, but there's nothing to be anxious about. The company has a 100% uptime guarantee. DreamHost will actually pay you for your troubles if your site goes down unexpectedly.
Plus they offer an unbelievable 97-day money back guarantee. No other host will give you as much time to try their service risk-free.
DreamHost is confident about the quality of service it provides. You can be too.
Get started with DreamHost today for just a few dollars down.
#8 – Nexcess Review — The Best for Budget-Friendly Managed WordPress Hosting
Nexcess has a unique pricing and plan structure that puts managed hosting within reach for businesses which can't justify the spend necessary to get WP Engine.
Plans start as low as $19/month, with the first three months billed at just $13.30 as an introductory offer for new customers.
Nexcess is truly managed WordPress hosting. One of my favorite aspects of the service is that every feature they offer comes with every plan.
With SiteGround, another affordable managed hosting solution, you have to upgrade to get site staging and on-demand backups. With Nexcess, on the other hand, you can move up from plan to plan to get more hosting resources, but you never have to upgrade to access capabilities.
Nexcess takes care of a ton of the tedious maintenance through plugin updates and 30-day backups. Just to note, you only get plugin updates with WP Engine's Managed Hosting Plus plan, whereas Nexcess includes it standard.
Some of the other benefits you get with Nexcess managed WordPress hosting are:
Free CDN
Free SSL certificate
Unlimited email accounts
IThemes Security Pro
Visual regression testing
24/7/365 phone, live chat, and email support
I also want to draw attention to the generous hosting resources. The 15 GB of storage that comes with the Nexcess entry-level plan, Spark, is great for the price and the 2 TB of bandwidth is beyond belief. That's four to five times the bandwidth that comes with other WordPress hosting plans that are more expensive.
And if your site consumes more resources than your plan allows, Nexcess will auto-scale it for 24 hours free of charge. That's time to get in front of a positive trend or weather a random traffic spike without an issue.
As I mentioned, Nexcess has a really flexible pricing structure that accommodates small businesses looking for top performance and enterprise businesses that need excellence every minute.
Let's take a quick look at the most affordable options first:
Since every plan has every feature, you really only need to consider the number of sites you want and hosting resources you need.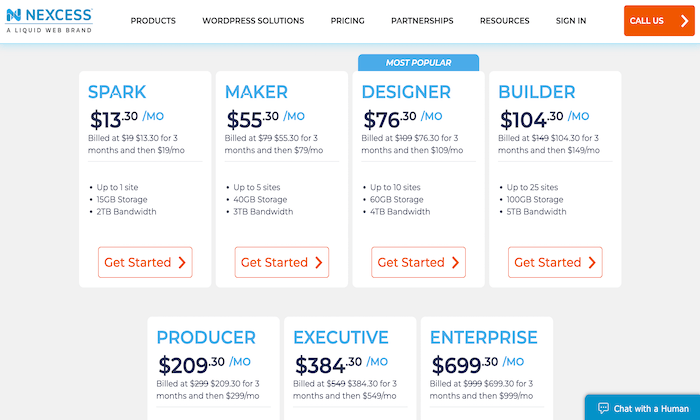 Spark completely outfits one site and comes with everything I've mentioned so far. The Maker plan is good for five sites, increases bandwidth to 3 TB and 40 GB storage. The next plan up, Designer, works for more sites and gives you more storage and greater bandwidth.
In total, there are seven different plans. Whether you have one site or hundreds, Nexcess has a managed WordPress hosting solution to fit your needs.
If you want managed WordPress hosting at a low price, Nexcess Spark is your choice. And, you will be able to stick with the company as you grow.
You won't get all the WordPress tools that come with WP Engine, but you get serious hosting resources and a platform that's been optimized for WordPress. Don't worry about speed, security, or uptime with Nexcess.
Get set up with Nexcess hosting today for less than $13/month. The Spark plan has a free trial, so you can test out the platform risk-free.
#9 – A2 Hosting Review — The Best for Moving an Existing Site to Better Hosting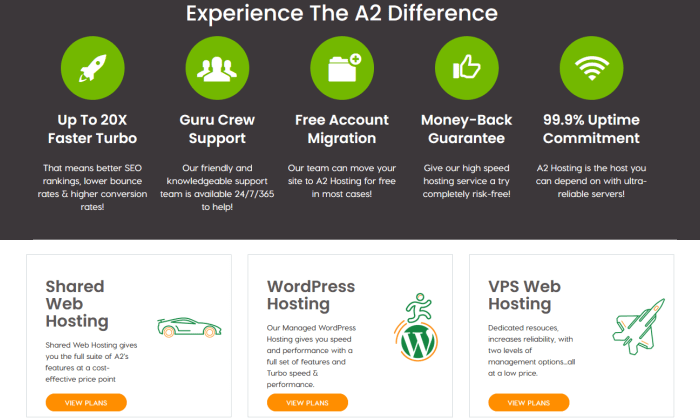 Lots of providers offer "free migrations" to help you move your WordPress site over from your old hosting situation. What this means in reality is that you can use a plugin that automates a lot of the process.
It's not too bad, but A2 Hosting has an actual team of humans dedicated to making the switch.
The result is a stress-free and problem-free transfer. Your site is in a better place now with incredibly fast servers, a top-rated customer support staff, and phenomenal pricing.
A2 is going to work whether you want shared hosting optimized for WordPress or a managed plan that's more hands-off. The account migration is free either way, but you can pick from a lot of different options.
Looking at the shared WordPress hosting plans, it's remarkable how much is included:
100 GB storage
Free SSL certificates
Virus scanning and hack defense,
Ecommerce integrations,
Cloudflare free CDN compatibility
Unlimited email accounts
24/7/365 email, live chat, phone, and ticket support
Yes, I'm talking about the Basic shared WordPress hosting plan from A2. The 100 GB storage is way more than you get with other plans. And unlimited free email? Usually you don't get more than a couple free accounts, if any, with shared hosting plans.
So if you are looking to move your site to a more feature and resource-rich platform, but you don't want to commit to managed hosting, A2 is a very attractive option.
The Basic plan is good for a single site. Upgrading to get additional sites and resources remains cost-effective on A2's higher shared WordPress plans:
One of the benefits of upgrading to Turbo Boost or Turbo Max hosting plans is the increased performance. You'll be able to handle up to nine times as much traffic with A2 Turbo Servers, and your site speed will be up to 20 times faster.
A2's managed WordPress hosting starts at $11.99/month with a three-year contract. It's got a lot to recommend to it, but the renewal price puts it well over solutions like WP Engine.
At the end of the day, A2's managed WordPress hosting just isn't as convenient out-of-the-box as plans from WP Engine or Nexcess. With A2, you'll have to use plugins like Jetpack to accomplish a lot of maintenance that is just handled for you by the other vendors.
You also don't get a free domain name, but if you are trying to move your site, you've already crossed that bridge. There is no reason whatsoever to stay with subpar hosting. A2 will make the transition completely stress free for as low as $2.49/month.
Give A2 Hosting a call today and get onboard with a quality host.
What I Looked at to Find the Best WordPress Web Hosting
Before you can find the best WordPress hosting plan for your site, you must know what to look for as you're shopping around.
Since I've been using WordPress blogs as a major part of my business for many years, I've had to use and evaluate multiple web hosting options.
Now you can launch a WordPress site with any web host, but in this post I've focused on providers that offer WordPress web hosting. Unlike general hosting, which can support any type of site, the plans I am looking at only work for WordPress sites.
The upside is that servers for these hosting plans are configured perfectly for WordPress. Everything about the backend IT environment has been optimized for WordPress in ways that wouldn't work if there were other types of software. This boosts performance and minimizes crashes.
If you want a hosting solution that works for WordPress and other types of sites, I recommend checking out the overall best web hosting services.
If you know that you just want hosting for WordPress, keep reading. I'll walk you through the major criteria you should evaluate in order to find the option that suits you best.
If you want the most affordable option, go with shared WordPress hosting. It's got all the benefits of WordPress-specific hosting at a very low price.
With shared WordPress hosting, you'll still have to do the maintenance and updates in order to keep the site running great.
The good news is that the user interface for maintaining your WordPress is designed for just that. It's going to be way easier than working with something meant for all-purpose hosting.
If you don't want to handle the backend maintenance of your site, then you want a managed WordPress hosting plan.
Your hosting provider will take care of the IT legwork that goes into making your site fast, secure, and easy to use, including:
Automated daily backups
Easy on-demand backups
WordPress Core Updates
Built-in staging area to test sites
Malware scanning and removal
Security updates and patches
Premium 24/7 support
Instead of fussing with plugins to accomplish all of this, your teams are free to spend more time creating killer content.
Understandably, managed WordPress hosting plans are more expensive. For some companies, there's a lot of value in having someone else manage their WordPress. Spending a little more each month on hosting might mean not having to hire a developer.
Plus the customer service that comes with managed WordPress hosting is a cut above. The ability to connect with an expert 24/7 minimizes serious problems and eliminates the need for an in-house WordPress guru.
WP Engine, the original managed WordPress hosting provider, continues to satisfy their customers with prompt and comprehensive service. People are more than happy to pay a premium for the peace of mind and high-performance.
Here's the thing. There used to be a clear dividing line between managed WordPress plans and everything else. Now there is more of a spectrum of services available.
In one sense, this means you need to be aware that "managed" doesn't mean the same thing for every hosting provider.
If you see managed WordPress hosting for something like $10/month, double-check that you are getting everything you expect.
How do they define premium WordPress customer support? Also know that the price might be a low introductory rate that could jump on renewal.
The upside is that it's not black or white. You can get less expensive managed WordPress plans. They might not be as full-bodied as WP Engine, but you can still get some of the essential maintenance off your plate.
Traffic Volume
How much traffic does your website get? For new sites, how much traffic are you expecting?
The answer to this question will definitely have an impact on the type of WordPress hosting solution that's right for you.
A site that has 5,000 visitors per month should be on a different plan than sites with 50,000 visitors per month. Plans that can accommodate 100,000 visitors per month won't necessarily be suitable for sites with millions of monthly visitors.
Some hosting providers give you approximate numbers for the amount of traffic each of their plans supports. SiteGround, for example, gives an approximate number for the suitable number of monthly visitors each plan can handle: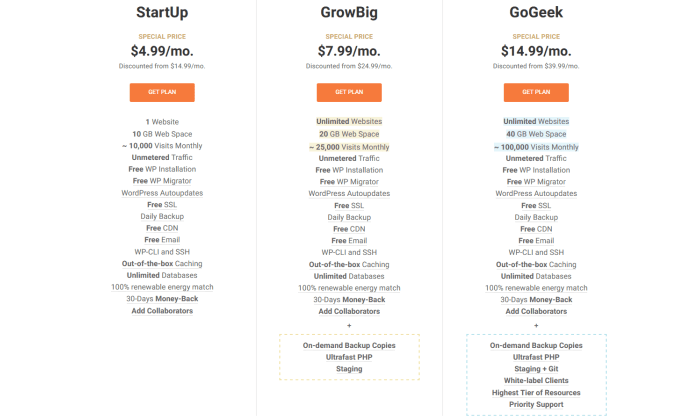 This is pretty straight forward, but what about the shared hosting options that offer "unlimited traffic" or "unmetered bandwidth"?
Shared WordPress hosting from Bluehost, Hostinger, Dreamhost, and A2 Hosting doesn't set any hard and fast limits on traffic.
It's not truly unlimited though, because there are the physical limits of the shared server. If your site gets too much traffic, it will strain resources like CPU and memory usage, which will cause problems for every site on the shared server.
Dreamhost Basic, for example, starts at less than $3/month and comes with "unlimited traffic." You will never get an overage charge if you have too much traffic, but Dreamhost may ask you to upgrade or restrict your site out of courtesy to the other tenants on the shared server.
So shared WordPress hosting is good for small sites, but it may not be enough to power larger, high-traffic sites. If your Dreamhost Basic plan is not enough, you might want to look at one of Dreamhost's other options: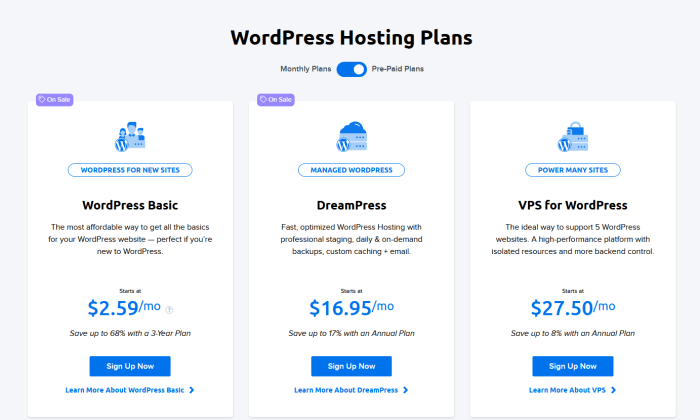 You could opt for a DreamPress plan, which is managed WordPress hosting and more resources. There are three tiers of DreamPress plans, with the top tier built for approximately one million visitors per month.
Alternatively, you could upgrade to VPS for WordPress, which is hosted on a virtual private server. This isolates your site from others on the same server, which gives you more control and your own dedicated resources.
Unlike shared hosting, VPS hosting will not be impacted by traffic spikes on other sites.
VPS WordPress hosting can be a good option if you are extremely comfortable with managing your WordPress backend. If not, I would find a shared or managed plan that fits with your expected traffic.
Speed and Uptime
By getting WordPress specific hosting, you are already guaranteeing better performance than you are likely to get anywhere else.
So what separates the better from the incredible?
SiteGround, Dreamhost, and WP Engine have WordPress specific caching tools that boost site speed. Caching creates a static version of your site and serves it to visitors, which cuts down on the work your server has to do to respond to requests.
Normally, you'd have to install a caching plugin to do this, but most WordPress hosts build this functionality right in.
Another thing to look for is a content delivery network (CDN), which is included for free with some of the plans I've reviewed. A CDN stores images, pages, and other assets across a network of servers distributed around the globe.
Having a CDN will boost speed and make your site more resilient–a single point hardware failure won't jeopardize your site because so much of the content is distributed.
Nexcess, SiteGround, Bluehost, and WP Engine include a CDN with every WordPress hosting plan they offer.
Caching is one of the best ways to optimize your WordPress because it delivers information
Spoiler: you don't have to worry too much about uptime if you pick one of the options I reviewed. They all have phenomenal uptime.
Hostinger, for example, guarantees 99.9 percent uptime for their Single WordPress hosting plan, which starts at $1.59/month. A2 Hosting also provides a 99.9 percent uptime commitment for every plan.
One thing to be aware of, with regards to speed and uptime, is that your site's performance hinges on how well your site is managed. Even with the best hosting environment and configuration, a faulty broken plugin can have a huge negative impact.
The question here is do you want to invest the time and resources to develop in-house WordPress experience, or pay more for a managed plan?
Support
Like everything good on the internet, WordPress sites have their bad days. When something goes wrong, how quickly can you resolve the problem?
Getting timely and quality support is important, especially for users that aren't jazzed about getting into the WordPress backend to fix issues.
One of the benefits of WordPress hosting is that customer service reps really understand plugins, themes, and other common site issues. With non-specific hosting, there is no guarantee the repr is going to knowledgable about WordPress.
You may notice that all of the options on my list include some version of 24/7 support.
But you want to pay attention to the quality and availability of support. Do you get to make support requests via live chat or waiting for email responses. How quick is that email response?
For the shared WordPress hosting plans, A2 Hosting and SiteGround had some of the best customer service reviews.
A2 offers chat, email, phone, and ticket support from hand-selected expert technicians. Any time you have a problem, you are going to get knowledgeable support quickly.
On top of that, A2 provides free site migrations, which is a huge time-saver if you already have a WordPress site and want better hosting.
SiteGround has a similar range of support as A2 and is able to address most issues in under five minutes. Lightning-fast resolution is going to save you a lot of frustration and money.
When it comes to managed plans, WP Engine is in a class of its own. WP Engine techs don't handle anything other than WordPress, and they are true experts of their domain.
Plus, WP Engine knows that support is one of the major reasons its customers stay. You can always count on the company's reps to go the extra mile to ensure everything is working perfectly.
Summary
Which WordPress hosting plan is the best? It depends on what you're looking for.
But my recommendations will definitely help you kickstart your search. Here they are, just to recap:
Hostinger – The best for cheap WordPress hosting
Cloudways — The best WordPress hosting for total customization
Pressable — The best hosting for agencies, designers, and developers
Bluehost — The best WordPress hosting for new websites
WP Engine — The best for managed WordPress hosting
SiteGround — The best support for affordable WordPress hosting
DreamHost — The lowest day one spend for WordPress hosting
Nexcess — The best for budget-friendly WordPress hosting
A2 Hosting — The best for moving an existing site to better WordPress hosting
If you're on a tough budget, Hostinger would make a great choice. You'll have to sign up for a longer contract to get the best price, but there isn't a lower-cost option I trust. I mean 99.9% uptime for 10,000 visitors at less than $2 a month? That's phenomenal.
If you're a new website owner, I recommend the beginner-friendly Bluehost, which gives you a free domain name with your hosting. But if you want managed-level support and total control over your resources and setup, Cloudways would make a better fit.
If you're a designer, developer, or agency looking to deliver quality hosting to clients, Pressable offers fantastic rates for both managed WordPress and WooCommerce hosting, plus you get huge benefits like managed migrations included on every plan.
If you don't want to make a big commitment right away, DreamHost offers you month-to-month pricing. Another great "lite" managed hosting solution is SiteGround. The entry-level plan there, StartUp, is a good midway point between shared and managed WordPress hosting. 
Looking at the managed WordPress hosting plans, WP Engine is the clear overall winner. But if you find it too expensive, Nexcess would be more up your alley. 
Do you think we missed any WordPress Hosting service that deserves to be on this list?
Frequently Asked Questions
How to build an Ecommerce marketing plan?

The first step is to identify what you want to sell. This should include products or services that relate to your business. But, you must also offer enough variety for customers to be interested.
The second step is to determine how much advertising, promotion, and other marketing strategies you will need. Multimedia marketing techniques may be needed, such as direct mail blasts, email blasts or social media.
Once you know how much money you need, you can start developing a budget for each method. If you're unsure which marketing method would be best for your business, you might consider asking a professional specializing in e-marketing. They can help you choose the right method for your company.
Once you have a plan, you can start implementing it. To make this process easier, you can hire someone to do some or all of the work for you.
Start from scratch, you don't have to reinvent the wheel. Use proven strategies that have worked well for other online retailers. Before making any changes, make sure to test it all.
You should never forget that your ultimate goal is to increase sales and profits. Your eCommerce marketing strategy should consider both long-term and short-term goals.
Read our article about eCommerce Marketing Tips if you are looking to increase your sales. We hope these tips help you to achieve success.
What are the most effective digital marketing strategies I can use from my home?

Digital marketing is a cost-effective way to reach customers that spend most of their time online. You can also generate leads through digital marketing.
Your brand can be promoted using social media platforms like Facebook and Twitter. You can also send emails via email marketing tools to prospects or clients.
There are many other ways you can market your product or service using digital mediums.
If you're able to use these channels effectively, it shouldn't be a problem getting started.
What are some examples for indirect marketing?

Consider indirect marketing options that could be used to promote your business. You might launch a social media campaign asking people to post pictures of themselves using your product. This could help spread word about your brand.
Advertise in local papers if you are an auto shop owner.
Sending coupons to customers' E-mail Inboxes and posting ads on bulletin board in public places are two other examples.
Indirect marketing works because it doesn't cost much.
You will need patience to promote your business. It takes time for people to trust you.
You also need to keep track of how effective your campaigns are. You can also measure the number of leads each method generates.
This will allow you to see which methods are most effective for your business.
What is search engine marketing?

Search Engine Marketing (SEM) is one of the most essential components of digital marketing. SEM includes paid advertising, sponsored ads, display ads and paid inclusion. It also includes search engine optimization (SEO), mobile marketing, social media marketing, video advertising, mobile advertising, and other related services.
What makes it so important to identify your brand?

A brand is simply a promise that your company makes to its customers. A brand promises specific qualities and benefits that make your company stand apart from other companies. Your brand is what makes you stand out from other companies in your industry.
A brand establishes your authority and credibility. When prospective customers see your logo, they instantly recognize that your company stands behind its products and services. They trust you because you've earned their respect.
Your brand is also a reflection of your company's culture. Your employees will feel passionate about your brand if they are passionate about your product or services.
Your brand is not just words and images. It's a promise to which your company lives up. It is a promise to deliver value to customers.
There are many things to think about when creating your brand. First, you want to choose a name that clearly describes what your company does. Sweet Dreams Bakery, for example, would be a great name for a bakery. For a software company, DreamSpark Software is the right choice.
Next, you'll want to decide how your brand will be represented. Will you use a recognized symbol? Will your colors match your corporate identity? Will you use logos?
Finally, you'll want to consider how your target audience perceives your brand. Do you present yourself as helpful and friendly? Will you be trustworthy and professional looking? Do you have the ability to make your clients feel confident and competent?
These are all the questions that you should answer before building your brand.
Statistics
External Links
How To
How to get your Google Digital Marketing/E-commerce Professional Certification

Google offers a free course online called Search Engine Optimization (for beginners) This is a great way learn how to optimize your site for search engines like Google.
The course covers essential SEO topics such as page titles, meta tags, internal linking, and site speed. These lessons will improve your website's performance if it already exists.
After completing the course, you'll receive a certificate of completion. This certificate is valid for two years and allows you to add "SEO" to your LinkedIn profile.
When you complete the course, you will also be eligible for 10 CPE Credits. These credits are accepted by most colleges and universities.
Google also provides a paid certification program called Google Certified Partner (GCP). To be GCP certified, candidates must pass rigorous exams and submit evidence of their experience.
————————————————————————————————————————————–
By: Neil Patel
Title: Best Web Hosting for WordPress
Sourced From: neilpatel.com/blog/best-wordpress-web-hosting/
Published Date: Tue, 20 Sep 2022 13:15:00 +0000