Who doesn't want their privacy to be protected? Protecting your customers' privacy is an important priority in today's digital world.
This applies to every business and not just your business. You agree to a privacy statement every time you input data into a website or other service. It protects both the company collecting the data , and the visitor who gives it up.
To ensure your customers' safety and security, it is important to keep your business in compliance with national (and international!) standards. It means that you must have a solid privacy policy ( ) even if your viewers don't notice it.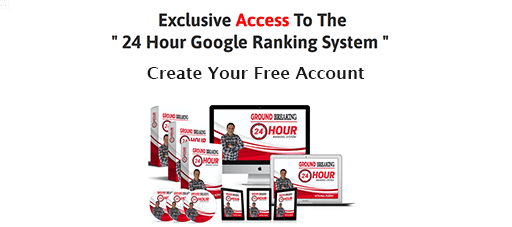 Your company could face heavy fines if it violates the privacy and data collection laws. However, this can be avoided by putting in the necessary effort and resources to create your policy.
Here's an overview from Attorney Aiden Durham, to help you get started.


Quick Takeaways



A privacy policy is required if you collect any information from visitors to your website.


It's not an option. You and your customers must have it.


Privacy laws vary from one state to the next. It's therefore important to ensure that your policy is well-layered and account for any outliers.

Shift4Shop.com says:

This is a key component of a 360deg approach that will make your e-commerce site compliant with both national and international regulations. It includes Terms of Service documents, user consent, and Cookie Policy/Cookie law.

They're correct! You can look professional and trustworthy with your visitors to your website by having a strict privacy policy.

What is a privacy policy?


A privacy policy is a document that is provided to all users of a website where data is collected. You must inform your visitors about the data you are collecting (demographics), the methods you use to collect their data (methods), as well as why.
These are all extremely important. Data collection can be used for customer service, court-ordered research, and general research into website improvements. This information practice extends to sharing your data with third parties such as Google Analytics and your marketing company.
Your privacy policy should also let your visitors know how they can opt out of your services. Everybody has a say in how their data is collected. Visitors need to be able to reach you, the company, to opt out of data collection.
Visitors to your website have the right to request data that you hold for them. To allow them to contact you and get this information promptly, you will need to write and create a protocol.
Privacypolicy.com uses Etsy's privacy policy summary as an example of what to consider when writing your own.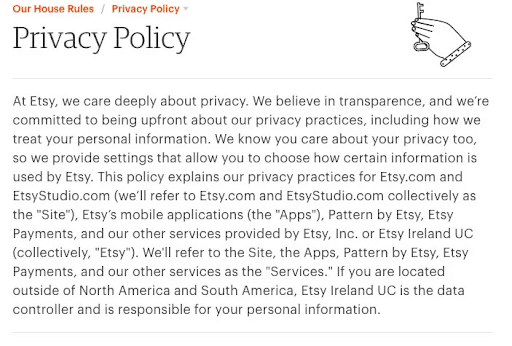 Make sure the reader knows what to expect from your policy. It is important to remind them that your policy cares about their security and well-being. Etsy uses their opening paragraph to soften their brand image.
"We believe that transparency is important, and we are committed to being open about our privacy practices, including how your personal data is treated."
This'We Care About You'sentiment builds trust with people who take the time to read your privacy policy. It also reinforces brand authenticity and loyalty.
Remember that if you work with third-party software or companies to analyze your data, they will require you to have a policy. This is an important point to remember when creating your website.

Who writes a privacy policy?


You now know what content is needed to create a valid privacy policy. But should you be writing it. or is the answer.
You canfind a template online and use privacy policies that you like as a reference. Then, get down to drafting this important legal document. This might be the best option for you if you are a go-getter.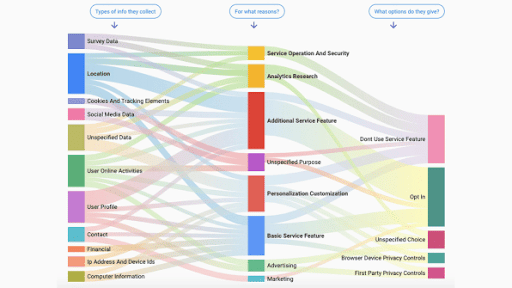 Source: Fast Company

Let's face the facts, your business is probably not in data collection law. If you have the budget, it is worth hiring a lawyer for your privacy policy.
To save some dollars, you don't want your rights to be violated. It can be difficult to write these policies, especially when you account for countries or states that have different laws. A lawyer can help you avoid the hassle of paying large fines if your policy is not written correctly.

Where should your privacy policy go?


This question can have a variety of answers, depending on how you collect data from your users.
If you collect data only from people who create accounts on your website, the place to post your privacy policy is their account creation screen. They are acknowledging their knowledge of your privacy policies and rights by checking the box.
It must appear on the first page of any visitor to your website if you are collecting demographic data or other information. You'll often see the phrase . By using our website, you agree to our privacy policy. This is an easy way to protect your back and collect data for research.
It all depends on how you collect data.

Wrap up


If you collect data from your visitors, you must have a clear privacy policy. It is important to be transparent, professional, and open about your business and how you conduct research.
When creating your privacy policy, you don't need to (and shouldn't) do it all alone. Your company's and visitors' data privacy concerns will be protected by hiring experts with proven track records. Now that you know the basics, it's time to write a policy and fix any issues with data collection.
You want to implement some of the strategies shown on MIG's website but need advice or help? Marketing Insider Group is home to a group of 35+ writers who are ready to create content for your business. Get a consultation or check out our blog content.
The post Are You Required to Have a Privacy Policy for Your Website? Marketing Insider Group published the first version of this article.

Frequently Asked Questions
What is the difference of advertising and marketing?

Advertising is a type of communication that promotes products and brands. Advertising usually has a clear call to action, such as "Buy now!" Or "Click Here."
Marketing is, on the contrary, a way to communicate your company's mission, vision and values to potential clients. Marketing helps you build relationships with your current customers as well as prospects.
If you sell shoes online, for example, marketing can be used to tell the story of who you are and what your offer. You could talk about your history, philosophy, and commitment to quality. You could share testimonials from satisfied customers. For people to come to your website, you could offer them a free pair of shoes.
In short, marketing is about telling stories. Advertising is all about selling products.
Social Media Marketing is a great way to promote your business online. It's a great way to build brand awareness and generate leads. Here are five methods to leverage social media marketing to increase your business.
Create a Facebook Fanpage – This allows customers to interact directly via Facebook. You can also upload images, videos, or other files.
Promote Your Business on Twitter – Twitter is another great place to share information and connect with people. To increase visibility, use hashtags
Upload videos to YouTube – People love watching videos. If they like what you have to offer, they might click through to your site.
Host Live Event – Hosting live events will allow you to meet face to face with potential clients. They will be able to ask questions about the products and services you offer.
Respond to Customer Reviews. Positive reviews can build trust with clients and encourage repeat sales. You should respond quickly to negative comments.
Which are the best digital marketing strategies you can do from your home?

Digital marketing is a powerful way to reach customers online. It is also an excellent way to generate leads that will help your business.
Social media platforms such as Facebook, Twitter, or LinkedIn can be used to promote your brand. You can also make use of email marketing tools for sending emails to prospects and potential clients.
There are many ways to market your product/service using digital media.
As long as you know how to effectively use these channels, getting started should be no problem.
What is an example of search engine marketing?

Search Engine Marketing is a key component of digital marketing. SEM includes paid advertising, sponsored ads, display ads and paid inclusion. It also includes search engine optimization (SEO), mobile marketing, social media marketing, video advertising, mobile advertising, and other related services.
Are there any potential risks in digital marketing?

Yes, digital marketing comes with risks.
For starters, you must ensure you protect your online reputation by being careful about what you say on social networks.
You must ensure that your content does not infringe any intellectual property rights of others.
In addition, you risk losing control of your brand image if you do not monitor your online presence closely.
You could also be vulnerable to identity theft if your personal details are used without your consent.
How to protect your online reputation
Take Care of What You Share on Social Networks
You must ensure that all content is original and does not infringe on any other person's intellectual property rights
Monitor your Brand Image
Strong Passwords
You should not use personal information without permission
Report Unauthorized Activities Immediately
Don't Post Photos Of Yourself Or Others In A Disturbing Way
Never divulge any Social Security Number
Keep up-to date with the latest news
Avoid Scams
Secure Password
Always Be On The Lookout for Updates
Don't share too much information
Be Vigilant When Giving Out Credit Card Numbers
Send money via EMail.
Beware of fake websites
Remember that bad reviews can cause problems for your business
Regularly review your credit reports
Pay attention to your privacy settings
Ask someone who is familiar with you before sharing your thoughts.
Statistics
External Links
How To
How do I determine if my branding efforts are effective?

Asking customers directly is the best method to measure your success. Ask your customers to tell you what they think about the brand. What do they love most about your company's brand? What don't they like? How can you improve?
You can also conduct surveys on social media sites like Facebook and Twitter. Post a question and ask your followers for their opinions about your brand. Analyse the results to identify which elements of your brand are most successful.
Also, you can read customer reviews. People love to voice their opinions when they're happy or disappointed with a business. To understand what people think of your brand, take a look at these comments.
Here are some tips to help you improve your brand.
Be consistent. Do not change your marketing materials for every new product. Your message should remain the same across all channels.
Use multiple channels. Promote your brand using multiple channels, including email, websites, social networks, and other forms digital communication.
You must ensure that you give your customers exactly what they need. Make sure that you honor your promise of free shipping if you make it available. If you don't deliver on your promise, customers might abandon you.
Remember, your brand is much more than a logo. Your brand represents everything you have to offer. Make sure you have a balanced image.
Get feedback from customers. You will be better off if you respond to customers' feedback sooner.
Test different messages. One message may work better than the other. Perhaps you have two identical messages but one gets more response. It doesn't matter what, it is important to monitor your stats and see which message is doing the best.
Find ways to improve your brand. Do you think there are areas that could use improvement? Maybe you could add more videos to your website. Perhaps your blog could feature more customer testimonials.
A plan is essential. Once you have decided on your goals, you will need to plan how you are going to achieve them. This includes establishing a timeline to reach each goal. You should also set milestones so that you can keep track of your progress.
Your results should be measured. When you reach your goal stop measuring. Instead, establish a system to track your progress over time. By doing this, you will always be able to see if you are moving towards your ultimate goal.
Repeat! Once you have a solid foundation, you will want to build on it. Consider hiring someone to help you if your marketing efforts aren't keeping up.
Remain positive. Negative feedback shouldn't be ignored, but it is not something to dwell on. Instead, look at how you can improve your brand using this information.
Utilize technology. Technology has given us many tools we didn't even dream of before. Why not make the most of them? One example is a mobile app you could make for your company.
Think outside the box. It's okay to try something new. Do it with thought.
Have fun. Marketing isn't supposed to be stressful. Marketing can be described as "fun marketing." Try to have fun while you work.
Know when to quit. When you feel like you've done all you can, it's okay to call it quits. Don't quit too soon. Sometimes, you need to keep at it until you get the result you want.
Consistency is key to success. Consistency is the key to success. So, invest some time into developing a schedule for your brand.
Be patient. It takes time to build your brand. And, it won't happen overnight.
Keep learning. Marketing is ever-changing. Keep up-to-date by reading blogs and attending webinars.
Never stop learning. Even after achieving your goal you can still learn.
Enjoy the journey. Marketing is fun. Marketing is not a chore.
————————————————————————————————————————————–
By: Michael Brenner
Title: Do You Need a Privacy Policy on Your Website?
Sourced From: marketinginsidergroup.com/content-marketing/do-you-need-a-privacy-policy-on-your-website/
Published Date: Mon, 17 Oct 2022 10:00:28 +0000