Producing regular, high-quality content for your client base is crucial for the growth of your business. Blog writing remains one of the best parts of a solid content marketing strategy. In fact, businesses with a blog get 434% more indexed pages, 55% more visitors, and 97% more inbound links. Let's face it, though, sometimes the creative well runs dry, which is when you need an easy-to-use blog post template.
Learn about seven of the best templates to keep your content flowing.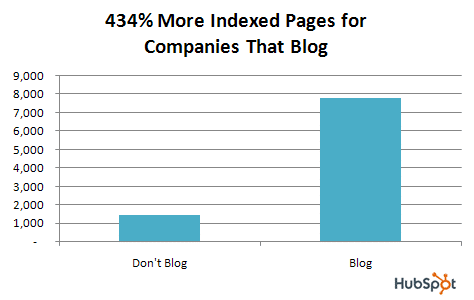 Image Source: HubSpot

Key Takeaways:
You should blog consistently, hit the word count sweet spot, find effective keywords, and create compelling meta descriptions.
Lists, guides, comparisons, definitions, guest posts, case studies, and myth busters are seven of the best blog post template formats.
A strong introduction and motivating conclusion make for more persuasive blog posts.
Blog Post Template Essentials
No matter which one of our blog post template secret recipes you use, apply the following five principles:
Be consistent: We find that you typically need about three to four months of consistent, quality content to see a larger yield.
Keep your word count between 1,000 and 1,800 words: Google likes articles within this range.
Know your keywords: Search engine optimization and marketing are most successful when you know which words are most important to your subject matter.
Have a compelling meta description: If your description is boring or irrelevant, prospects won't click.
Create an intriguing introduction: If you struggle to create engaging introductions, check out our article on the Promise-Proof-Bridge format.
Image Source: Marketing Insider Group
Now we'll share each template and the keys for top-notch titles and banging bodies.
1. Lists
Probably the most clicked-on blog post template is a list (like the one you're reading!) Listicles let readers anticipate what to expect in a digestible format.
Title
Your title should have the number of items you're sharing and a clear benefit. This article's title is a perfect example: You're getting seven templates to help you create remarkable content.
Numbers divisible by 5 or with a cultural or social significance, such as the lucky seven of this post, work particularly well.
Body
Break your lists up with subheadings that improve readability. For every heading, briefly explain what the item is and why your reader needs to know it. Then give examples of how to do it.
2. Guides and How-Tos
You likely use the internet for looking up DIY projects and how-tos. So do your prospects! Capitalize on common habits with this blog post template.
Title
These titles typically start with "How To" (hence, the name). A separate clause that builds trust can follow, such as "and How To Stick With It" or "and Why You Should." Otherwise, you can describe your article as a guide, handbook, or manual.
If you're a startup selling grills, we could apply this blog template to the world of BBQ with titles like:
How To Find The Best Grill Tools and Why You Should Look Now
The Complete Guide to Searing Steaks Like a Champ
The Ultimate Handbook for Cleaning Your Grill
This template lets you offer instructions to everyone at each step of the buying funnel to nurture leads.
Body
Subheadings here need to follow a logical format that provides an explanation from beginning to end about how to achieve the stated goal in the title. Ensure each step is practical and actionable.
3. Comparisons
Comparison articles should differentiate between two similar concepts or demonstrate the pros and cons of different ideas or products. This blog post template is particularly helpful if you expect your clients to be researching your product or industry.
Title
This formula is commonly referred to as "X vs. Y." Successful title examples from us at Marketing Insider Group include:
Virtual Events & Webinars: What Are The Key Differences?
Organic Search vs. Paid Search: Which is Better?
Retargeting vs. Remarketing: What's The Difference?
You don't always have to use "vs.," but you should compare two relevant topics to inform your reader of the nuance and detail.
Body
One way to execute this blog post template is to start with a subheading or two briefly defining each item. Then you can look at an aspect of each subject and compare them head to head.
You could also discuss all the pros of one and follow with all the cons. Then do the same with the other subject. Conclude with a summary of the findings.
4. Comprehensive Definitions and Overviews
Think about how many times you've searched for something on the internet because you wanted to know more about it. Your prospects and clients do that, too, so give them what they want with this blog post template.
Title
Definition articles work great with a simple "What Is…?" title. You could also state that the article is an overview of a subject.
General overview articles for an SEO marketing firm could be titled:
What Is Search Engine Optimization, and Why Should You Care?
What Is the Point of Digital Marketing?
The Ins and Outs of Google Trends: Building Your Brand Online
Get creative with your titles! Have diversity in your articles to draw in different people looking for unique things.
Body
Definition articles should be a general overview of whatever topic you think your target audience would be researching (or would grab their attention). Break down each element of the subject but spend more time on why your discussion is important and how to use the information.
5. Expert Guest Posts or Interviews
If you're struggling to find inspiration or just don't have the time, consider inviting or hiring a guest writer! This might be the easiest blog post template because you don't do all the work.
Guest writers can:
Provide legitimacy to your brand with their expertise
Bring over their audiences to your site
Help you meet Google's EEAT criteria for better SEO
You could also briefly interview various experts on a specific topic to share their opinions in an article you write.
Title
Your titles should highlight the expertise of your guest writer or interviewee. Definitely use the person's name if the individual is a well-known personality.
We've used LinkedIn Marketer Shares Her Top Tips For Content Marketing Success and 5 Expert Tips from Influential Executives to Improve Your Social Media Approach to great effect.
Body
Guest posters will have their own preferred format, but consider creating a strong introduction to introduce them to your audience.
For interviews, create a subheading for each writer's take on the main subject. Alternatively, you could make your interview questions into headings and put each expert's response in bullet points.
6. Case Studies
Your best prospects are looking for proof that you can deliver on your promises. A case study blog post template is an outstanding way to do that.
Title
Summarize what your study is about and who benefitted from your work. A communications company could use something like "Switching to Cloud-Based Communications Saves [Company Name] 33%" or "Why [Client Company] Chose [Your Company]."
Your title should help prospects see someone like them who benefitted from working with you.
Body
A case study gives you the chance to show how you solved a legitimate problem. It's basically a testimonial charged with jet fuel.
Use a storytelling format that is engaging and gets your leads thinking, "Hey, that sounds like us!" Then your ideal prospects will imagine themselves working with you, moving you one step closer to a contract.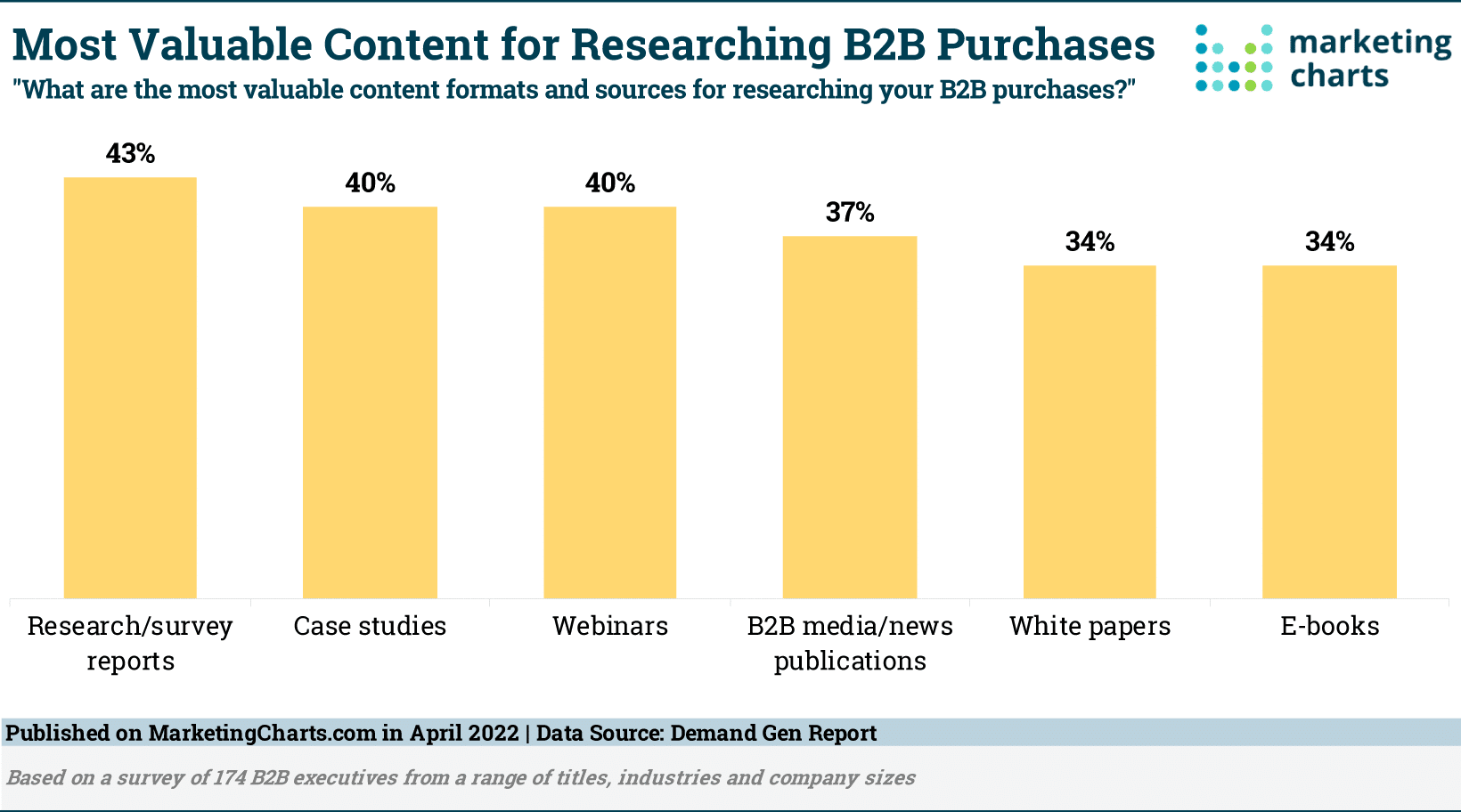 Image Source: Marketing Charts
7. The Myth Buster
Here at Marketing Insider Group, we love creating a little controversy. The myth-busting blog post template is a great way to stir things up and grab attention.
Title
Tongue-in-cheek headlines work great as titles here. For example, you've probably figured out we're passionate about blogging for content marketing, so what better way to grab eyeballs than with our "Why Blogging Is Dead" article?
Body
Use each subheading to break down why each myth exists and why they're flat wrong.
In our "Why Blogging Is Dead" article, we demonstrate seven reasons why blogging isn't dead. We start by highlighting the myths that the uninformed or uninitiated commonly believe, and then we expose the truth.
Blog Post Template Wrap-Up
No matter your blog post template, always reiterate the need for your product or service. Conclude with a concise call to action, and show how readers would be better off working with you than trying to go it alone.
Help With Your Blog Post Template Attack Plan
By using these templates and implementing blog posting essentials, you can improve your lead conversion rates and keep your ad spending down. Now that you have some fresh ideas, get to writing!
Do you want to use these marketing strategies and more but need help or advice? You're in luck!
Marketing Insider Group's team of 35+ experienced writers is ready to bring their blog post template expertise to your business. Check out our weekly blog content service or schedule a free consultation.
The post 5 Blog Post Templates to Help You Create Remarkable Content appeared first on Marketing Insider Group.
Frequently Asked Questions
What are the 7 Steps of Internet Marketing Strategy?

Internet marketing strategies are used for achieving business goals using online media. These steps include research, planning, implementation, monitoring and analysis. Each step is vital for successful internet marketing and should all be completed regularly.
Planning – This step involves identifying and developing a strategy for reaching your target audience. It is important to consider who may buy your product or service, and what it costs.
Research helps you understand your customer's needs and interests, so you can determine which products or services best match their expectations. Research also provides valuable insights into trends and consumer behavior.
The first step in implementing your campaign is to select a platform (e.g. Facebook), and then determine where to place your ads. Once you've selected the platform(s), make sure they're properly configured. Also, consider whether to pay per Click or spend money advertising.
Monitoring – Monitor your progress to ensure that you are able to see the results of your efforts. Use analytics tools like Google Analytics to track traffic flows, conversion rates, and customer demographics.
The analysis allows you to measure results against benchmarks and previous performance levels. If you find areas underperforming, this step guides how to improve.
Optimization – Making changes to your website in order to attract more visitors is called optimization. Your site could be enhanced with new features, or changed in the way that users navigate.
Evaluation – Evaluating your progress lets you see how well your campaign performs. Do you see any areas for improvement? If not, then you may have reached your goal. You'll still need to address any issues.
What are the main types?

Marketing is the act or communication of ideas, values and messages to consumers. Advertising and marketing are often interchangeable these days. Marketing does not just include advertising. Marketing is all communication that promotes and markets a product or service.
Marketing is comprised of branding, promotion, as well as distribution. A company's branding is the way it represents itself to its target market. Promotion is the act that draws attention to your brand by using paid ads, free promotions, or other public relations efforts. Distribution is how your message gets to your audience. This can be done by traditional methods, such as radio, print and email. However, modern technologies make it more accessible.
What are some examples of direct marketing?

Direct Marketing Examples include postcards, brochures, flyers, e-mails, etc.
Direct marketing is a great way to reach people anywhere you are. It's the best way of communicating with customers who have already selected your product/service over another.
You should know which message will appeal to your target market the most.
Finding out what your customers want is key to delivering it.
Direct marketing can be used for many reasons. For example, you could send catalogs to potential customers or advertise in local newspapers.
You could also create a separate mailing list for your customers. You can easily add new subscribers to your list if you have a good contacts database.
Ask your customers if they would like promotional material. You may receive special discounts if you sign up for company newsletters.
What are the 4 functions of marketing?

Marketing is the art and science of creating demand for products or services.
It gives information about the company's offerings and its values and how they affect customers' lives.
Marketing drives interest in the offering, increases awareness and eventually leads to purchase or action in response to an offer.
Marketing has four functions:
Creating Demand – This includes developing relationships with potential buyers and convincing them that there is value in purchasing your product or service.
Stimulating Interest: This refers to increasing awareness among consumers about your product/service.
Building Awareness – This refers to ensuring that consumers know your product or service and why they might want to buy it.
Driving Action – This means that you ensure that your customers take action after learning about your products or services.
How to Create an Ecommerce Marketing Plan

First, identify the products and services you wish to sell. You should have a range of products and services that are related to your business.
Next, determine how much you can spend on advertising, promotions and other marketing methods. You may need to use multiple methods, such as direct mail, email blasts, social media sites, search engine optimization, and more.
Once you have an idea of how much money is needed, you can begin to create a budget. Asking a specialist in e marketing might help you decide which marketing method is right for your business. They can help decide the best marketing strategy for your business.
Once you have a plan, you can start implementing it. It is possible to hire someone else to assist you in this process.
It doesn't mean you have to start over. Try proven strategies that have worked in the past for other online shops. Make sure you test everything before you make any major changes.
Remember that your ultimate goal should be to increase sales and profit. Your eCommerce marketing strategy needs to consider both short-term and long-term goals.
If you're looking for a way to boost your sales, read our article about eCommerce marketing tips. We hope they help you find success!

Statistics
External Links
How To
Top 10 Affiliate Strategies for 2022

Affiliate marketing is one the most effective online advertising strategies that marketers use today.
It allows companies without any upfront expenses to promote their products. Instead, affiliates pay a commission whenever users purchase the advertised items.
There are two main types: performance-based or cost-per sale. An affiliate is paid after a set number of sales. Affiliates are paid a cost per sale, regardless of whether they sell any products.
In this article, we'll go over the top 10 affiliate marketing strategies for 2022. Each strategy will be explained and illustrated with examples.
#1. Build a Brand Loyalty Program
Online retailers are increasingly using brand loyalty programs. These loyalty programs enable customers to accumulate points for every visit to a website and each purchase.
These points can later be redeemed for discounts, rewards, or special offers.
Amazon Prime membership, for instance, offers members access to special deals and perks.
Amazon also has a referral program called Associates. The Associates program allows merchants to refer shoppers to Amazon, and they receive a share of the revenue from these referrals.
#2. Use Social Media to Promote Products
Social media platforms such as Facebook, Twitter, Instagram, and Pinterest are perfect places to advertise products.
Targeting potential buyers can be done by companies via ad networks. Facebook, for instance, allows advertisers the ability to target specific groups based on their demographics and interests.
They can target people who live within certain distances of a store.
Twitter is another platform that allows companies to reach targeted audiences quickly. Companies can use Twitter to send out tweets, ask questions and share content.
Instagram is similar to Twitter because it allows brands to interact with consumers. However, unlike Twitter, Instagram doesn't allow businesses to send direct messages.
Instead, posts appear on followers' feeds automatically.
Pinterest is yet another social network that allows businesses to connect with customers. These connections include the sharing of images, asking questions, and answering customer inquiries.
#3. #3.
Influencer marketing can help increase brand awareness. Brands can work with influencers to offer incentives for them to promote their products.
This partnership often involves giving influencers free products to review or test out.
However, these partnerships aren't limited to reviewing products. Brand ambassadors can also be made of influencers.
Brands may hire influencers to host giveaways or answer questions.
#4. Make video ads
Video ads are becoming more popular. People enjoy watching videos online, especially now that tablets and smartphones are mainstream.
Advertisers may use video ads as a way to get attention and persuade viewers of their products to click on the links.
YouTube is one of most important websites where advertisers are able to place video ads. YouTube allows advertisers the ability to upload short clips lasting up to 60 seconds.
Google AdWords allows you to place video ads. Google uses keywords as a way to match ads with relevant searches.
#5. Run Mobile Campaigns
Mobile apps are increasingly popular. Mobile apps can be used to download and watch movies, browse books, listen to music, and even play games.
People spend hours reading books, playing video games, listening or watching movies on their smartphones.
Mobile apps are a great way for businesses to get more visitors to their websites.
Apps can also be downloaded to Android phones, iPhones, iPads, Android phones, tablets, and other smart devices.
App stores can be found for Apple iOS, Google Play Windows Phones, Blackberry OS, Kindle Fire, and Windows Phones.
#6. #6.
Shopping carts are an effective method for selling physical goods.
Customers can add items to cart, and then proceed to checkout to complete purchase.
Online shopping carts are growing in popularity. Customers can register and view product listings at some online retailers like eBay.
Amazon is one of the many online retailers that integrate shopping carts. Customers can pick the items that they wish to purchase and order them immediately.
#7. Launch New Product Lines
The best way to attract new customers is with product lines
The company usually issues press releases to announce the launch of new products.
The release may include information on the new line's features and pricing.
The company can market the new products once the launch has been completed.
#8. Develop Cross-Channel Marketing Programs
Cross-channel advertising refers to marketing efforts in multiple channels.
Cross-channel advertising could be used to send emails to customers via email lists, promote products on social networking sites, or run banner advertisements on search engines.
Some companies combine multiple channels to increase exposure.
For example, some companies sell products at brick-and-mortar locations. In addition, they also sell products online.
Some companies may use both channels simultaneously in an effort to increase sales.
#9. #9.
Data analytics helps companies improve business operations and maximize profits. It involves analysing data collected from diverse sources to identify patterns or trends.
Analytics can identify problems, evaluate current practices, predict future needs, and suggest improvements.
Analytics tools can be used to collect data from many sources such as web servers, databases, applications, and other websites.
These tools allow companies to gain insight into their customers and their behaviour.
#10. #10. Increase customer satisfaction
For every business, customer satisfaction is key. Customer satisfaction is key to any business. Customers are more likely return for additional services if they feel satisfied.
Satisfied customers are more likely to refer your products to others.
Customers who are satisfied with their service are less likely be dissatisfied.
Therefore, increasing customer satisfaction is critical for all businesses.
It is possible to do this by providing outstanding customer support.
Employees should be able to respond quickly and effectively to customer queries.
Fast shipping options are available so that customers don't have too much time before they receive their orders.
Also, make sure your website is easy to navigate.
Your site must load quickly and provide clear instructions.
Bear in mind, not all customers can be treated equally
Customers might require extra help, while others will not need it.
You must tailor your customer support policies to fit individual needs.
This ensures everyone receives exceptional service.
For more information on how to launch an affiliate campaign, see our guide.
We've covered everything that you need to know about affiliate marketing.
Once you have mastered the basics of affiliate marketing, you can build relationships with other bloggers or publishers.
You'll gain valuable experience and credibility by doing so.
This expertise can then be leveraged to earn
————————————————————————————————————————————–
By: Michael Brenner
Title: 5 Blog Post Templates to Help You Create Remarkable Content
Sourced From: marketinginsidergroup.com/content-marketing/5-blog-post-templates-to-help-you-create-remarkable-content/
Published Date: Tue, 25 Apr 2023 13:00:24 +0000