Your clients are the heartbeat of your business. It takes dedication to win their loyalty. Your clients are what keep your business running smoothly and the reason that you offer value-oriented products and services. Particularly for business-to-business companies (B2B), it is crucial to ensure client satisfaction and integrate lead generation efforts.
With the rumors of recession rumbling around, it is important to retain clients in order for companies to survive and thrive in economic turmoil. Forbes and Econsultancy report that American companies have lost more than $136 billion annually due to customer losses. Less than half of companies are able to calculate Customer Lifetime Value (LTV) and this is according to Forbes and Econsultancy.
Research has shown that B2B businesses are able maintain respectable client retention rates through building customer relationships, and brand loyalty. But, clients are still unable to provide long-term revenue due to a lack of client retention. Businesses must make greater efforts to establish solid B2B client retention strategies and practices.
Depending on the industry and business type, the exact tactics and execution of these strategies will vary. Each company's client retention strategy is different. The key is to increase client retention rates year after year. Zippia's 2023 study found that 68% B2B clients are lost because of perceived indifference and apathy.

Here are proven ways to help your company develop long-lasting client retention strategies for 2023.
1. Show that your company has the answers

Your brand must be trusted by current and prospective clients to make it a highly respected and successful business. Your B2B customers will have many questions about the products and services they can avail.
Marketing involves creating inbound content that answers the questions of target audiences. This could include informative blogs, videos or white papers, ebooks, or email campaigns. B2B customer service executives must manage client communications in order to respond quickly and efficiently to real-time concerns and questions. This requires you to be aware of industry changes and clientele's changing needs.
Image Source: Zippia
Your B2B client retention rates will increase quickly if your company has the best, most dedicated resources that provide detailed and engaging solutions. Clients will feel valued and cared for when you can answer their questions quickly and offer solutions via media they like.
2. Show clients that they are your top priority

It is crucial to show loyalty to your customers if you want to convert them into loyal, long-term business clients. Studies have shown that clients who feel valued by businesses are more likely to retain them and increase their revenue. Businesses can show their appreciation to their customers in many ways throughout the year. This makes them feel valued and top-of-mind.
Clients are often offered exclusive benefits or special offers that only last a limited time. Spoonful of Comfort and custom retail companies like Spoonful of Comfort may be a good option for B2B leaders. They can provide personalized gifts to clients during stressful times or when they are grieving. Leaders might also choose to make a simple call or send a thank-you card or other gestures of appreciation.
It doesn't matter what you do to show clients your business is top priority. Creating a personalized, thoughtful experience for your clients is one way to build client relationships. These thoughtful strategies are timeless and often forgotten, but they leave a lasting impression on clients.
3. Tell us about your client success stories

To attract long-term clients, storytelling is key to building a client base. B2B customer success stories that are effective in helping prospective clients understand how your product/service solves their problems is what makes them the best. Potential clients who see customer success stories, testimonials, online reviews and trusted recommendations are more likely to consider your business credible and trustworthy. You can influence their purchasing decisions and help them to retain clients in the future.
You can share your company's success stories on your website, blog and social media. It has been proven that customers will be more interested in customer stories and videos posted on B2B social media channels such as LinkedIn and Facebook. This is especially true when your customer voice is strong or your story focuses on challenges and not successes. Creatively sharing customer stories can help you retain long-term clients.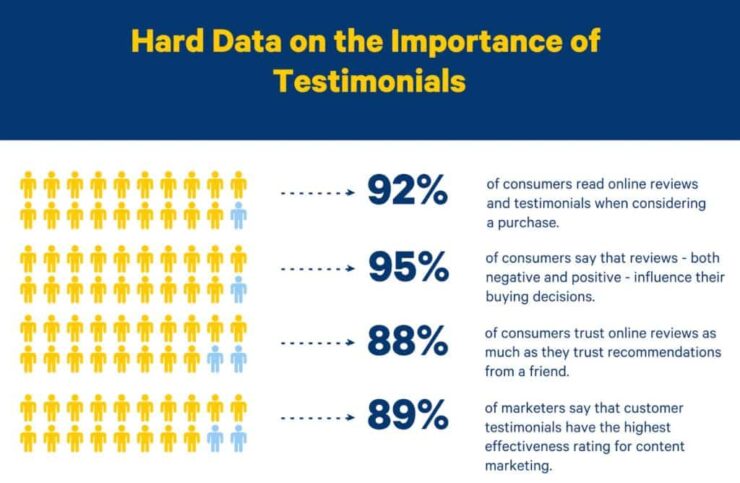 Source: Trustmary
Your B2B business can share a variety of stories from clients to highlight their individual journeys, highlight product/service success, and further showcase the brand's value. You can use the stories of your most loyal customers to increase conversions and sales and maximize your reach and impact.
In 2023, we are entering a new season. B2B client retention is essential for the growth and natural life cycles of your business. To build long-lasting relationships with clients, you will need to implement the best B2B client retention strategies. You will keep your clients loyal and engaged for many years by maximizing existing client relationships and offering functional support.
Marketing Insider Group published the post 3 Effective B2B Client Retention Strategies That Will Stand The Test of Time.
Frequently Asked Questions
What eCommerce Marketing Strategy Should I Use?

There are three types of eCommerce marketing.
Direct marketing
Search Engine Optimization (SEO)
Social Media Marketing
Direct marketing involves sending emails directly to potential buyers. These emails may contain coupons, special offers, and discounts. This type is used to build customer trust and loyalty.
Search engine optimization is the process of improving your website's ranking in search engines such as Google, Yahoo!, and Bing. You'll get more traffic when your site appears near the top of results when people look up keywords related to your product or service.
Social media marketing uses websites such as Twitter, Facebook, Pinterest, Instagram, YouTube, etc. Your audience to build trust. It is free, simple to set up and highly effective.
Each of these options has its pros, and cons. SEO takes time and effort, whereas direct marketing requires little effort. You won't get the full benefits of eCommerce marketing if you focus only on one method. We recommend that you combine different marketing methods.
Sending emails could be one way to promote your products and help you rank well in search engines results. You could also advertise through social media and then link from that page to your website.
As you can see there are many options to market your eCommerce shop. Make sure you choose the right work for your business and stick with them. Good luck!
What are some examples for direct marketing?

Direct Marketing Examples include postcards, brochures, flyers, e-mails, etc.
Direct marketing allows you to reach people wherever they are. Direct marketing is the best method to communicate with customers who have chosen your product over another brand.
You should know which message will appeal to your target market the most.
Finding out what your customers want is key to delivering it.
There are many ways to use direct marketing to promote your business. For example, you could send catalogs to potential customers or advertise in local newspapers.

You could also create a separate mailing list for your customers. With a solid contacts list, you can add new subscribers easily to your list.
Last but not least, ask existing customers if promotional materials are something they'd be interested in receiving. You may receive special discounts if you sign up for company newsletters.
What are the most effective digital marketing strategies I can use from my home?

Digital marketing is a powerful way to reach customers online. You can also generate leads through digital marketing.
You can promote your brand using social media platforms, such as Facebook, Twitter and LinkedIn. You can also send emails via email marketing tools to prospects or clients.
There are many other marketing options that you can use to promote your product or services using digital media.
These channels can be used effectively if you have the right knowledge.
What amount should I budget to fund my first digital marketing campaign

It all depends upon the type of campaign that you intend to launch. Your first campaign may cost you between $50 and $100.
To get started, advertising space can be bought on search engines Google and Bing. These ads cost approximately $10 per click.
If you have a website, you can create banner advertisements at various places on your site. This will help you attract new visitors and bring them back to your site.
You can also hire a freelancer to design some banners for you. Freelancers charge typically $20 to $30 an hour.
Once you have created your ad, it is possible to start tracking your results. You can find many free analytics software on the internet.
It is also possible to track data manually. A spreadsheet can be used to track data about campaigns. It will allow you to record every metric (such clicks, impressions etc.).
Once you have collected this data, it is possible to determine if your campaign has been successful.
You can always try other methods until you find the one that works.
What are the 4 types?

Marketing can be broken down into four distinct categories: Direct Mail Marketing, Traditional Advertising and Public Relations. Each has different objectives, and each should be used for specific purposes. These can be combined to help you reach your goals.
Statistics
External Links
How To
What is your strategy for marketing?

How often have you heard the phrase, "If you build it, they will come"?
Well, you're wrong.
Building something does take work, but it's not enough to attract customers. Internet Marketing Principles are necessary to reach your target audience in order to grow your business.
Internet Marketing Principles refer to the guidelines marketers use in creating websites, blogs, emails campaigns, and social media profiles that generate leads, and sales.
These Internet Marketing Principles can be used to generate traffic, capture emails, close sales, and sell handmade jewelry online.
Here are some examples.
Content is the king. Your content must be original and captivating. Copying content from another source will make you less credible as an information source.
Trust builds trust. People prefer recommendations from friends and relatives to Adsense. You should only recommend products that you trust.
Remember to be personal. People prefer to communicate with people, rather than robots. Your website should be human-looking, not robotic.
Offer value – People don't give away anything unless they feel they are receiving something worth their time. Offer something in return for their information.
Tell stories – Stories can be powerful tools to connect with audiences. They can help you tell your story, and connect with your audiences.
Giveaways – Giving things away helps spread awareness and builds brand loyalty.
Call-to-action buttons are important as they prompt users take action.
Make sure you test everything before you publish your website.
Keep it simple – Simple is often better than complex. Keep it as simple as possible. The easier your website is to maintain and update, the better.
Have a clear goal – A clear goal makes it easier to measure results.
Measure everything – Measuring your progress towards your goals is crucial to improving your marketing efforts.
Concentrate on conversion. Conversion means that you convert browsers into buyers.
Get feedback. This will help you improve your marketing efforts.
Track your results – By tracking your results, you can identify areas that need improvement.
Repeat – Repetition creates momentum.
Optimize your marketing efforts. This ensures that your marketing efforts perform effectively.
Be consistent – Your brand will remain consistent.
Reward yourself – Rewards motivate you to continue doing well.
Learn from others. This is one of the best methods to avoid making the same mistakes again.
Never stop learning – Always seek out new ideas and techniques.
To achieve sustainable growth, think long-term.
Trust your gut – Sometimes, your intuition is the best tool for guiding you through life.
Every day can be viewed as a test. Although mistakes are inevitable they teach us lessons that we wouldn't otherwise know.
Know your strengths and weaknesses. This will help you to overcome obstacles.
Don't be discouraged. Everyone fails at one point or another. But don't let failure discourage you. You can always try again.
Take risks – Taking risks is sometimes necessary to move forward.
Enjoy the journey. It is vital to live a happy, fulfilled life.
Be passionate – Passion fuels motivation.
Be who you really are. It is essential to build relationships.
Know yourself – Self-knowledge can be essential for self-improvement.
Find your tribe. A supportive community of likeminded individuals is invaluable.
Make a vision board. Vision boards can be a great tool for visualizing your future.
Ask questions. Questions lead to knowledge.
————————————————————————————————————————————–
By: Giana Reno
Title: 3 Effective B2B Client Retention Tactics That Will Stand The Test of Time
Sourced From: marketinginsidergroup.com/b2b-marketing/3-effective-b2b-client-retention-tactics-that-will-stand-the-test-of-time/
Published Date: Mon, 27 Mar 2023 09:30:26 +0000