Have you thought about incorporating the AI magic of chatbots with the wide net of a PPC ad campaign? Combining these two strategies can add a boost to your next digital marketing campaign.
To ensure a successful PPC campaign, you have to start with the end in mind. Where do you want people to go once they've seen your ad and shown some interest? Do you want to make a sale or provide information?
You also need to consider what they want to learn about you and how you can help them find all the information they want.
That's where chatbots come in.

What Are Chatbots?
Chatbots are a type of artificial intelligence (AI) created to answer customer questions. They're capable of answering basic or common questions, sending people to pages answering their questions, looking up orders, and more.
You can program your bot to escalate a customer to a real person if needed as well.
Most people think to look for chatbots in the lower right-hand corner of a company's website. The button may say something like "chat now" or "support," like the one on Imperfect Foods' website: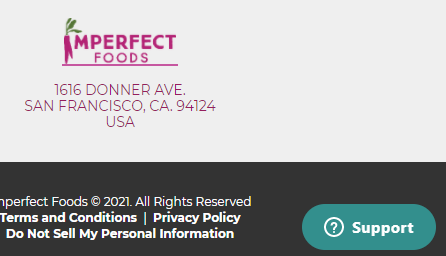 However, you can also set them up on Facebook Messenger and some other social media sites.
Chatbots can become very interactive, depending on the platform and the script. Also, you can check in with them however often you want and follow up with prospects when needed.
Functionalities vary widely, but however you incorporate bots, they can be a powerful, real-time player in your digital marketing strategy, buttressing your PPC campaign with interactivity and deepened brand awareness.
5 Ways to Use Chatbots During a PPC Campaign
The great thing about adding chatbots to your PPC campaign strategy is the flexibility they bring. No matter your business, sales goals, or individual PPC campaign goals, chatbots can become your right-hand person when you can't be there for every click-through.
Here are five things they can do to help your customers while freeing you and your team up to focus on the big picture.
1. Answer User FAQs Immediately
We've all seen PPC ads, and chances are you've clicked on at least one because it intrigued you enough to want to learn more about what was in the content you saw.
Was your curiosity satisfied immediately? Or did you have to dig for the information promised by the ad?
Save your prospective customer the trouble and have a chatbot ready to answer their questions.
When a user clicks the PPC ad, your chatbot can appear on the page and ask if they have any questions. Through a series of scripts, you can help prospective customers learn more about you and find the products or services they need.
Going back to the Imperfect Foods example, if you're a first-time visitor, it simply tells you to ask it a question.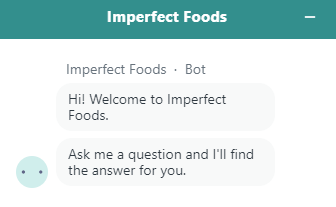 However, if you're a returning user, it knows why you probably clicked on the chat function: You forgot your password.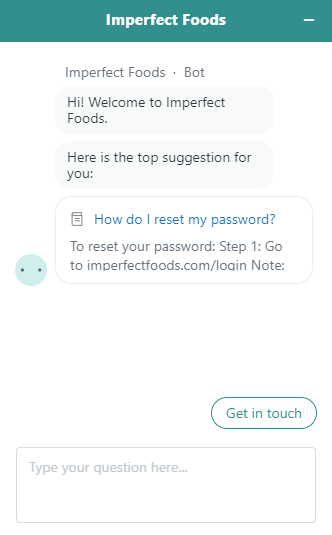 If that's not knowing what your audience is going to ask, I don't know what is.
2. Forge a Connection
People like to make a connection with real people behind a brand.
A chatbot is, by definition, a bot—not an actual person. However, even when companies tell consumers they're talking to a bot, something fascinating tends to happen. According to Psychology Today, "When interacting with chatbots, our brain is led to believe that it is chatting with another human being."
Further, since they are always there, ready to help, people can feel a real personal connection with them. (So, be sure to program your bot's voice to fit in with your brand story!)
This can improve brand awareness and encourage people to continue that connection by following you on social media or coming back to your website when they need your products or services.
It could also help with immediate sales. Getting emotions involved in your marketing can improve your leads and conversions.
People like feeling supported. When they come to your website and don't have to poke around to get their questions answered and find the resources they're looking for, they're likely to feel better about the experience.
3. Direct Users to the Right Landing Pages, Product Pages, or Resources
As you create your PPC campaign, the reality is you can't guess what every person is shopping for. While you should create a targeted landing page or ensure your PPC ads take users to the right place, sometimes miscommunications between customer intent and where they land can occur.
How can you keep users from landing on your page, then immediately bouncing if they don't see exactly what they need?
A chatbot can showcase your entire inventory or website content from any page your customer lands on.
You can use them to ask users what they're looking for and direct them to the corresponding page or resource.
4. Learn More About Your Target Audience
PPC ad campaigns only tell you so much about who is clicking. You can gather specific metrics from analytics, but those are often demographic stats from which you would have to deduce motivations or needs.
What is your target market looking for? How can you help meet them where they are?
Why not use a chatbot to actually ask them?
In an on-brand tone, you could have your chatbot pop up with a specific question to start a conversation.

Even if a customer chooses not to buy or comes back later, that chatbot conversation can help you uncover valuable information about your target market.
As the PPC campaign continues, you can look for patterns.
For example, HubSpot uses chatbots on their pages to ask the user what they want to do next. HubSpot employees can review those conversations later to learn about what their viewers are looking for.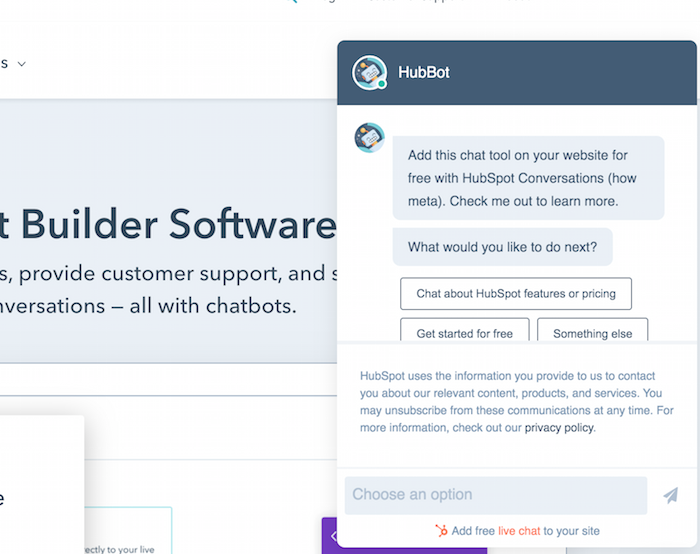 5. Improve Brand Awareness
Whether your PPC campaign is introducing potential customers to your brand for the first time, debuting a new product or service, or keeping your brand at the forefront of your target market's mind, chatbot integration can help to improve your brand awareness.
From the first pop-up welcome or introduction message to the answers to questions, chatbots can be designed to show brand personality.
This can be as simple as just using vernacular specific to your brand and how your customers talk. If your brand is casual, perhaps a chat could start with "Howdy!" If your voice is more formal, something like "How may I assist you today?" could be more appropriate.
You can also incorporate any characters or mascots you use in your branding to be the "face" of the chatbot. Generally, people logically know they aren't talking to a real person and are okay with that. However, it's much more fun and feels more personal if they get to talk to a character associated with your company, thereby potentially improving their experience with your brand.
Evaluating the Success of Your PPC Chatbot Strategy
Before you can dive into the metrics and measure whether your chatbot PPC campaign is working, you need to define success for yourself. What are you trying to accomplish with this campaign?
Success metrics could include:
higher sales of a particular product or service
more visitors to your website
an increase in followers on a social media platform
additional sign-ups for your newsletter
heightened awareness of your brand offerings
When you know what defines success for this campaign, you can look at the right metrics to understand what's working and what you can improve upon.
With the PPC campaign as a whole, one of the primary data points you can look at is click-throughs.
With chatbots, though, there is an added component: Interaction. The conversations between chatbots and users allow you to answer questions like:
How often are people using your chatbot?
How long are the interactions?
What sorts of things are users searching for?
Which conversations turn into conversions?
The information you learn from your chatbots in your PPC campaign can help you:
optimize campaigns for what buyers want based on common queries
create content reflecting what buyers ask
update inventory based on what buyers are looking for
Here are two examples of how Chatfuel shares its chatbot metrics. Users can explore engagement through these dashboards. Most chatbot platforms have similar metric dashboards.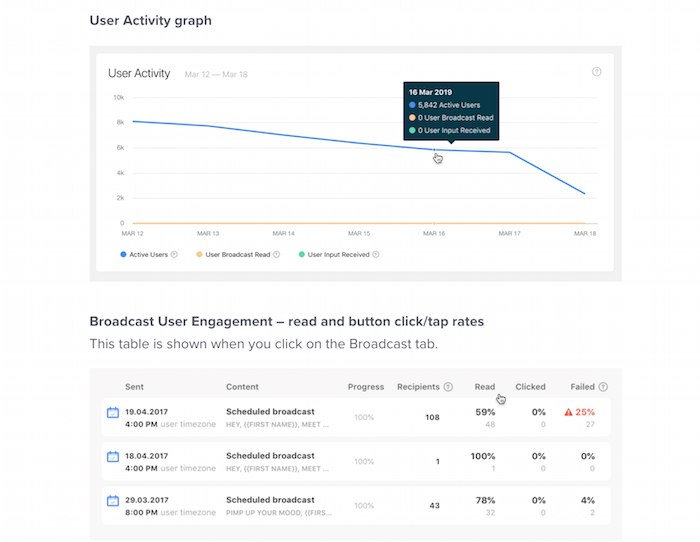 Chatbots for PPC Campaigns FAQs
How do I get people to use my chatbot?
Your chatbot on your PPC campaign's landing page needs to be obvious, popping up soon after a user clicks your link. To encourage interaction, program your chatbot to welcome the user and ask them a question.
What is the best chatbot platform?
The best chatbot platform for PPC campaigns is one you can seamlessly integrate onto the landing page where people click to. This varies by your needs, but HubSpot's Chatbot Builder, ManyChat, and Chatfuel may be worth checking out.
How expensive is it to set up a chatbot?
Chatbot pricing depends on the provider and features you choose. Many offer free trials or a free basic level, with prices going up after your trial or as you add additional options.
How can I make my chatbot interesting?
Give your chatbots a personality in line with your brand. Make the bot feel like a real person, even if you're upfront about being a bot, so the user feels connected to your brand. The bot should introduce itself, ask questions, and provide relevant information to customers as they interact. 
Chatbots Conclusion
Using chatbots in tandem with PPC campaigns can make your prospective customers feel "seen," help them learn more about your brand, and potentially increase conversions thanks to the help they give.
Setting up a chatbot on the landing page of your PPC campaign can put your brand's features, options, benefits, and customizations at your customers' fingertips from the get-go.
The chatbots your PPC campaigns introduce users to can also teach you more about what your customers want. Then, you can use that data to create future digital marketing campaigns specific to their needs.
How are you going to incorporate chatbots into your next PPC campaign?
————————————————————————————————————————————–
By: Neil Patel
Title: How to Utilize Chatbots in Tandem With a PPC Campaign
Sourced From: neilpatel.com/blog/chatbots-ppc/
Published Date: Thu, 24 Jun 2021 13:00:00 +0000