What are you thinking about when you hear the words "laundry soap"? What about soft drinks, too? Fast food? Computers? Cars? Most likely, your answers were something along the lines of: Tide. Coca-Cola. McDonald's.
This is brand awareness at work.
In today's digitally crowded marketplaces, brand awareness is the ability to identify and recall your brand. Every hour of the day, consumers are bombarded with brand messages and advertisements.
You won't be able to build brand awareness in your industry without constantly fighting for their attention.

How do you determine if your company is well-known? How can you increase it? This article will discuss 4 methods to measure brand awareness and provide actionable steps to increase it.

Quick Takeaways


Brand Awareness is one of the most important factors that brands use to evaluate marketing strategies. This includes organic traffic, word-of mouth marketing, and so on.


A higher percentage of organic traffic than paid web traffic indicates that brand awareness is being created by high SERP rankings


A high volume of branded searches is a sign that people are specifically searching for your brand.


The organic share of voice indicates how prominent your brand is in search engine results pages for brand-relevant keywords or topics.

What is brand awareness? Why is it important?

Brand awareness refers to the degree that consumers recognize your brand. Brand awareness is measured by looking beyond the established customer base to determine how well your brand is known within your industry and in the wider consumer market.
Consider the examples at the beginning of this article. It doesn't really matter if your Apple, Tide, Coca-Cola or McDonald's customer. You know the brands, both their logos and names, and what they offer.
Truth is that brands won't be able to achieve the brand recognition these examples have enjoyed over many decades. You can, and should, achieve this in your niche market and within your industry. The brand awareness drive organic traffic, conversions and sales. It is ultimately a driving force behind your company's continued growth.
Businesses across all industries recognize the importance of brand awareness, and are incorporating it into their strategic plans. Digital Asset Management platform Bynder discovered that 43% of marketers listed "growing brand awareness" as their top goal for the year in their State of Branding Report. It is even more important to measure marketing value.
It is important to regularly measure your brand awareness to ensure that it grows and stays high. You'll be able to identify gaps and opportunities, and then implement the best strategies to grow your brand awareness over time.
Four Ways to Measure Brand Awareness

Comparison of organic and paid search traffic

Organic search traffic refers to web traffic that is not generated by paid advertising. This traffic comes directly from algorithmic searches that are achieved via content marketing and SEO web strategies. This is a great way to gauge brand awareness by analyzing how your rank on search engines.
What is the importance of search engine rankings for brand awareness? Search engines account for 93% of all online interactions. Search engines are the first place people go when they search for brands. To gain consumer recognition, brands must be found in search engine results.
Comparing organic and paid search traffic is the best way to gauge brand awareness. Higher organic search traffic means better brand awareness.
Although organic traffic is a variable percentage across industries, BrightEdge research has shown that it drives about 53% of all web traffic.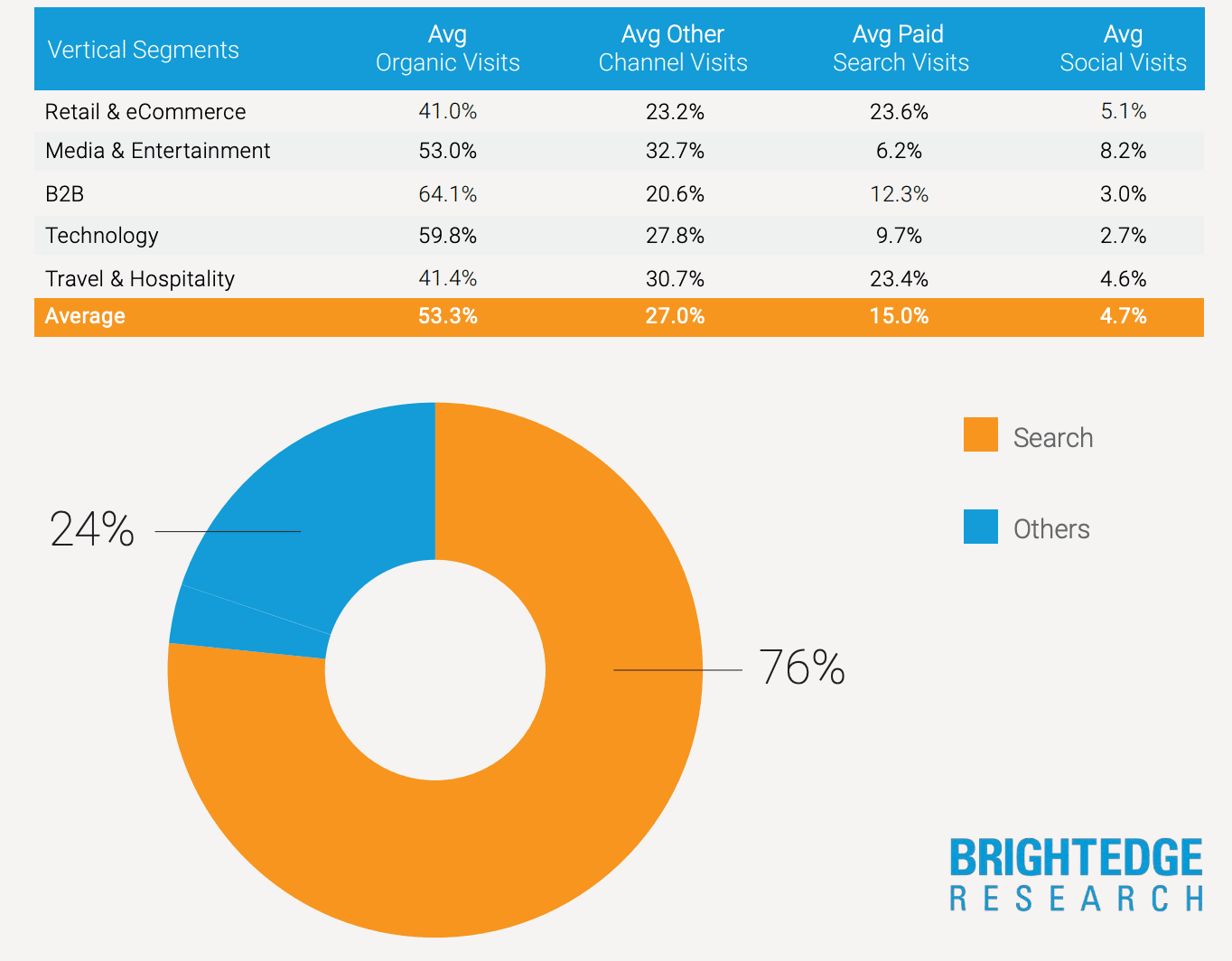 Even if your organic traffic share is low there are still ways to increase it. Organic traffic is driven primarily through search engines. The best way to increase organic traffic is to create content that is compatible with Google's ranking factors.
Some quick tips:
Your content should be keyword-driven
You should focus on topics and content that have high value for your audience.
Mobile optimization: Optimize your content
Attention to site structure and user experience
Volume of branded searches

Branded search volume is the number of searches generated by branded keywords. This means that branded search traffic is generated from specific queries related to your brand.
Branded search volume is a sign that people are familiar with your brand and will look for it when they need similar products or services.
It's like this: People search online for answers to their questions and solutions to their problems. Consumers who are searching for your brand do these things already know what you do. This is why you can establish brand awareness.
To find out how much brand-related search traffic you are getting and what it is doing to increase your reach, you can do a branded audit. You can then take steps to increase brand traffic by organizing your keywords and capitalizing upon high-intent keywords.
Here's the way Wayfair did it (really well).
Surveys to increase brand awareness

Surveys that measure how consumers perceive a brand can help businesses gauge brand awareness. These surveys target a group beyond the current customer base. It could be the general population for some brands, while others could define it by geography (especially local brands), or by products and/or services for others.
A multinational wine company might, for example, survey wine drinkers who are of a particular type (e.g. A multinational wine company might survey wine drinkers of a specific type (e.g. red vs..white) or at a certain age which falls within their target customer base. Local breweries may conduct a survey of beer drinkers in one specific region. To get accurate results, it is important to target the right group.
Unaided questions, such as "What brands do you think of when you think about X product?" are the most common way to begin brand awareness surveys. Then drill down to aided questions such "Which of these brands have you heard of in relation to X products and services?"
To get started, you can use these brand awareness survey templates (such as the one below).

One of the best ways to gauge your brand awareness is to understand your organic share. It tells you how visible your brand is in search results when you use a particular set of keywords.
You are more likely to rank higher for branded keywords because you are your brand. It is better to use non-branded keywords to calculate your share of voice.
There are many keyword research tools, such as Ahrefs and Semrush that can help you find share of voice.
Great content can increase brand awareness

Most metrics used to measure brand awareness are based on great content. High-quality, consistent content drives more organic traffic to your site and improves search rankings.
Marketing Insider Group's writers can provide ready-to-publish content every week for a whole year. While your business is focused on its core priorities, you can rest assured that your brand produces content that delivers.
To learn more, or to schedule a consultation, visit our Content Builder Service.
Marketing Insider Group published the post 4 Ways to Measure Brand Awareness.
Frequently Asked Questions
What should I budget on my first digital marketing campaign for?

It all depends on what type of campaign you want to launch. You can spend $50 to $100 on your first campaign.
To get started, you can buy advertising space on search engines such as Google and Bing. These ads usually cost around $10 per click.
Banner ads can be placed anywhere on your website that you own. This will help you attract new visitors and bring them back to your site.
A freelancer can also design banners for your company. Freelancers usually charge between $20-$30 per hour.
Once you have created your ad, it is possible to start tracking your results. There are many free analytics programs available on the web.
It is also possible to track data manually. You can also keep track of data manually to gather information about your campaigns.
Once you have collected this data, it is possible to determine if your campaign has been successful.
You can always try other methods until you find the one that works.

What are the four functions marketing serves?

Marketing is the art and science of creating demand for products or services.
It communicates information about an organization's offerings, and values and how those affect customers' lives.
Marketing stimulates interest, creates awareness, and finally drives action (or purchase), in response to an invitation.
The four functions of marketing include:
Creating Demand – This includes developing relationships with potential buyers and convincing them that there is value in purchasing your product or service.
Stimulating Interest: This refers to increasing awareness among consumers about your product/service.
Building Awareness – This is the process of making sure that your customers are aware of your product or service, and why they may want to purchase it.
Driving Action – This means ensuring that consumers make purchases after becoming aware of your product or services.
Which are the best digital marketing strategies you can do from your home?

Digital marketing can be a great way to reach customers who spend their most time online. This is also a great way to generate leads for you business.
You can use social media platforms like Facebook, Twitter, and LinkedIn to promote your brand. To send emails out to potential clients or prospects, you can also use email marketing tools.
You can also market your product and service in digital media in many other ways.
You should not have any difficulty getting started as long you are able to use these channels effectively.
How to Make an Ecommerce Marketing Plan

The first step is to identify what you want to sell. You should have a range of products and services that are related to your business.
Next, determine how much you can spend on advertising, promotions and other marketing methods. There may be multiple marketing methods you need, such direct mail and email blasts as well as social media sites and search engine optimization.
Once you have an idea of how much money is needed, you can begin to create a budget. Asking an expert in emarketing can help you determine which marketing method will work best for your business. They can help decide the best marketing strategy for your business.
Once you have a plan you can begin implementing it. It is possible to hire someone else to assist you in this process.
There is no need to start from scratch and reinvent the wheel. You can use proven strategies that have worked for other online retailers. Be sure to verify everything before you make any changes.
It is important to remember that your ultimate goal in eCommerce marketing is to increase profits and sales. Your eCommerce marketing strategy needs to consider both short-term and long-term goals.
You can boost your sales by reading our article about eCommerce marketing strategies. We hope these tips help you to achieve success.
What is the role of marketing in a business strategy?

Marketing is part of every business strategy. Without marketing, there would be no way to tell the world what your company does. Marketing without sales would be pointless. Marketing is an essential part of any business strategy.
Marketing is important, but not everyone gets it. Marketing is not just about spending money on advertising campaigns. Marketing goes beyond that. Marketing encompasses everything you do to communicate your company's identity and position in the marketplace.
When you think about your business, ask these questions: What image am I trying convey? How will my customers view me? How should I portray myself to the outside world?
If you don't know the answers to these questions, you probably haven't considered marketing.
Social Media Marketing allows you to promote your company online. It is an excellent tool to spread brand awareness and generate leads and sales. Here are five social media marketing strategies to help your business grow.
You can create a Facebook Fan page to allow you to interact with customers directly on Facebook. You can upload photos, videos and other files.
Promote Your Business on Twitter – Twitter is another great place to share information and connect with people. You can increase your visibility with hashtags.
Upload Videos to YouTube – It is very popular to upload videos because people enjoy them. If they like what you have to offer, they might click through to your site.
Host Live Events- Hosting live events gives you the opportunity to meet potential clients face-to-face. They can ask you questions about your products or services.
Respond to Customer reviews – Positive customer reviews increase trust and promote repeat purchases. Negative comments should be addressed quickly.
What eCommerce Marketing Strategy Should I Use?

There are three main types of eCommerce marketing:
Direct marketing
Search Engine Optimization (SEO).
Social Media Marketing
Direct marketing means sending emails directly at potential buyers. These emails can contain special offers and coupons. This type of marketing is designed to build customer loyalty.
Search engine optimization improves the rank of your website on search engines such Google, Yahoo, Bing, etc. Your site will appear near the top results for keywords related to your product/service. This will increase your traffic.
Social media marketing includes websites like Twitter, Facebook Pinterest, Instagram, YouTube, and Instagram. Your audience to build trust. It's simple to set it up, free and very effective.
Each of these options has its pros, and cons. For example, SEO requires time and effort, while direct marketing doesn't require much effort. But if you concentrate on just one type of marketing, you will not reap the full benefits from eCommerce marketing. We recommend combining multiple types of marketing.
You could, for example, send emails advertising your products to rank high in search engine results. Or you could advertise on social media and then link to your site from those pages.
As you can see, there are many ways to market your eCommerce store. Make sure you choose the right work for your business and stick with them. Good luck!
Statistics
External Links
How To
How can I tell if my branding efforts have been successful?

Asking your customers directly is the best way to gauge your success. Ask them to rate your brand. What do they enjoy most about your business? What don't they like? How can you improve?
You can also conduct surveys on social media sites like Facebook and Twitter. Simply ask your followers to rate you brand by posting a question. Next, analyze the results to find out which aspects of your brand have been most successful.
Customer reviews are also available. When they are satisfied or dissatisfied with a company, people love to express their opinions. Read through these comments carefully to understand what people think about your brand.
Here are some tips to help you improve your brand.
Be consistent. Your marketing materials shouldn't be changed every time you launch a new product. Keep the message consistent across all channels.
Use multiple channels. Promoting your brand should be done via email, social media and websites.
Give your customers what they want. If you promise free shipping, keep it. If you do not deliver, your customers will be disappointed.
Remember, your brand is more that a logo. Your brand represents everything about your company. Take the time to build a complete image.
Get feedback from your customers. The sooner you get feedback from your customers, the better.
Test different messages. You might find that one message is more effective than the others. You might have two messages that are very similar, but one receives more responses. It doesn't really matter which way you go, you should keep track of your stats so that you can see which message is performing well.
Find ways to improve your brand. Do you think there are areas that could use improvement? Perhaps your website could use more videos. Or maybe you could include more customer testimonials in your blog posts.
Make a plan. Once you've decided on your goals and objectives, you'll need to develop a strategy for achieving those goals. You will need to create a timeline that will help you reach each objective. This also includes setting up milestones that will help you track your progress.
You should measure your results. Once you achieve your goal, stop measuring. Instead, establish a system to track your progress over time. That way, you'll always know if you're making steady progress towards your ultimate goal.
Repeat! You've built a strong foundation for your brand. Now you want to keep building on it. If you're having trouble keeping up with your current marketing efforts, consider hiring someone else to help you out.
Remain positive. Negative feedback shouldn't be ignored, but it is not something to dwell on. Focus instead on how you can use this information to improve your brand.
Technology is your friend. Technology has given us many options that we didn't know existed. You can use these tools to your advantage. A mobile app could be created for your brand, for instance.
Try thinking outside the box. It's okay to try something new. It's okay to try something new, but don't forget to think first.
Have fun. Marketing isn't supposed to be stressful. It is sometimes called "funmarketing". Enjoy your work.
Know when it's time to stop. When you feel like you've done all you can, it's okay to call it quits. You shouldn't give in too quickly. Sometimes, you need to keep at it until you get the result you want.
You must not forget about consistency. Consistency is key for success. You should spend some time developing a schedule that will work for your brand.
Be patient. It takes time to build your brand. It will take time.
Keep learning. Marketing is constantly changing. So, make sure you stay informed by reading blogs or attending webinars.
Never stop learning. You can still learn from others even after you have achieved your goal.
Enjoy the journey. Marketing is fun. Marketing doesn't have to be boring.
————————————————————————————————————————————–
By: Erin McShea
Title: 4 Ways To Measure Brand Awareness
Sourced From: marketinginsidergroup.com/content-marketing/measure-brand-awareness/
Published Date: Wed, 15 Feb 2023 14:00:00 +0000