Social media can be a powerful tool for nonprofits to spread the word about events and fundraisers. Your organization can expand its reach online and increase the number of event registrations, bringing in more money for your cause. It is particularly true for advertising auctions.
You need to engage attendees before and during your auction event if you want it to be a success. Social media allows your organization to reach out to donors in multiple ways. You can give sneak peeks at your expensive items, encourage donations and increase engagement.
You can reach your fundraising goal in no time with the right social media strategies. These top social media tactics will help you take your auctions to the next step.
Multichannel marketing is the way to go
Add a social peer-to-peer element
Create social media contests
You need to have a solid social media marketing plan, whether you are hosting an auction alone or combining it with another high-energy fundraiser gala. This will help you build excitement and encourage bids. You can ask your staff to create a content calendar for social media that will help you attract more bidders to your auction. You can boost your fundraising efforts by leveraging social media engagement. Let's begin.

Multichannel marketing is the way to go

Use multiple social media channels simultaneously to optimize your event promotion. You can reach as many people as possible and create buzz, converting them into event registrations.
Consider marketing your auction using the following platforms.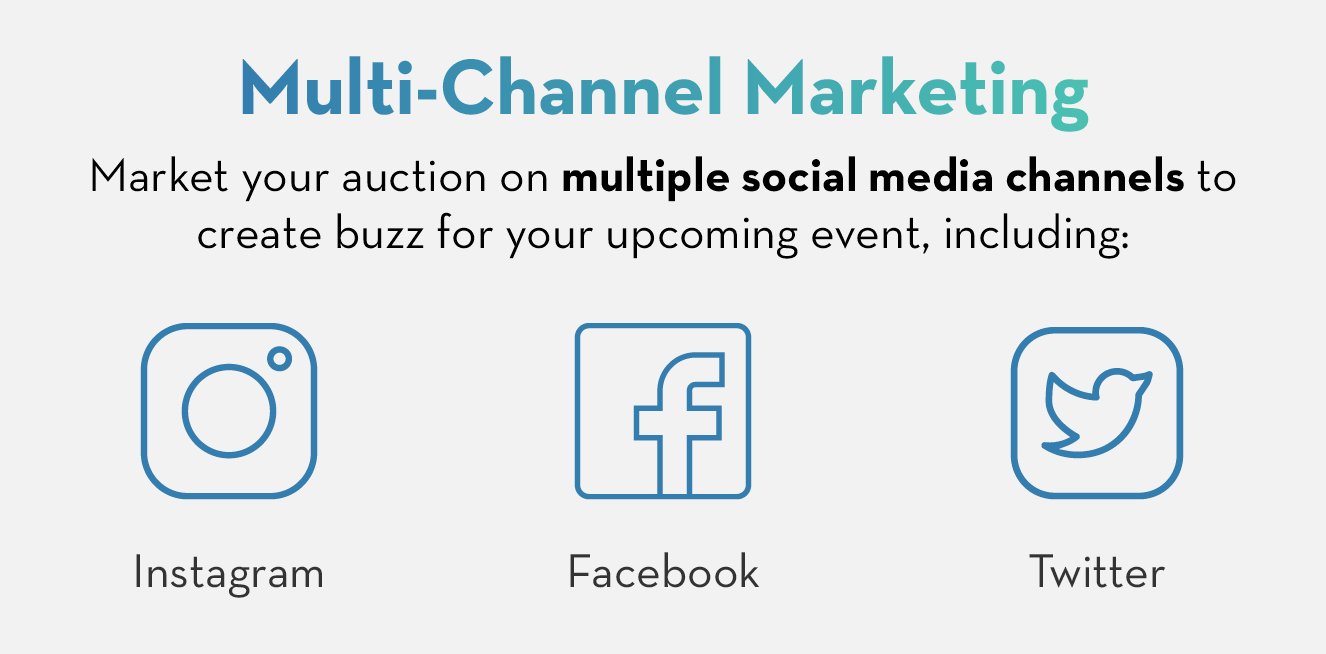 Instagram. Share photos of your last auction, or the beneficiaries that will be benefited from this event. Create short videos to boost your content strategy. Consider creating educational, organization, fundraising or testimonial videos to educate your audience about the purpose of your event and build a strong emotional bond with your supporters. Use Instagram's features such as IGTV and Instagram Reels for sharing your content.
Facebook. Update your Facebook cover page on your nonprofit's page to promote the auction. Post different content such as photos, videos and longer texts. Include a link to your auction registration in your posts to make it easy for users to sign up. Facebook's linking features allow you to upload an image that will appear with your registration link linked.
Twitter. Twitter is a great platform to send out quick updates and reminders to your followers. Use tweets to remind your supporters about important dates like the deadline for registration and the time and date of your auction. Add images, emojis and gifts to your tweets to make them more engaging.
Focus your marketing efforts on the platforms where your audience is likely to be. Track metrics as you post about your event so that you can determine which platforms get the most engagement. You can then shift your attention away from platforms that don't produce results.
Consider running a peer to peer fundraiser before your auction if you want to maximize your revenue and strengthen donor relationships. Your supporters can fundraise by themselves and spread your fundraising campaign to their own networks. Social media is one of the best tools for peer-to-peer fundraising.
Use these tips to kickstart your social peer campaign:
Use ambassadors for help. The OneCause Guide to Peer-to-Peer Fundraising states that ambassadors are individuals with a lot of connections who are passionate about the mission of your organization. They can help spread the word. You can find ambassadors in your board, amongst volunteers, sponsors, and those with large social media followers.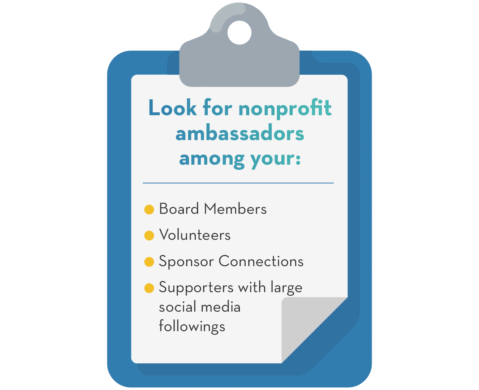 Train your peer-to-peer fundraisers. After you have a team of supporters and ambassadors to promote your cause, give your peer-topeer fundraisers everything they need to succeed. Provide clear instructions for creating their own fundraising pages. You can also host an orientation session to answer any questions.
Use social sharing tools. Peer-to-peer fundraising can take advantage of the built-in giving features on many social media platforms. Facebook, for example, offers the "Challenges", which encourages donors to donate to your cause and also complete a fun activity. For instance, running a specific number of miles, or posting a short video explaining why they support your organisation.
Don't forget to thank your peer-to-peer fund-raisers and tell them how their efforts have made a difference. Send them a note of thanks and make sure to shout out the top peer-to-peer fundraising efforts at your auction. It will make the fundraisers feel appreciated by your organization, and they are more likely to help again.
Social media contests can be a great way to boost engagement and encourage friendly competition before and during an auction. These contests are also great for a hybrid or virtual fundraiser. They can keep remote donors engaged and motivated to donate.
Create a contest that is related to your event or encourages community-building. You could, for example, encourage people to post a photo on Instagram of them with their new friends that they met at your event or to write a Facebook post explaining why they support your organization. A special prize is awarded to the supporter who receives the most comments or likes.
Consider creating a hashtag that is engaging and encourage your supporters to tag you on social media. So, people in their own networks can find out more about your organization, resulting in new supporters.
Social media can help your organization market their auction effectively online, engage with supporters and attract new ones, and make fundraising fun and social. Post about your auction well in advance of the registration deadline, so that supporters will have ample time to prepare for your event and mark it in their calendars.
The post 3 Proven social media strategies for non-profit auctions appeared first on Marketing Insider Group.
Frequently Asked Questions
What is the role of marketing in a business strategy?

Marketing is an integral part of any business strategy. Without marketing, no one will know what your company has to offer. Marketing without sales would be pointless. Marketing is essential to any business plan.
Marketing is important, but not everyone gets it. Many people think that marketing is only about spending money on advertising campaigns. Marketing is much broader than that. Marketing covers everything you do for your company to be recognized and respected in the marketplace.
Ask yourself these questions when you think about your company: What image am i trying to portray? What will my customers think of me? How can I best present myself to the world
If you don't answer these questions you haven't thought of marketing yet.
What are 3 examples of internet marketing?

Internet Marketing encompasses all activities online that are designed to promote products or services. Internet marketing can include email marketing, social media marketing and search engine optimization (SEO), as well as pay-per-click marketing (PPC) and website design.
This does not mean you need to spend money to make it happen. There are many ways to make income without spending money. The better the return on your investment in each method, however, is the greater the potential for income.
Email marketing is one of the most effective forms of internet marketing. This involves sending emails to potential customers informing them about your company and the latest offers.
Another popular way of advertising is through Social Media Marketing. Social media sites such as Facebook, Twitter, and LinkedIn enable users to share information and interact with friends and family. These sites are a great way for businesses to increase awareness of their products and services, as well as to establish relationships with their clients.
Search Engine Optimization (SEO), a technique to increase website visibility in search engines, is called Search Engine Optimization. Webmasters can increase their site's traffic by improving the quality and quantity relevant backlinks.
Website Design is the art or creating a website that looks good and works well. Website designers create the website's layout and style. Website designers make sure that the website is compliant with technical specifications and meets accessibility standards.
Advertisers can bid on keywords that are related to their products and services through Pay Per Click Advertising (PPC). Advertisers pay when someone clicks on their ad. PPC ads typically appear at the bottom or top of search result pages.
What are some direct-marketing examples?

Direct Marketing Examples include postcards, brochures, flyers, e-mails, etc.
Direct marketing helps you reach people at home or on the go. It's the best way of communicating with customers who have already selected your product/service over another.
Know what type of message would be most appealing to your target markets.
Finding out what your customers want is key to delivering it.
Direct marketing is a great way to promote your brand. For example, you could send catalogs to potential customers or advertise in local newspapers.
You can also create a mailing list that is unique to your customers. With a solid contacts list, you can add new subscribers easily to your list.
Ask your customers if they would like promotional material. Special offers may be offered by some companies to get discounts.
Statistics
External Links
How To
Top 10 Marketing Strategies for Affiliates in 2022

Affiliate marketing is an extremely popular method of online advertising that marketers use today.
It allows companies to promote products without spending any upfront costs. Instead, affiliates pay a commission whenever users purchase the advertised items.
There are two types of affiliate programs available: cost-per-sale and performance-based. A performance-based affiliate program is one that pays an affiliate after a specific number of sales are made. An affiliate earns a fixed amount per sale regardless of whether or not he sells any product.
In this article we will be covering the top 10 most effective affiliate marketing strategies for 2022. We will discuss each strategy and show examples of successful campaigns.
#1. 1. Create a brand loyalty program
Online retailers are increasingly using brand loyalty programs. These loyalty programs enable customers to accumulate points for every visit to a website and each purchase.
These points may be used later to receive discounts, rewards, or special deals.
Amazon Prime, for example, gives members exclusive deals and perks.
Amazon also offers Associates, a referral system. This program lets merchants refer shoppers to Amazon and receive a percentage of the revenue generated from those referrals.
#2. #2. Use social media to promote your products
It's easy to advertise products via social media platforms, such as Facebook, Twitter or Instagram.
Advertisements can be run by companies to directly target buyers. Facebook lets advertisers target specific demographics or interests through its ads.
They may also target those who live within walking distance to a store.
Twitter is another platform where companies can reach targeted audiences quickly. Companies can send tweets to followers, ask questions, and share content.
Instagram is similar to Twitter because it allows brands to interact with consumers. Instagram, however isn't able to allow businesses direct messages.
Instead, followers see the posts in their feeds automatically.

Pinterest is another social network that allows businesses and customers to connect. These connections include the sharing of images, asking questions, and answering customer inquiries.
#3. #3. Offer Special Discounts for Influencers
Influencer marketing can help increase brand awareness. Brands can work with influencers to offer incentives for them to promote their products.
In many cases, this partnership involves giving influencers products to try out or review.
These partnerships can go beyond reviewing products. Influencers may also be brand ambassadors.
Brands may hire influencers to host giveaways or answer questions.
#4. 4. Create video ads
Video ads are becoming more popular. Online videos are becoming increasingly popular, particularly since tablets and smartphones have become mainstream.
Advertisers might use video ads in order to attract attention and persuade viewers, click on links or purchase products.
YouTube is one of the most significant websites where advertisers can place video ads. YouTube allows advertisers to upload up to 60 seconds of video.
Google AdWords is another option for placing video ads. Google uses keywords to match ads to relevant searches.
#5. Run Mobile Campaigns
Mobile apps have become increasingly popular. Mobile apps can be used to download and watch movies, browse books, listen to music, and even play games.
People spend hours reading books and listening to music on their phones. They also watch movies on the phone.
Mobile apps are a great way for businesses to get more visitors to their websites.
Apps can be downloaded onto smart devices, such as iPhones, iPads, Android phones, and tablets.
App stores are available for Apple iOS and Google Play as well as Windows Phone, Blackberry OS and Kindle Fire.
#6. #6.
A shopping cart is an efficient way to sell physical products.
Customers can add items directly to their shopping cart.
Online shopping carts are growing in popularity. Some online retailers like eBay allow customers to create accounts and browse product listings.
Amazon and other online retailers have integrated shopping carts to their websites. Customers can quickly choose the items they want and place orders.
#7. Launch New Product Lines
Product lines are a great way to attract new customers.
A press release is usually sent out when a company announces the launch of a new product line.
The release might include information about new features, pricing, availability, etc.
After the launch, the company is free to continue marketing the products.
#8. Develop Cross-Channel Marketing Programs
Cross-channel Marketing refers to marketing efforts on different channels.
Cross-channel Marketing could, for example send emails to your subscribers via email lists and promote products on social networks. You might also run banner ads on search engine engines.
Multichannel exposure can be a boon for some companies.
One example is that some companies sell products in brick-and mortar locations. In addition, they also sell products online.
These companies often use both channels simultaneously to increase sales.
#9. #9.
Data analytics helps companies improve business operations and maximize profits. It involves analysing data collected from diverse sources to identify patterns or trends.
Analytics can be used to identify problems and evaluate current practices. It can also predict future requirements and suggest ways to improve.
Analytics tools can be used to collect data from many sources such as web servers, databases, applications, and other websites.
These tools can help companies learn about their customers, and to better understand their behavior.
#10. Increase Customer Satisfaction
Customer satisfaction is essential for every business. Satisfied customers are more likely to return for more services.
Customer satisfaction is a sign of a satisfied customer. They are also more likely recommend your products and services to others.
Satisfied clients are less likely than others to complain about poor service.
Therefore, increasing customer satisfaction is critical for all businesses.
This is possible by offering outstanding customer support.
Employees should be able to respond quickly and effectively to customer queries.
Customers don't need to wait long for their order.
You should also ensure that your website is easy for users to navigate.
Your site must load quickly and provide clear instructions.
Keep in mind that not all customers are created equal.
Some customers might need more assistance while others aren't so much.
You must tailor your customer support policies to fit individual needs.
This ensures that everyone receives outstanding service.
Check out our guide here if you'd like to know how to start an affiliate marketing campaign.
We have covered all aspects of starting an affiliate campaign.
Now that you are familiar with how to launch an effective affiliate campaign, it is time to build relationships and establish trust with other bloggers.
Doing this will allow you to gain experience and increase your credibility.
You can then leverage this expertise to earn
————————————————————————————————————————————–
By: Giana Reno
Title: 3 Proven Social Media Strategies for Nonprofit Auctions
Sourced From: marketinginsidergroup.com/social-media/3-proven-social-media-strategies-for-nonprofit-auctions/
Published Date: Tue, 13 Jun 2023 10:00:40 +0000