Companies that want to convert and attract new customers need digital marketing. However, nearly half of companies (45%) do not know their ROI. Why? They don't keep track of the sources of their website traffic and leads. This can lead to misallocations of resources and misunderstandings about how buyers navigate the internet.
They are likely investing time, money and effort in marketing channels such as social media and paid searches that don't produce traffic, leads, or ROI.
This is something I've seen so many times: A founder launches a product, creates a website and hires a sales team. Then, he hires a social media intern. Because all the kids these days are on the 'gram! They can also hire a media agency to display banner ads.
Our blog readers know that I love to tell you that banners have 99 problems, and a click isn't one!

We recently conducted extensive research to find out where marketing budgets, time and effort are most effective. What are the top traffic sources and leads to your website? How have these sources changed over time and between B2B & B2C industries?
We found that Organic Search is still the most important source of traffic and leads to most companies. Companies that invest in content marketing to increase organic traffic see higher conversion rates and ROI.
Content marketing is not only cheaper to do, but it also has compounding benefits over time, establishes brand authority and attracts buyers who are truly interested in what your company offers.
Paid search is another option. Paid search has its advantages, including the faster results. However, you will need to pay more for those results if you plan on maintaining them over time. Not to mention the fact that 94% of searchers skip the ads in favor of the organic results.
Highlights from the Website Traffic Sources report:

More than 60% of all web traffic comes from organic search
67% of top blogs' traffic comes from organic search
Over 90% of website traffic comes from "organic" sources (Search plus Referral plus direct traffic).
Payed search, email and social media accounts for less than 10%
B2B and B2C sector web traffic sources are very similar (which is a bit surprising, right?).
This guide will share our full research findings as well as the two key ways to maximize your content marketing ROI across all web traffic sources. These are tracking site traffic with Google Analytics and creating consistent, high-value material for your target audience.
Let's get started.
What are the Main Web Traffic Sources

Let's first look at top traffic sources that businesses currently use in digital marketing strategies. These are the five main sources that we will analyze in our research:
Direct Visitors can click a link to get to your site, but they will arrive on your site directly.
Organic search – Search engine results pages allow users to click on a site to visit
Social media Web visitors are driven by social media links to a website
Email– Links in direct emails drive traffic
Paid Traffic generated by digital display banner ads or paid search (PPC).
Because users use 10 or more channels to interact and buy from brands, it is best to create a multichannel digital strategy that drives traffic from multiple sources.
We'll be looking deeper into source breakdowns in the next sections. Let's start with the obvious web traffic winner — organic search.
Organic Search: The Web Traffic Winner

We began by analysing organic search traffic to our website and those of our clients. Additionally, we consulted a set of industry-leading research. We found that organic search accounts for over 60% of web traffic (only 66% for MIG clients). This is incredibly consistent and encouraging for content marketers. 62% average for all websites in our larger analysis.
This percentage is further explained by Google, which drives more traffic than any other social media platform combined and accounts for over 90% of all search engine queries.
Let's now take a look at the relative importance of search engine traffic sources in different industries and B2B and B2C segments.
The chart below clearly illustrates that organic search is becoming more important than ever. Since the launch of the internet, we have seen website traffic increase every year. Search engines have seen a rise in popularity (8.5 billion searches per days). This has resulted in a rise in organic, direct and referral traffic. This has led to a decrease in the importance Social, Paid, or Email as a source of traffic and leads. Let's take a look at the data.
Organic contributed 62% to the traffic in 2022 (up from 58% for 2019).
Direct generated 22% website traffic, up from 15% in 2019.
Referral traffic has also increased from 3% to 10% by 2022 (almost three times more important).
Social media fell from 7% to only 2% by 2022
Paid media traffic has also fallen from 10% in 2019 down to 3% by 2022
Email has also dropped from 10% to just 3% in 2019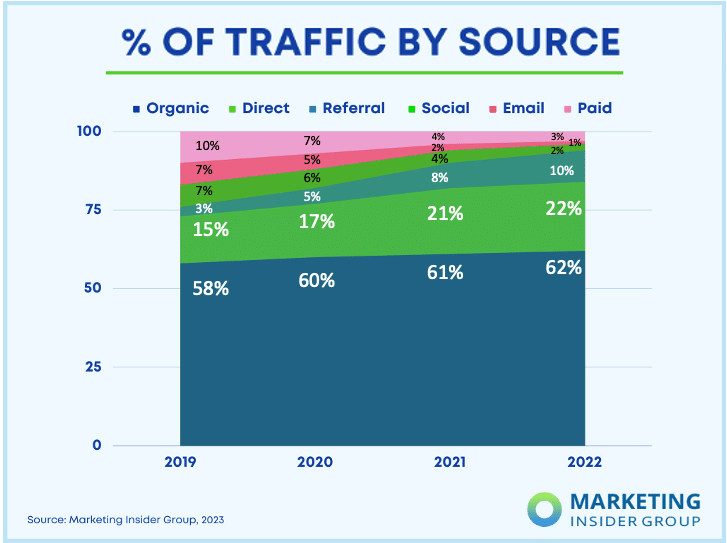 This doesn't include everything. Conversions are also important. We'll also cover the conversion rates of each source further down.
Top Traffic Sources: B2B vs.B2C

Next, we examined how traffic sources compare between B2B- and B2C. You know that B2B marketing is different from B2C, but when it comes to web traffic, the results were similar.
This surprised me a bit. Is it not surprising that e-commerce and consumer-focused brands get all their new customers via paid media ads and viral social posts? This is a marketing myth.
B2B has a noticeably higher, but still very low, traffic share from search (64% vs. 60%). Both sectors show that organic search outperforms direct traffic by 2-3X, as well as email and social media (which make up only a small percentage of total traffic).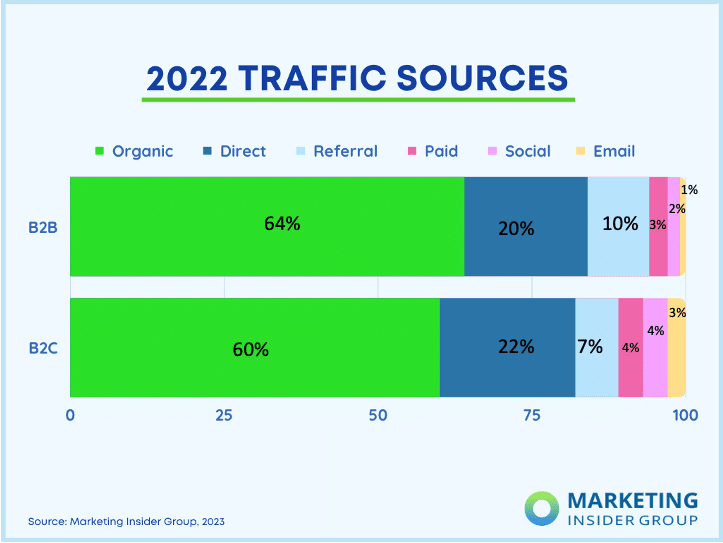 Analyse of Web Traffic Sources by Industry

We were unable to analyze web traffic sources by industry because of the small sample. We turned to SimilarWeb, who analysed 3.25 billion visits across 450,000 domains.
Their findings are consistent with our own research. It is the most popular source of traffic, ranking #1 in all 12 industries that we studied. However, some industries rely more heavily on organic search than others.
Five industries with the highest web traffic from organic search are Medical (87%), Travel (72%), Design & Development (69%), Personal Finance (67%), Food & Recipes (60%). The percentages for all other industries was well above 50% with Crypto at 45%.
At an average 32%, direct traffic ranked second across all industries. After a drop to 25% in the industry Food & Recipes at 25%, Real Estate (42%), Technology (39%), and Crypto (37%) earned the highest direct traffic shares.
Social media accounts for a significant portion of traffic for Fashion & Beauty and Business & Marketing (11% and 18% respectively), but it only accounted to 4% for the rest of the 10 industries. Payed search and email accounted for just 1% of overall traffic.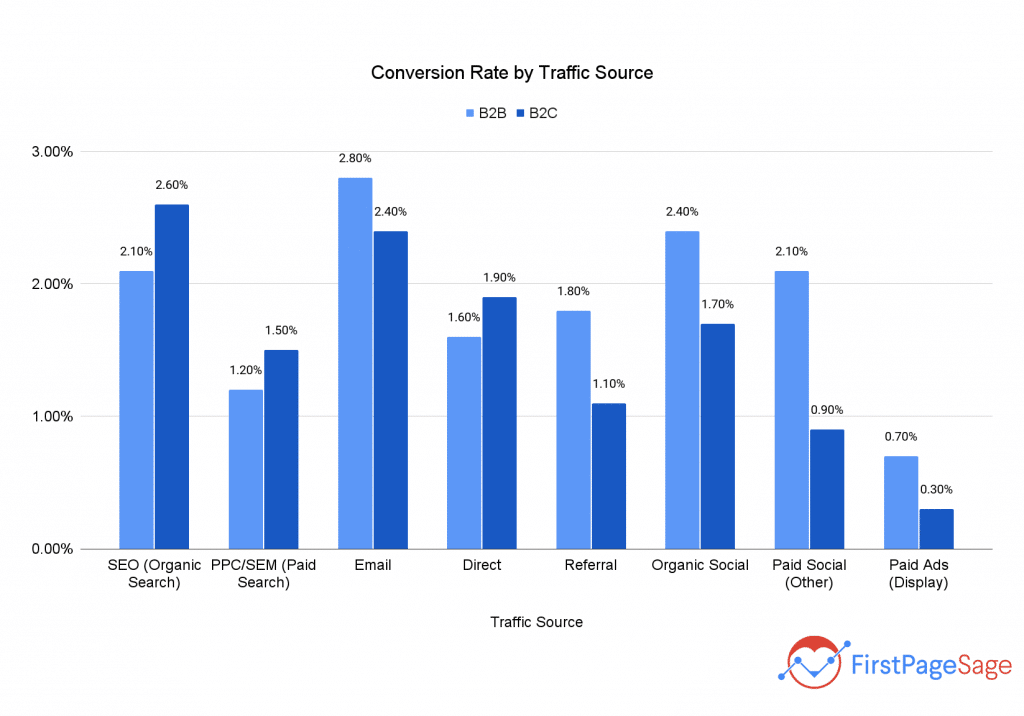 What about conversion rates for each traffic source?

It was worth looking at conversion rates across different web traffic sources. We found that they generally hover around the digital marketing status-quo of 2.5%, give or take a tenth.
When looking at this data, it is important to keep in mind two important points. With stellar strategies and consistent execution, companies can increase their conversion rates beyond these averages. You don't have to feel that 2.5% is too low.
Second, top web traffic sources generally convert leads at a single-digit percent rate. You should use multiple digital channels to reach your target market to generate as many leads as possible to maintain your pipeline.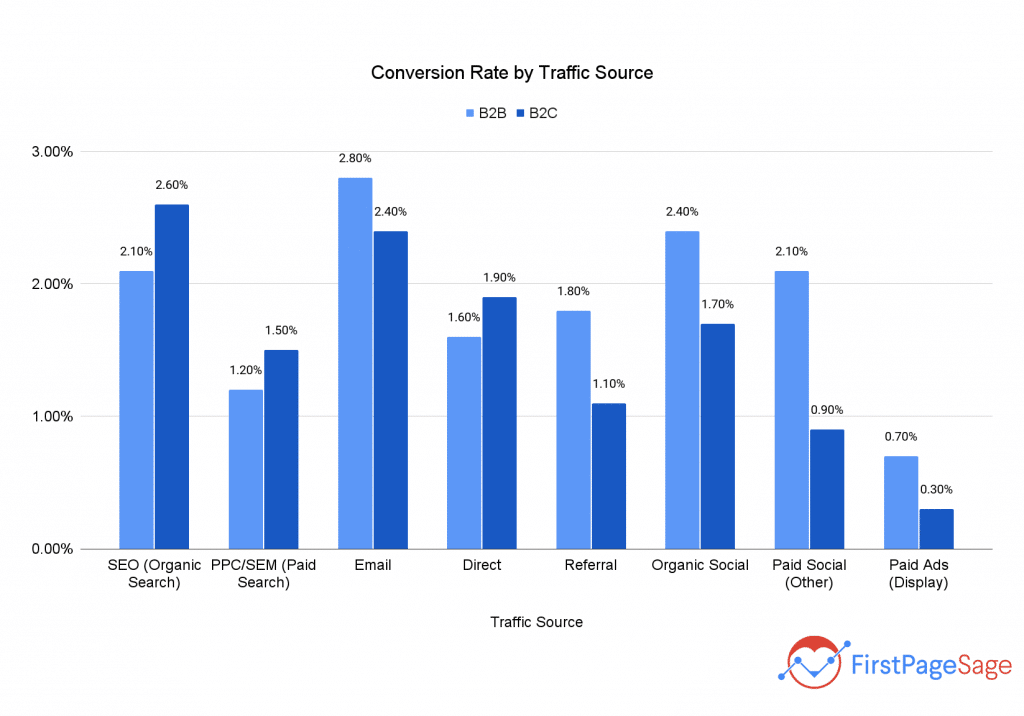 Tracking can help you optimize your web traffic sources

This data can give us valuable insight into trends and averages but it is important to understand how your business performs in relation to web traffic sources. Google Analytics and WordPress plugins allow you to automate tracking traffic through your website using tools like Google Analytics.
These tools convert web traffic data into visually-friendly data reports that your marketing team can use for continual refinement and improvement of your strategy based upon target audience behavior.
Semrush is a great tool to show clients and us how content marketing works.

Content is the key to success

The universal key to unlocking traffic from all important sources is great content. It's what engages new audience, builds trust with potential clients, and keeps your visitors coming back after their first visit.
Content is the best! It can be created for one channel like your blog and then repurposed in other places like email and social media.
Your brand's content is what makes it stand out in search results and allows you to offer value to your customers before they make a purchase.
You need a comprehensive content strategy to succeed in today's digital marketing environment. This includes regular publishing (multiple times per day). You're not the only one feeling overwhelmed by this task.
More than 70% of companies outsource their content. An agency can help you achieve the market's highest standards. You can also keep your eyes on the most important thing for your business: serving customers.


Marketing Insider Group's expert writers can provide optimized blog content that is ready to publish every week for a year. To learn more, check out our SEO Blog Writing Service.


The post Where does your website traffic come from? Marketing Insider Group published the first article Top Web Traffic Sources Research.
Frequently Asked Questions
What kind of eCommerce Marketing Strategy Should I Follow?

There are three main types eCommerce marketing:
Direct marketing
Search Engine Optimization (SEO).
Social Media Marketing
Direct marketing refers to sending emails directly towards potential buyers. These emails could contain coupons, discounts, special offers, etc. This marketing strategy aims to build customer loyalty.
Search engine optimization helps improve the ranking of your website when you search engines like Google or Yahoo. When your website appears at the top of search results when people type in keywords related to your product, you'll get more visitors.
Social media marketing involves websites such as Twitter and Facebook, Pinterest, Instagram and YouTube. Connect with your audience. It's easy to set-up and use, and it's effective.
Each of these options has its pros, and cons. For example, SEO requires time and effort, while direct marketing doesn't require much effort. However, if you only focus on one method, you won't see the full benefit of eCommerce marketing. We encourage you to combine multiple marketing channels.
Emails could promote your products. This would help you to rank highly in search engines. Or you could advertise on social media and then link to your site from those pages.
There are many ways to market an eCommerce store. Select the best options for your company and keep them in place over time. Good luck!
What is the role of marketing in a business strategy?

Marketing is an integral part of any business strategy. Marketing is essential to any business strategy. Without it, nobody would be able to know about your company. Marketing would be meaningless without sales. Marketing is essential for any business strategy.
But not everyone understands the importance of marketing. Marketing is often thought to be about advertising campaigns. Marketing is much broader than that. Marketing covers everything you do for your company to be recognized and respected in the marketplace.
When you think about your business, ask these questions: What image am I trying convey? How will my customers view me? How can I best present myself to the world
If you don't answer these questions you haven't thought of marketing yet.
What are some examples of direct marketing?

Direct Marketing Examples include postcards, brochures, flyers, e-mails, etc.
Direct marketing is a great way to reach people anywhere you are. It's the best way to communicate with customers who have already chosen your product or service over another brand.
You need to understand what message appeals the most to your target market.
Finding out what your customers want is key to delivering it.
Direct marketing can be used in many ways to promote your company. You could mail catalogs to customers, or place ads in local newspapers.
Another option is to create your own mailing list from existing customers. With a solid contacts list, you can add new subscribers easily to your list.
Ask your customers if they would like promotional material. Many companies offer discounts for those who sign up to special offers.
Statistics
External Links
How To
Top 10 Affiliate Marketing Strategy for 2022

Affiliate marketing is an extremely popular method of online advertising that marketers use today.
It allows companies to promote products without spending any upfront costs. Instead, affiliates pay a commission whenever users purchase the advertised items.

There are two types of affiliate programs available: cost-per-sale and performance-based. Performance-based means an affiliate will be paid once a certain number have been sold. An affiliate earns a fixed amount per sale regardless of whether or not he sells any product.
We will cover the top ten affiliate marketing strategies of 2022 in this article. Each strategy will be explained and illustrated with examples.
#1. Build a Brand Loyalty Program
eCommerce websites are increasingly adopting brand loyalty programs. They enable customers to accumulate points whenever they shop or visit a website.
These points can later be redeemed for discounts, rewards, or special offers.
Amazon Prime members have access to exclusive deals, perks and more.
Amazon also runs a referral program called Associates. Amazon Associates allows merchants to refer their customers to Amazon. They also receive a portion from the revenue generated by those referrals.
#2. #2. Use social media to promote your products
Perfect places to promote products are social media platforms like Facebook and Twitter.
Potential buyers can be targeted directly by companies through ad campaigns. Facebook, for example, allows advertisers to target certain groups of people based upon their interests and demographics.
They may also target those who live within walking distance to a store.
Twitter is another platform which allows companies to reach targeted audiences quickly. Companies can quickly send tweets to their followers and ask questions.
Instagram is similar in concept to Twitter, as it allows brands to interact directly with consumers. However, unlike Twitter, Instagram doesn't allow businesses to send direct messages.
Instead, posts appear automatically on followers' feeds.
Pinterest is another social network that allows businesses and customers to connect. These connections may include sharing images, answering customer queries, and asking questions.
#3. #3. Offer Special Discounts for Influencers
Influencer marketing is an effective tool for increasing brand awareness. Brands can work with influencers to offer incentives for them to promote their products.
This partnership often involves giving influencers free products to review or test out.
However, these partnerships aren't limited to reviewing products. Influencers can also become brand ambassadors.
Brands can hire influencers to host giveaways, provide opinions, answer questions, or simply show off their products.
#4. #4.
Video ads are increasingly in demand. People love watching videos online, especially since smartphones and tablets became mainstream.
Advertisers have the option to use video ads to grab attention and persuade viewers click on links to buy products or to advertise.
YouTube is one of the most significant websites where advertisers can place video ads. YouTube allows advertisers to upload short clips of up to 60 seconds.
Google AdWords offers another way to place video advertisements. Google uses keywords in order to match ad placements with relevant searches.
#5. Run Mobile Campaigns
Mobile apps are growing in popularity. Mobile apps can be used to download and watch movies, browse books, listen to music, and even play games.
People spend hours reading books and listening to music on their phones. They also watch movies on the phone.
Mobile apps can be used by businesses to increase traffic to their sites.
Apps are available for download on smart devices like iPhones, iPads and Android phones as well as tablets.
App stores are available on Apple iOS, Google Play and Windows Phone.
#6. Integrate Shopping Carts into Websites
A shopping cart is an efficient way to sell physical products.
Customers can add items directly to their shopping cart.
Online shopping carts have gained popularity. Online retailers such as eBay offer customers the ability to create an account and browse product listings.
Amazon is one of the many online retailers that integrate shopping carts. Customers can choose what items they want to order and pay for them right away.
#7. #7.
You can attract new customers by offering product lines.
When a company launches a new line of products, it usually sends out press releases announcing the news.
This release could include information about the new line's pricing and availability.
Once the launch is complete, the company will be able to continue marketing its new products.
#8. Develop Cross-Channel Marketing Programs
Cross-channel marketing refers marketing efforts across multiple channels.
For example, cross-channel marketing could involve sending emails to subscribers via email lists, promoting products on social networks, and running banner advertisements on search engines.
Companies may combine multiple channels to increase their exposure.
For example, some companies sell products at brick-and-mortar locations. A few companies also sell products online.
Companies sometimes use both channels simultaneously in order to increase sales.
#9. Leverage Data Analytics
Data analytics helps companies improve business operations and maximize profits. This involves analysing data from different sources to identify patterns and trends.
Analytics can spot problems, analyze current practices, forecast future needs and suggest improvements.
Analytics tools can pull data from many sources: web servers, databases, and even applications.
These tools can be used by companies to better understand the behavior of their customers.
#10. #10.
Customer satisfaction is essential for every business. Customers will return to your business if they are satisfied.
A satisfied customer will be more likely to recommend your products.
Satisfied customers are less likely to complain of poor service.
Businesses must increase customer satisfaction.
You can do this by offering exceptional customer support.
Employees must respond quickly to customer inquiries and address issues promptly.
Customers can get their orders quickly by choosing expedited shipping options.
You should also ensure that your website is easy for users to navigate.
Your site should load quickly.
Bear in mind, not all customers can be treated equally
Some customers might need extra assistance, while others won't require much effort.
Your customer support policies should be tailored to each individual's needs.
This ensures that everyone gets excellent service.
If you want to learn how to create an affiliate marketing campaign, check out this guide.
We've covered everything you need to know about starting an affiliate marketing campaign.
Now that you're familiar with the basics of affiliate marketing campaigns, you can begin to establish relationships with other bloggers.
This will give you experience and credibility.
This knowledge can be then used to your advantage and earn
————————————————————————————————————————————–
By: Michael Brenner
Title: Where Does Your Website Traffic Come From? Top Web Traffic Sources Research
Sourced From: marketinginsidergroup.com/content-marketing/top-web-traffic-sources/
Published Date: Mon, 10 Apr 2023 10:00:12 +0000