If you've found yourself reading this blog, you're probably interested in the idea of a membership site. These sites are not to be confused with paid subscriptions, which refer exclusively to a financial model that binds users to its pages.
Netflix, for example, is the classic example of a subscription website: a platform that users gain access to via a recurring fee. On the other hand, membership sites refer to platforms that offer gated content only accessible through, you guessed it, membership.
These sites can be paid, free, or operate on a tiered basis, depending on the site's intent as a whole.
In this blog post, we'll break down the benefits of membership sites, share how to build out gated content for members' eyes only, and share our top three favorite membership sites.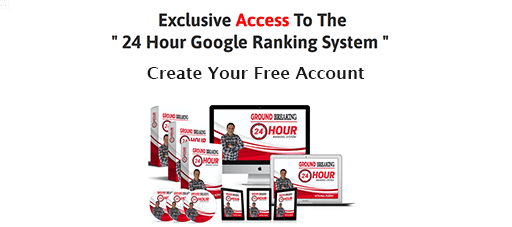 Why Should You Create a Membership Site
There are many benefits to creating a membership site, including building your community and monetizing your content.
Below, we break down the three biggest benefits of building a membership site structure.
1. Establish Yourself as an Expert
Everyone wants to be considered an expert in their field. At times, however, achieving this can be much easier said than done.
One surefire way to establish yourself as an expert is to offer invaluable content that fills holes in your industry's general knowledge base. These assets can come in the form of white papers, infographics, blogs, podcasts, and any other form of consumable content.
When these content assets are available via a membership-only relationship, you not only drive demand for your content, but you also firmly establish yourself as an industry expert, given consumers' willingness to engage with your gated site.
2. Foster Your Community
When you commit to building a membership site, you're not just building a transactional environment; you're building a community.
Your audience has agreed to participate in your membership site given their shared interest in your product or topic.
Foster this community by providing them with unique offerings and benefits, as well as giving them a place to interact with one another. Whether your membership site is paid or free, you have a unique group of active members with shared interests ready to engage.
This community-building also serves you in the long run, as you've created a base of followers with whom you've built trust and goodwill, making them that much more likely to interact with your products and offerings in the future.
3. Increase Your Overall Value
With each new member and content asset, your website becomes increasingly valuable. The more content you create, the more you have to offer to prospective community members.
While traditional digital models will operate on one-off sales of products or services, your membership site has the potential to acquire cumulative value that increases over time.
How to Create a Membership Site
If we've convinced you of the benefits of the membership site, the next step is breaking down how to actually build one. This section will discuss the three steps for building a membership site that keeps users coming back for more.
1. Establish Your Membership Model
Before delving into the actual work of building out a membership site, you need to establish your membership model. In this step, you must first decide if you're charging your members. If you are, you must determine how much and at what frequency.
This assessment of pricing should include researching how much competitors are charging and what they are offering. Sometimes, forgoing the fee may be worth the lost revenue as it provides a slew of qualified leads.
After establishing pricing, look to your buyer personas to establish what would drive value for your consumers. These value drivers don't necessarily have to fall into the realm of content; they can include offerings like free shipping or points for purchase. Regardless of which route you choose, ensure that your offerings align with what your audience finds valuable.
2. Create Members-Only Content
If you're offering exclusive content through any model, it better be just that: exclusive. When potential members hand over a fee or offer up their personal information, they better receive something of value in return.
Here, revisit your buyer personas to determine what content assets need to be created to ensure that your members find value in your site.
3. Choose the Right Membership Platform for Your Needs
Now that you've established your membership model and built out your members-only content, it's time to find the right platform to make your site a success. If you've built your existing site on WordPress or Squarespace, there are plug-ins that can make this step super easy.
If you're not using these platforms, you can choose a third-party provider to enable the membership site for you.
Regardless of which platform you use, your membership site should include the following features:
Membership management: This function allows you to create different tiers of memberships and add and manage members.
User registration and member profiles: This refers to front-end functionality that allows users to sign up and access their profiles.
Content restriction: We've talked a lot about gated, so you want to be sure that your site has the functionality to hide those valuable assets from non-member audiences.
3 Examples of Successful Membership Sites
While there are a lot of membership sites out there, we've broken down a few examples that really hit the mark. These include both recognizable names and lesser-known membership sites that provide value to their respective audiences.

1. Scott's Cheap Flights
Everyone wants to spend less to go further–and that's what this membership site lets members do. With curated flight offers, this membership site enables users to score flights on the cheap, opening their horizons and closing their wallets.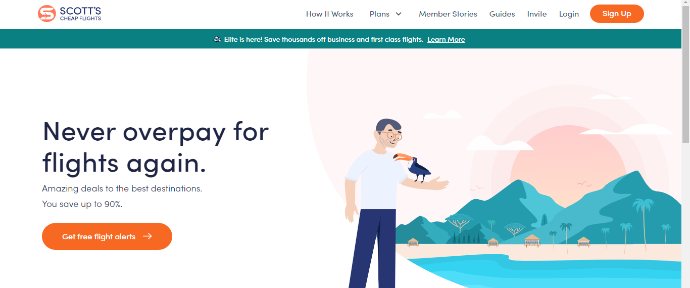 Offering members up to 90% off flights, the big takeaway from this membership site is the customizable offerings. By providing each member with flights that align with their respective travel interests, Scott's Cheap Flights creates a personalized experience for members they can't help but return to.
2. International Gem Society
If agate doesn't leave your jaw agape, this site may not be for you. If rocks rock your socks, this membership site should be bookmarked in your browser. Members subscribe to a paid model for certification courses, articles, and a thriving forum.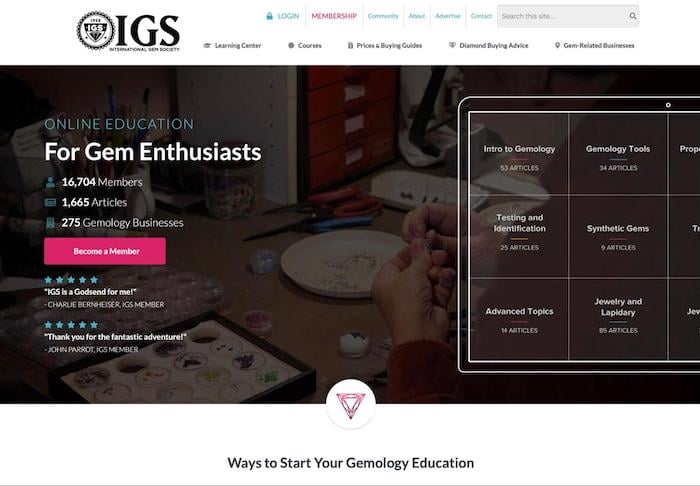 Here, too, much can be learned about growing a membership site, particularly within a niche market. By offering their members content that speaks specifically toward the needs and interests of a specific group, the International Gem Society keeps their members coming back for more.
3. Food Blogger Pro
This membership site is for all the would-be food bloggers out there, as the name suggests. Powered by the expertise of two successful food bloggers, this membership site offers users a forum, as well as course content.
If you're considering building a membership site, take notes on this forum. Lively and interactive, a community truly is formed on the discussion page of this membership site.
Membership Site FAQs
Should my membership site model be paid or free?
Determining whether your membership site should be paid or free depends on your goals. If you aim to monetize your content, you should subscribe to a paid model. However, if you're simply attempting to gain credibility and establish yourself as an expert and thought leader in your field, a free subscription may be right for you.
What content should I include on my membership site?
The content you build on your membership site should be specific to your audience. Provide content that of value to your target audience, offering them assets they can't live without. 
These offerings can include infographics, white papers, blogs, podcasts, and other assets that fill holes in your industry's knowledge base or offer utility to your members. Again, constantly return to the question: What will my members truly value?
How do I build a membership site?
Building your membership site doesn't mean you have to be an expert coder. Sites like WordPress and Squarespace offer plug-ins that can help you migrate your existing site to a membership model. If your platform doesn't offer plug-ins to streamline this process, consider hiring a developer to help you include a members-only section of your site. 
Why should I consider a membership site?
The benefits of membership include creating income, building a community, establishing yourself as an expert, and monetizing your content.
Membership Site Conclusion
Whether you're looking to monetize your content or simply solidify yourself as an expert in your field, creating a membership site can add inherent value to your brand.
For a truly successful membership site, however, you must have a clear understanding of your audience. By establishing who you're trying to reach, you can better identify what they're trying to reach by subscribing to your membership site.
From there, build out a reserve of content that you can serve up to members at a predetermined cadence to ensure that your offerings live up to their expectations. By setting a cadence, you establish a reliable exchange, further building trust in your site and ideally growing your base.
What's the best example of a member site you've seen?
————————————————————————————————————————————–
By: Neil Patel
Title: How to Create, Launch, and Grow a Membership Site and Community
Sourced From: neilpatel.com/blog/membership-site/
Published Date: Tue, 13 Jul 2021 13:00:00 +0000