Disclosure: This content is reader-supported, which means if you click on some of our links that we may earn a commission.
The best WordPress plugins make your site faster, increase traffic, and tighten website security for your visitors.
But you don't want to overdo it. Installing too many WordPress plugins can actually slow down your site. Using certain plugins together can cause conflicts that you definitely want to avoid.
I've got a good number of plugins on my blog, which gets millions visitors each year. You can fill out forms, sign up for membership content, and more–everything runs smooth. It's all about picking the right plugins that work together for your needs.
I've put together a list of the seven best WordPress plugins you can install right now to improve your site. After the reviews, I'll show you how to evaluate your options and avoid issues.
#1 – WP Rocket Review – The Best for Speed Optimization
A WordPress site can put a lot of strain on your server, which increases the possibility of crashing your web server. To avoid such unfortunate situations and ensure all your site loads super fast, you need a caching plugin like WP Rocket.
WP Rocket is a simple and effective plugin designed to boost your website speed and performance. It doesn't wait for someone to request a page to save it to cache. Instead, it automatically builds your website cache, resulting in an immediate performance boost.
The plugin turns on recommended WordPress caching settings, such as page cache, gzip compression, and cache pre-loading automatically.
You can also activate other features like CDN support, lazy loading images, DNS prefetching, and minification to improve your page loading time and reduce bounce rate.
Starting at $49 for an annual license per site, WP Rocket is less than $5 a month. There are solid WordPress cache plugins available, but WP Rocket is still my number one pick in the category. It's easier to use than some of the less expensive ones, which is probably why it is so popular.
There is no free trial, but WP Rocket does have a 14-day refund policy. So you can try it risk free to see how it impacts your site's performance. Learn more.
#2 – Yoast SEO Review – The Best for Increasing Organic Website Traffic
Users serious about search optimization trust Yoast SEO to reach their goals. All you need to do is select a keyword, and the tool will then optimize your page around it.
Not only does it help you improve SEO, but it also analyzes your content readability. It gives you real-time page analysis to optimize your content, images, meta descriptions, titles, and keywords.
No wonder it might be the most popular SEO tool in the WordPress plugin repository.
Further, Yoast checks the length of your sentences and paragraphs, whether you're using enough transition words or subheadings, how often you use passive voice, and so on. It tells Google whether or not to index a page or a set of pages too.
Although there's a free version available, you can upgrade to the premium version for $89 per year that comes with extra functions, allowing you to optimize your content up to five keywords, among other benefits.
#3 – Akismet Review – The Best for Spam Protection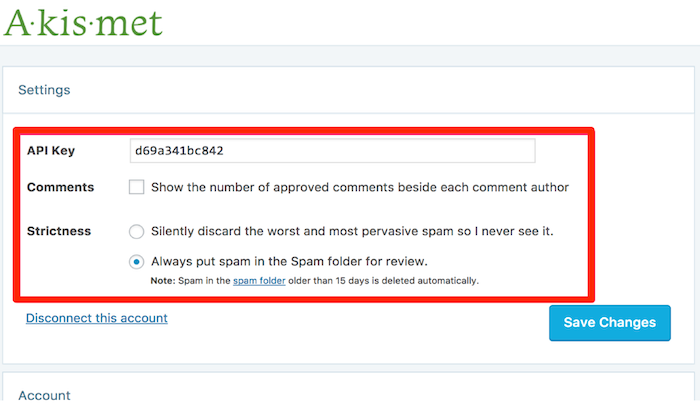 Nobody appreciates the opinions of bots. Unfortunately, spam comments are an unavoidable price of website success.
With Akismet, though, you'll be able to eliminate spam comments–no matter how genuine they look–effectively and effortlessly. After all, it's the official anti-spam plugin developed by Automattic, the parent company of WordPress.
There's a possibility of the plugin missing out on a few spam comments or not identifying false positives. You only need to tell it about them, and the plugin learns and gets better over time.
The plugin also checks your contact form submissions against its global spam database to weed out unnecessary and fake information.
Although free to download, you will need an Akismet.com API key to use the plug-in. These keys are free for personal blogs, but businesses and commercial sites will have to opt for paid subscriptions.
#4 – Wordfence Security Review – The Best to Handle Security Concerns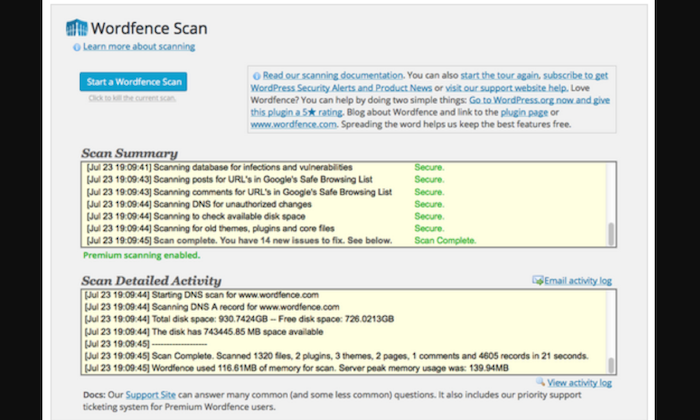 Wordfence Security is a WordPress firewall and security scanner plugin. It offers your site full protection from malicious hackers, malware, spam, and other online threats.
It searches for malware and compares code, theme, and plugin files with the records in the WordPress.org repository, allowing it to verify their integrity and report any changes to you.
The plugin comes fitted with a web application firewall (WAF) called Threat Defense Feed that helps Wordfence identify and block malicious traffic. Plus, it prevents brute force attacks by ensuring you set stronger passwords and limiting login attempts.
Wordfence firewall and security scanner will give you security risk alerts before your website is hacked, keeping it safe and secure. It also comes with login security features that enable you to activate reCAPTCHA and two-factor authentication on your website.
A free version of Wordfence is available. But you can also buy the premium plan at $99 per year to get extra security features like the real-time IP blacklist and country blocking option, along with support from professional support engineers.
#5 – UpdraftPlus Review – The Best for Site Backup
Many people fail to consider the importance of having a backup plugin. Don't make that mistake.
Thousands of sites get hacked daily. WordPress sites are a really common target for hackers because it is so popular and a lot of non-technical folks use it. Simply hoping you won't be next on the list is just wishful thinking. You have to be prepared, which is where backup plugins come in handy.
There are plenty of WordPress backup plugins online, but only a few are as powerful and user-friendly as UpdraftPlus. It allows you to set up automatic backups and store your files on a remote location like Google Drive, FTP, email, and Dropbox.
Restoring your website from a backup is also super easy and can be done straight from the dashboard. Other features include advanced reporting, database encryption, additional storage destinations like OneDrive, Azure, SFTP, and backup scheduling.
You have the option to either use the base version of UpdraftPlus or purchase its premium version that costs between $195-$399 a year, depending on the plan you choose.
#6 – MonsterInsights Review – The Best for Data Tracking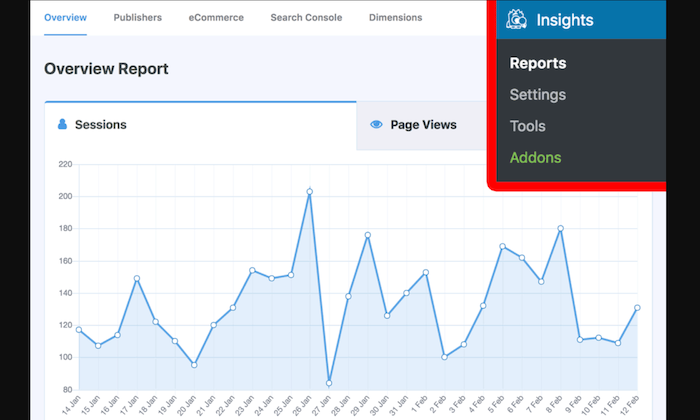 Data tracking is crucial for scaling and improving your website. Without facts, all you'll have are assumptions. MonsterInsights allows you to add, customize, and manage your Google Analytics-related web tracking services–all within your WordPress dashboard.
Google Analytics helps you improve your website, content, and better user experience by giving you key insights about how every webpage performs and which online campaigns bring in the most traffic and conversions.
Some of you may have heard of Google Analytics for WordPress. It was the former name for MonsterInsights. The name might've changed, but the purpose remains the same.
You can use it to view active sessions, conversion and bounce rate statistics, and keep track of outbound and internal links and downloads. Other details like your total revenue, top products, and top referral sources will also be included.
With all the information readily available, you can work on creating a data-driven strategy to grow your business.
MonsterInsights has a free version that allows you to install Google Analytics, track data, see metrics on the dashboard, and run reports.
There is also a premium version that is more of an investment but includes post and page tracking, custom tracking and reports, AdSense tracking, and more. The premium version starts at $99.50 per year with the Plus plan.
#7 – WPForms Review – The Best for Designing Contact Forms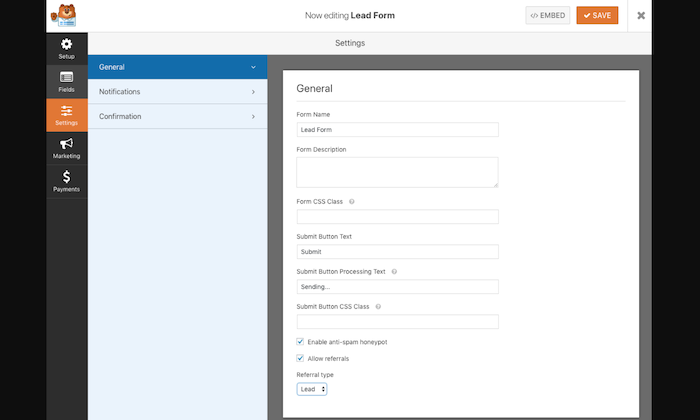 You can use WPForms to create appealing and highly-effective contact forms rather quickly, thanks to its drag-and-drop builder.
It comes with several cool features like smart conditional logic to ensure your visitors have an excellent customer experience, which, in turn, increases the chances of them submitting their contact information.
Moreover, WPForms can integrate with all popular marketing and payment platforms.
The free plan lets you create a secure contact form with ease.
But if you want access to more templates and advanced features to boost your lead generation efforts, the paid version would be more appropriate. The paid version starts at $39.50 per year for one site.
What I Looked at to Find the Best WordPress Plugin
I've compiled a list of a few factors you should consider to narrow down your search to determine the right fit for your website.
Every plugin's page on the WordPress Plugin Repository contains detailed information about the plugin, its purpose, how to use it, and more. Refer to this information to decide whether a specific plugin is a good fit for you.
Search the plugin directory and pick a few options you think will suit your needs best. When it comes to making the final selection, use my tips below:
Free vs. Premium
We all like free things, but that doesn't necessarily mean they're better. WordPress plugins are no exception.
Free plugins can be great if you don't want to spend money right away, and most of them are enough to get the basic job done.
However, if you're looking for more features or higher customization, most plugins will need to be upgraded to the premium version to unlock more features.
Contrarily, premium plugins are designed to ensure compatibility with new WordPress versions and provide better security. On top of this, you get a more comprehensive selection of features to customize and enhance your site.
If monetary commitment is something you're worried about, you'll be pleased to know that most premium plugins are quite affordable. So you won't be breaking the bank anytime soon.
In the end, it's your call. Just make sure you make the right choice for the functionality of your site.
Overall Plugin Ratings
The overall rating of a WordPress plugin can tell you a lot.
Previous users can rate a plugin up to five stars based on their experience. Skip options that don't have an average of at least (or almost) four stars.
Plugins with a one-star, two-star, or three-star rating are mostly glitchy and create a lot of problems. Whereas higher-rated plugins are well maintained, work well, and offer adequate support.
Otherwise, why would any user give them good ratings and reviews?
Go Through As Many User Reviews You Can
There's no better way to determine the quality of a plugin than directly from users. This way, you know precisely whether a plugin is successful.
I would also recommend looking at the total number of ratings. For instance, if a plugin has only been rated by five or seven people, it means it's relatively new. If they give a decent review, the average rating will automatically be higher.
It's always better to download plugins with more users and reviewers.
So, not only should you read the user reviews, but also check the total number of reviews.
See How Active the Support Section Is
Every plugin on the WordPress plugin repository has a support forum.
Go through the support tab to check out the level of activity within these forums. Regular activity is necessary as it indicates the developer is responsive and wants to deliver an excellent experience to its users by solving user-reported issues.
If you're evaluating a premium plugin, their official website should be your go-to instead of the support tab.
Find out how easy it is to get support and whether it has the features you need. Send a test email to see how fast the developers respond to check out their efficiency.
If a plugin has several unresolved threads or you don't get an answer to your test email, it probably means the plugin is abandoned or that developers are not responding to user issues.
It could still work, yes. But you won't get adequate support if you face problems.
Find Out the Frequency of Updates
The best plugins are updated regularly. If not, or if it has been a long time since their last update, they may not be well-maintained.
Of course, there can be some exceptions, but regular updates are still an important consideration.
Ideally, plugin updates should be in line with WordPress' core updates. This ensures optimal compatibility and a good level of active implication from the plugin developer.
You can check exactly when a plugin was last updated by visiting the WordPress plugin repository.
Also, check out the Active Installations section. This will give you an idea of the plugin's popularity and whether it's still relevant to the ever-changing market trends.
Conclusion
WordPress plugins can do it all, from designing and maintaining a website to optimizing it for search engines to enhance user experience.
Get started today with my top recommendations. These are trusted products that can help you take your site to the next level. Here's the full list to recap:
WP Rocket – The best for speed optimization
Yoast SEO – The best for increasing organic website traffic
Akismet – The best for spam protection
Wordfence Security – The best to handle security concerns
UpdraftPlus – The best for site backup
MonsterInsights – The best for data tracking
WPForms – The best for designing contact forms
Use Yoast to keep your SEO on point, and block spam and bots with Akismet. Next, make sure your WordPress security remains uncompromised with Wordfence.
WP Rocket keeps loading times short, while UpdraftPlus can come to your rescue when you face compatibility issues or want to migrate your site.
Got a favorite plugin that I didn't mention? Comment below to let me know!
————————————————————————————————————————————–
By: Neil Patel
Title: Best WordPress Plugins
Sourced From: neilpatel.com/blog/best-wordpress-plugins/
Published Date: Wed, 14 Jul 2021 15:00:00 +0000