What are the most important digital marketing trends we'll likely see in 2023. I've already touched on how we can expect marketing to evolve strategically. In this article, I'll be looking in more detail at specific trends to look out for.
To make a solid plan for the short term, it's important to keep an eye on where you're heading in the long term. Nobody can say with 100% certainty what the future of marketing will look like, but industry professionals can offer useful insights and predictions into some of the possibilities.
Nobody could have predicted how 2020 would change the face of marketing. Those who meticulously planned out their marketing activities based on what they knew at the start of that year found themselves needing to scrap their plan and start from scratch.
We ourselves tripled revenues for our weekly blog content service during the pandemic as more businesses realized that content marketing is the most predictable way to generate a return on marketing.

But some things are certain. The future of marketing and business will be more diverse, inclusive, and connected to real customer needs.
Technology continues to advance at a rapid pace, so of course, some of these trends are focused around technology. However, there's also a pushback against the increased digitization and automation of interactions between brands and consumers. Today, there's a desire to make marketing more human again.
While technologies such as AI and data-driven marketing continue to grow, the overarching focus will be on people, not technology.
Quick Takeaways:
The marketing trends that will dominate in the next 12 months will include Customer Experience, Employee Engagement, and Content Visualization.
The definition of what we consider as "marketing" is constantly changing and becoming broader.
Marketing has moved beyond branding and advertising; marketers must work together with other departments to focus on building great customer experiences and engaging them for long-term relationships.
Following the latest marketing trends, I put together these 10 tips for optimizing your content marketing. Watch now.
World Class Customer Experience
Every year is the year of the customer. We're seeing a massive shift in beliefs about what marketing actually is. It's no longer about trying to convince people to buy from or work with your company. Instead, the priority has moved towards providing fantastic customer experiences that will keep people coming back for more. When you focus on building a positive business culture and providing great service, the marketing almost takes care of itself.
Not only are customers impatient, but they also want those fish tacos delivered on a silver platter.
Okay, not literally. But they do expect a seamless experience from the first spark of interest to customer service after the sale. From personalized messaging that helps them solve problems to make a buying decision to a customer-focused culture throughout their customer journey, an experience that delivers quality across all channels is more likely to earn their business.
In addition to personalized marketing messages, find ways to listen and respond to their questions. Coordinate your digital marketing team with your sales and customer service teams to deliver quality throughout their experience.
The growth of online content has given consumers more power. They are no longer a passive party when it comes to learning about products. They're not waiting for you to tell you how great your products are. Instead, they're going out and doing their own research.
So you have to offer them something more than information. 73% of people say that customer experience is an important factor in their buying decisions, but currently only 49% of US consumers say that today's companies provide a good experience.
What exactly makes a great CX? Efficiency, convenience, knowledgeable and friendly service, and easy payment options are what people value most in their customer experience. But aspects more traditionally considered as marketing's domain are cited too: up-to-date technology, personalization, an easy mobile experience, brand image, and design all add up to the overall customer experience.
[TAG1][TAG13]
Building the kinds of relationships with customers that drive loyalty is worth every penny you spend. As the management experts at Bain and Company point out, a mere 5 percent boost in customer retention increases profit by 25 percent.
Can you imagine how your profits would soar if you went the extra mile to deliver the kinds of experiences that build not only loyalty, but qualified referrals as well? When you coordinate your digital marketing strategy with all your teams to deliver those kinds of experiences, you'll grow your bottom line well beyond even your highest expectations.
In other words, you need to consider CX in every aspect of your marketing strategy. This is how you can provide a great experience in order to keep your customers and attract new ones.
In fact, as you go through this list, you'll see that every trend is really just one factor of the overall customer experience.
Employee Activation: A Giant Leap Beyond Engagement
If efficient and friendly service is the cornerstone of great customer experience, how do you ensure you're providing this? The answer, of course, is in your employees. The previously mentioned research also found that 46% of consumers will abandon a brand if its employees are not knowledgeable, and bad employee attitude is the number one factor that stops individuals from doing business with a company.
[TAG2][TAG14]
I call this employee activation. Your employees are the human face of your brand, so concentrating on interactions between your employees and your customers should be a key part of your marketing strategy. When you're turning the responsibility of creating a great customer service over to your employees, you need to make sure that they want your business to succeed as much as you do.
The key to this is building a solid foundation of employee engagement and taking steps to ensure every employee understands and is aligned with your brand mission and values.
You can't expect your employees to care about your customers if they're not happy at work and don't really believe in what you're doing as a business. So achieving a high level of employee engagement is the first and most important step in improving customer experiences.
Employee engagement requires you to make your workplace such an attractive place to work that your employees' happiness will spill on over onto the customers. Indeed, a smile and an extra effort to please that comes from the heart is one of the most effective forms of marketing out there. In fact, companies that engage their employees outperform their peers by a factor of two.
However, that one giant leap for humankind – walking on the moon – is a piece of cake compared to convincing some companies to treat their employees like valuable colleagues instead of glorified house servants. Taking the next step – employee activation – requires you to treat your employees as your most treasured customers.
When you activate your employees, though, it's marketing magic. Activation includes a wealth of tools to empower your employees to become walking billboards for your company, including:
Training that not only makes them more informed about your products, but also allows them to climb up the corporate ladder – imagine – you gotta love a company that trains you to qualify for a better job
Permission to post content on social media and elsewhere about your company's culture, products, and services
Involvement in creating blog posts, videos, white papers, and other "official" marketing content, creating a platform on which they can showcase their expertise
Once your employees start sharing the love your company has shared with them, it will pay off. Not only will it pay off in good vibes, but it will also likely make a huge impact on your bottom line.
In fact, leads that your employees generate through social media marketing posts are seven times more likely to convert than leads you generate through other channels, according to Sociabble. In addition, content that they share will enjoy eight times more engagement than content that you share on your official brand channels.
Story-Driven Content Visualization
With the explosion of smart speakers and voice search in recent years, you'd be forgiven for thinking that "readable" content is more important than visuals and design these days.
In fact, this couldn't be further from the truth. While advancements in voice search are certainly influencing the way that we'll create content now and in the future, you shouldn't neglect visual content and the basic elements of brand storytelling.
Research has shown that people prefer visual content to plain text. You just have to look at the growth of image-focused platforms Pinterest and Instagram to see the proof of this.
[TAG3]
Google, Pinterest, and several other companies are also investing in visual search technology. Images are already returned for 19% of searches on Google, and 62% of millennials say they are more interest in visual search than any other new technology.
[TAG4]
Visuals are also easier to remember than written content. Adding data visualizations, infographics, images, and videos to your text not only makes it more interesting and attractive, but it can help your message to be absorbed better too.
Personalization: Your Key to Their Heart
When a customer has two relatively equal products in front of her, and she needs to decide which one she'll buy, my money's on the brand that won her heart. One of the ways to engage your customers' hearts as well as their heads is to personalize marketing to meet their needs.
For years, psychologists have taught us that people love to hear their name and see it in print. But today's technology allows digital marketing teams to dig deep into the data to identify the things that keep customers up at night – and identify what messages will solve those problems and give them a good night's sleep.
In the 2002 movie Minority Report, the character John Anderton, played by Tom Cruise, is bombarded by a series of personalized ads calling him by name as he walks through the city. This was obviously complete science fiction at the time, but not quite two decades later, reality has almost caught up with the marketing future of Stephen Spielberg's imagination.
[TAG19]
Today's consumers are flooded with marketing messages from multiple channels to the point where they have started to tune them out. Traditional advertising is losing its effectiveness, so what's the answer? Personalized marketing messages that forge a real connection between the brand and the target market. So, go way beyond the "Hi [Customer Name]" emails, "Don't you want to make more money?" popups, or "Hey, come back here!" cheesy messages in the browser titles to find what makes your customers tick. Then, give them content that will win their hearts.
Again, a little effort will yield amazing results. In fact, 80% of consumers said that they'd be more likely to do business with a brand that provides a personalized experience, as per a survey by Epsilon.
Improvements in technology such as AI combined with increased data collection and insights from social media and other sources have made it possible and easy to hyper-personalize everything from content to design to product recommendations and everything in-between.
Conversational marketing
There was a time when sales and customer service were formal processes. Representatives used "sir" and "ma'am," and making an inquiry required significant time — a phone call, a visit to the store, and in recent years an email or online form.
Today? Sales and customer service reps (and bots) are chatting with customers through instant message. The interactions are like those you might have with a friend. It all centers around other trends, some that we've already talked about, like the need for personalization and more human-centered interactions.
Customers don't want to talk to someone who is following a script. They want help that's specific to their needs and situation. They also want immediate response times. That means more and less formal communication channels.
Strategic Marketing Transformation
When you're reading about up-and-coming trends in an article like this, it's all too easy to think that being successful in marketing can be simplified to following a list of best practices and making sure you're using the latest techniques and technology.
The business of marketing is becoming increasingly complex. For companies to succeed in 2021, they'll have to think beyond what they're doing and link everything back to the why of the business as a whole. Your marketing goals and objectives must align with the overall goals of your business.
Strategic marketing transformation is the term used to describe the process when a business operating without a strategic marketing plan evolves by changing its fundamental business processes and procedures.
Undergoing a marketing transformation can help companies to improve customer service and experience, boost brand awareness and reputation, and ultimately increase revenue and profits.
Businesses achieve these benefits through a combination of data collection, using modern technology, building customer relationships and engaging with customers online, publishing quality content, and improving their online presence. All of these things are part of the underlying strategy that influences every department and employee in the company, not just the marketers.
Your strategic marketing plan defines goals and determines which marketing tactics you will employ to reach your customers including content marketing, SEO, email marketing, social media, advertising, and offline marketing. It then lays out a plan for how every part of the organization will be involved in these tactics.
To put it simply, the marketing strategy is no longer only the responsibility of the chief marketer or CMO. Strategic marketing transformation recognizes this and ensures that the brand, company reputation, customer relationships, and the customer experience as a whole are considered in every business activity.
Push Notifications
Two things are driving the emergence of push notifications as a digital marketing trend. First, the email marketing landscape is becoming so saturated that it's only getting more difficult to truly connect with your audience through that channel. Second, people are increasingly using mobile phones for all types of online activity — including brand search and online shopping.
It makes sense, then, that brands are turning to push notifications as a more effective way to capture customer attention. Today, more than half of consumers are allowing push notifications on their phone so brands can get in touch with them.
There is a fine line, though, that brands must be careful not to cross. Industry research has found that across industries, push notification unsubscribe rates stay under 1% when the number of daily pushes is low. Once it hits a certain threshold (around 10+ pushes) those unsubscribes begin to spike.
Image Source
When done correctly, however, push notifications drive open rates, conversions, and overall audience engagement.
Featured Snippets in Google Search
SEO will continue to be an important aspect of digital marketing as we move into 2021, but we're now seeing one of the most major shifts in the SEO industry in the last decade.
With the growth of mobile and voice search, people are changing the way they use search engines like Google. Being number one in the search engine result pages or SERPS is no longer necessarily the primary goal your business should be aiming for.
You've probably noticed your own search and browsing behavior has changed in the last few years due to Google changes and the fact that you're looking for the fastest information when you're on the move.
Featured snippets and other "on SERP" information means that you don't need to click through to a website to get the information you're looking for anymore – it's right there on the Google search results page.
This on-SERP information may appear in various places, but the most sought after position is right at the top of the page, before the organic listings. This position has been dubbed "position zero". As it's often the only information that a searcher will view, it's highly coveted. Over 60% of search results returned by Google are now featured snippets.
Brands are still trying to figure out how to achieve the erstwhile "position zero" as it requires different SEO techniques than those employed for a normal listing in the SERPs. If you can be the first in your industry to get there, you'll have a huge advantage over your competitors. So expect to see more SEO companies offering this service over the next year, and pay attention to the latest best practices for optimizing your content.
Social Commerce
Social commerce isn't new, but it is finally becoming a mainstream form of shopping. Brands are becoming savvier than ever about leveraging influencer marketing, creating ads that fit seamlessly into social media feeds, and integrating their ecommerce platforms with social media channels.
Instagram and Tik Tok have been particularly influential in accelerating the social commerce trend. Instagram Checkout makes it easier than ever for brands to advertise and sell their products directly through the platform.
Tik Tok is absolutely changing the game when it comes to influencer marketing with tools like Creator Marketplace, where brands can find creators that align with their products and interests, and Tik Tok Shopping, which allows brands to more meaningfully engage with customers right through the app.
Research by Statista shows that social commerce is on the rise for 2023 and not slowing down any time soon.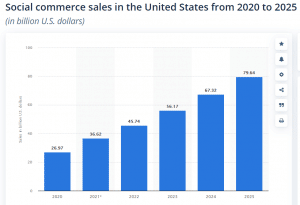 Image Source
Voice Search
I've mentioned voice search a couple of times already, so you knew it was going to be on this list. Voice search shows no sign of slowing down and will continue to be a major influence on how brands create content and market themselves online.
We're not quite at the commonly cited prediction that 50% of searches will be driven by voice in 2021 (we're currently sitting at about 20% according to Google), but this statistic is probably not that far in the future. The smart speaker business is booming, with around a quarter of US households now owning a Google Home, Amazon Echo, or another smart speaker.
Consumers are also expecting to use voice search more in the near future – 61% of those aged 25–64 who already use a voice device intend to use it more in the future according to research by PwC.
Voice search brings with it new challenges but also exciting opportunities. "Branded skills" is one example of a smart speaker advertising opportunity that emerged in the last year. Tequila brand Patròn is an example of a company that's seen huge success from using branded skills. Smart speaker users can ask their digital assistant to "ask Patròn for a cocktail recipe." This not only helps to increase brand awareness and visibility, but it also enables users to buy the product directly from the recipe results.
[TAG21]
Even if your brand isn't ready for smart speaker advertising, it's important that your content is optimized for voice search. Voice searchers use search differently. They use longer, more conversational queries, so slanting your content to serve these queries, as well as answering questions directly, can help to make it more visible to voice searches. This has the added bonus of making your content more likely to be picked up as a featured snippet or found on position zero on Google.
AI-Based Automation
Will 2021 be the year of the rise of the robots? Maybe (but hopefully not in the Terminator-style of dystopian science fiction movies!)
We've already seen huge advancements in AI over the last few years, and a great increase in the number of businesses using AI-powered technology and automation to assist their marketing efforts.
AI is one of the major technologies behind voice search and smart assistants. It's also made chatbots possible, which are now popping up on more websites than ever before.
AI technology and automation are helping to take some of the grunt work out of marketing so brands can concentrate on strategy and crafting a fantastic customer experience.
Remember, the human aspect of marketing is still important (perhaps more important than ever before), so the idea is to use this technology to enhance your marketing efforts, not replace the real people behind them.
Big data, supported by AI and predictive analytics, is also helping brands to learn more about their audience and customers. It's enabling hyper-personalization of customer experiences and marketing messages at scale.
Video Marketing
Research by Cisco found that video accounts for 82% of all online traffic. Videos are 53x more likely to generate first-page SERP rankings than other SEO tactics. Today, 84% of consumers have been convinced to purchase a product after watching a video.
Not to mention that nearly all digital marketers — 93% — say that video is currently a core part of their content strategy.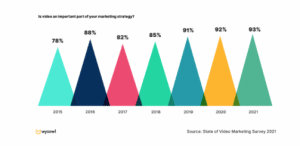 Image Source
The takeaway? The future of content marketing trends lies in video. Brands must integrate video content like product demos, webinars, and live video events (more on those shortly) to keep their content fresh and aligned with what consumers are looking for.
Focus on Customer Retention, Loyalty and Advocacy
A huge part of providing a great customer experience is making sure that CX is ongoing and focused on keeping your existing customers, rather than just attracting new ones.
Recurring customers are more valuable than new customers. Studies have found that it costs five times as much to attract a new customer as it does to keep a new one, so it's definitely worth putting in the effort to keep your customers happy.
Loyal customers also help to increase the reputation and awareness of your brand as they'll talk about your company and products with their friends and family. Happy customers make great (and free!) brand ambassadors and influencers.
Many of the above-mentioned trends and technology can be helpful for increasing customer retention rates. Personalization, for example, is certainly expected from your existing customers if not your new ones, and it gets easier to personalize communications the more interactions someone has with your brand.

Live Video
The live video industry is expected to be worth over $70 billion by 2021. Live video is incredibly popular with consumers, and people spend three times longer watching live video than they do watching pre-recorded video.
Video is also the most popular way for consumers to learn about new products.
[TAG8][TAG15]
When the live element is added, this makes video more engaging as the audience feels they're a part of it and can influence the content, rather than just passively watching.
Live video is great for grabbing the attention of your social audience on Facebook or Instagram. These types of videos are so attractive to viewers because they tap into "FOMO" or fear of missing out. When you're not sure if a live video is going to contain a tidbit of information that you can't get anywhere else, or it will mean you're the first to find out about some new and exciting news, you're going to want to watch it.
Account-Based Marketing
Although corporations aren't people, their C-suites certainly are staffed by them. Specifically, by people with widely divergent interests.
The chief financial officer wants to know how the widget you make will save steps in the manufacturing process, saving time. And time, as we all know, is money.
The chief marketing officer wants to know how your widget can help make a better product – and why – so that she can explain it to her customers.
The head of human resources wants to know how much easier your widget will make assembly line workers' jobs, specifically, how it can help them avoid tendonitis.
And so on.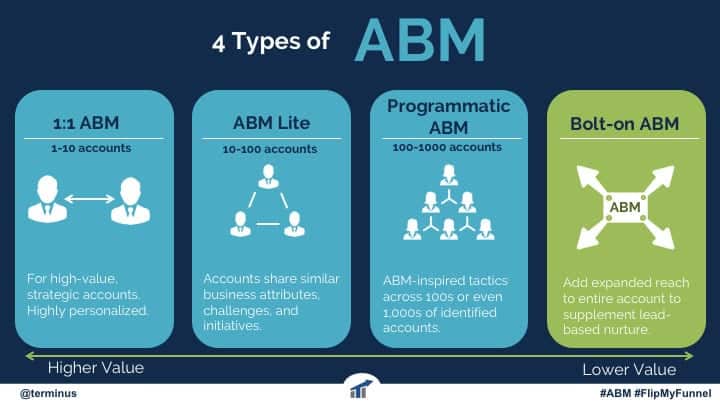 Account-based marketing personalizes messaging to businesses, targeting each decision-maker with the information they need to solve specific departmental problems. Like personalized messaging directly to customers, account-based marketing yields a higher ROI than other types of marketing. If you sell to other businesses, particularly large corporations, account-based marketing is one of the "already here" digital marketing trends you need to embrace during the coming years.
Gen Z Will Continue to Influence Marketing More Than Millennials
The marketing industry has been obsessed with Millennials for the past two decades. In fact, a Google search currently yields around 129 million results for the search term "millennials", compared to only around 7.2 million for the previous "generation x".
But the millennials of today have outgrown their caricature as a bunch of entitled 20-somethings. The first millennials are now approaching their 40th birthday. While this age group still makes up a significant proportion of the audience of many marketers, some predictions made about their importance have fallen short of the mark.
For example, the oft-quoted statistic that Millennials will make up 75% of the workforce by 2025 is now not only unlikely but rather impossible.
It's 2020 and Millennials have already peaked as a percentage of the adult population, making up just over 40% of the global population. By 2030 this percentage is expected to drop to just under 37% as Generation Z starts to come of age.
[TAG10][TAG16]
Generation Z consists of people who were born from 1995 to 2010. These young people have grown up in a digital world and have very different viewpoints than generations that came before them. They're also more diverse than any other generation in history.
A more diverse audience can make content marketing challenging, but it also opens up more opportunities to reach different segments of that audience through personalization.
If you've been focusing your marketing strategy on Millennials, it may be time to take a step back and come up with some new ideas for reaching the workforce and decision-makers of tomorrow.
Growth in Emerging Markets and a More Diverse Audience
Emerging markets in Asia have grown significantly over the last decade and are expected to continue to grow over the next ten years.
Over a billion new middle-class consumers from countries like China, India, and Indonesia will be added to the global pool of consumers.
[TAG11][TAG17]
Companies that want to expand their marketing efforts beyond North America and reach these new consumers will have to think carefully about how best to reach them.
Different cultures, languages, social norms, and online behaviors can all make marketing a challenge when it comes to creating content for these audiences.
For large global enterprises, having a local on-the-ground marketing team in their main market locations is often the answer.
But smaller businesses can market globally too. The key to success is embracing diversity from the inside. Companies that strive for a diverse workforce and corporate culture will find that marketing innovation flourishes naturally.
Integrated Online-Offline Customer Experience
Physical stores with little online presence have been struggling more in recent years. For many businesses, the 2020 pandemic proved the final nail in the coffin, with the last six months seeing an unprecedented number of store closures.
Conversely, many online retailers and digital brands have thrived. Massive numbers of consumers have shifted to moving more and more of their purchases and everyday activities online.
However, physical stores are not doomed to become a relic of the past. Consumers still prefer physical stores. But brands must adjust their marketing strategy to take advantage of this increased digitalization.
In the future, stores will be more than just a place to do your shopping. They will be a place where brands can really engage with their customers and improve the customer experience.
Moreover, VR and AR technologies will bring more of the shopping experience to the home, improving the online shopping experience. Ikea already has an augmented reality app that allows customers to see items of furniture in their own home and several fashion brands have launched apps enabling shoppers to virtually try on clothing before they buy.
More and more brands are jumping onto this trend. For example, Nike has launched a number of "retail experiences" in recent years including terminals with product information and online ordering functionality, integration with customer smartphones, social media walls, interactive augmented reality installations, and more.
Responsible Consumerism
Today's consumers are more aware than ever before of the effect their buying habits have on the environment and society.
People are taking more care over the products they choose to buy and the brands they choose to associate with.
[TAG12][TAG18]
Many brands have already been making a move toward more sustainable practices to reduce their impact on the environment. However, social responsibility is becoming just as important as being "green".
As we saw with the rise of the Black Lives Matter movement, people are no longer just expecting the brands they support to avoid harmful practices. It's now expected that corporations will actively fight injustice and support the causes they believe in.
In the near future brands will be expected to be ethical in all of their business practices and use their resources to be a force for good in the world. Those that don't will be left behind as customers choose brands that align with their own values.
Brand responsibility goes beyond marketing. But marketing the things that a company is doing to make a positive difference in the world may end up being more effective than advertising its products.
The Internet of Everything
In 2020 the Internet of Things (IoT) has already made significant changes in how consumers interact with brands.
Over the next decade, this trend will ramp up even more as it becomes the norm for everyday devices to be connected to the internet.
Smartphones, smartwatches, and smart TVs are already commonplace. The technology is becoming smaller and cheaper all the time. In the not-too-distant future, it's likely that almost every electronic device will be "smart" in some way. Even more striking, smart microchips are already being implanted in humans.
Smart cities – urban areas that use IoT technology to manage resources and services – are also on the rise globally. It's estimated that by 2025, the top 600 smart cities will account for 60% of the world's GDP.
This massive number of connected objects will generate a huge quantity of data that can be used to gain advanced customer insights. This information can then be used to personalize the customer experience and provide easier communication and engagement with the brand.
Hyper-Local Marketing
Along with the growth of IoT devices and increased expectation for personalized customer experience comes increased used of geolocation data in marketing.
Local marketing is certainly not a new concept. Even the largest global brands recognize the value of customizing their marketing messages on a local level. And search engines like Google have become very good at serving up businesses in the local area whether you're looking for a coffee or a new pair of shoes.
But geolocation services are due to step things up a notch. Eight in 10 marketers currently use location data in their marketing strategy and 94% plan to do so in the future.
Now that everyone has a smartphone, potential customers can be targeted with marketing messages as soon as they're detected to be within a certain distance from a store.
Brands can use geofencing to deliver personalized messages to a very small set of individuals who are more likely to buy (location-based marketing has been found to be 20x more effective than standard ads.). This reduces marketing spend. Budget is not wasted on prospects who are less likely to result in a sale.
Combining geolocation and IoT technology means some very sophisticated and personalized marketing is possible. For example, a customer could get a reminder that they're running low on eggs as they're passing close to the grocery store.
Get Ready for 2023
Now is the time to start planning your 2023 marketing strategy if you haven't already. Make sure you start the New Year with a clear plan of your goals and how you're going to achieve them.
While marketing trends come and go, the basics of success remain the same: understand the needs of your audience and communicate with them clearly and consistently. That's why customer-focused content has always been the best way to establish solid relationships with your audience. It goes without saying that content marketing will continue to dominate the digital marketing landscape for some time to come. Most of these trends rely on content in some way. To have success in them you'll need to have a solid base of quality content across all your marketing channels.
Are you interested in engaging and converting new customers for your business using the most important digital marketing trend: consistent and quality content?  Check out our weekly blog content service. Get started today and generate more traffic and leads for your business.
The post 21 Marketing Trends You Need to Know For 2023 appeared first on Marketing Insider Group.
Frequently Asked Questions
What is the difference between marketing and advertising?

Advertising is communication that promotes brands or products. Advertising is usually accompanied by a clear call for action, such "Buy Now!" Click here.
Marketing is, on the contrary, a way to communicate your company's mission, vision and values to potential clients. Marketing also helps build relationships with current customers and prospects.
If you sell shoes online, for example, marketing can be used to tell the story of who you are and what your offer. Your history, philosophy and commitment to quality could be discussed. You could even share testimonials of satisfied customers. For people to come to your website, you could offer them a free pair of shoes.
In short, marketing is about telling stories. Advertising is about selling products.
How does marketing fit in with business strategy.

Marketing is part of every business strategy. Without marketing, no one would know what your company offers. Without sales, marketing would not be possible. Marketing is an essential part of any business strategy.
Not everyone realizes how important marketing is. Marketing is often thought to be about advertising campaigns. Marketing goes far beyond advertising campaigns. Marketing covers everything you do for your company to be recognized and respected in the marketplace.
So when you're thinking about your business, ask yourself these questions: What kind of image am I trying to convey? What image will I project to my customers? How should I present my self to the world?
If you don't answer those questions, you haven't thought about marketing yet.
What are 3 examples for internet marketing?

Internet Marketing can be described as a broad term that covers online activities to promote products and/or services. Internet marketing includes email marketing and social media marketing. It also includes search engine optimization (SEO), paid-per-click advertising, PPC, and website design.
These terms don't necessarily mean that you have to spend money in order to make money. There are many ways you can generate income without spending any money. You will get a better return on investment if you put more money into each method.
Email marketing is one of the most effective forms of internet marketing. This involves sending emails to potential customers informing them about your company and the latest offers.
Social Media Marketing is another popular way to advertise. Facebook, Twitter and LinkedIn are all great platforms for sharing information and interacting with friends and loved ones. These sites also provide businesses with an excellent opportunity to connect with their clients and increase awareness of their products or services.
Search Engine Optimization (SEO), a technique to increase website visibility in search engines, is called Search Engine Optimization. Webmasters can increase their site's traffic by improving the quality and quantity relevant backlinks.
Website Design is the art of designing a website that looks attractive and functions well. Website designers design the website's layout. Website designers also ensure that the website meets accessibility standards and complies with technical specifications.
Advertisers can bid on keywords that are related to their products and services through Pay Per Click Advertising (PPC). Advertisers get paid when someone clicks on an ad. PPC ads typically appear at the bottom or top of search result pages.
What eCommerce Marketing Strategy Should I Use?

There are three main types eCommerce marketing:
Direct marketing
Search Engine Optimization, (SEO)
Social Media Marketing
Direct marketing involves sending emails directly from the source to potential customers. Emails could include coupons, discounts, or special offers. This type marketing aims at building customer loyalty and trust.
Search engine optimization improves the rank of your website on search engines such Google, Yahoo, Bing, etc. When your website appears at the top of search results when people type in keywords related to your product, you'll get more visitors.
Social media marketing is done using websites like Twitter, Facebook and Pinterest. to connect with your audience. It's free, easy to set up, and effective.
Each method has its own pros and cons. SEO is time-consuming and requires effort while direct advertising is easy to do. However, if you only focus on one method, you won't see the full benefit of eCommerce marketing. We encourage you to combine multiple marketing channels.
You could, for example, send emails advertising your products to rank high in search engine results. Or you could advertise on social media and then link to your site from those pages.
There are many marketing options for your eCommerce store. Pick the best for you and make sure to implement them regularly. Good luck!
Statistics
External Links
How To
What's your marketing strategy?

Did you hear the phrase "If You build it, they'll come" many times?
Well, you're wrong.
While building something takes effort, it's not enough for customers to be attracted. Internet Marketing Principles can help you reach your target market to grow your business.
Internet Marketing Principles refer to the guidelines marketers use in creating websites, blogs, emails campaigns, and social media profiles that generate leads, and sales.
For example, if you're selling handmade jewelry online, you'd better learn to use these Internet Marketing Principles to drive traffic to your site, capture emails, and close sales.
Here are some examples of Internet Marketing Principles.
Content is the king. Your content must be original and captivating. Copying other people's content will cause you to lose credibility as an information source.
Trust builds trust. People prefer recommendations from friends and relatives to Adsense. Make sure you're trustworthy when recommending a product.
Be personal – People prefer to talk to real people rather than robots. Your website must look like a human being and not robotic.
Give value – People will only give away stuff if they feel that they are getting something of value. You can give them something in exchange for your contact information.
Tell stories – Stories are powerful tools for connecting audiences. They help you tell a story and connect to your audience.
Giveaways – Giving things away helps spread awareness and builds brand loyalty.
It is important to use call-to-action buttons because they encourage users to take action.
You must test everything before your website goes live.
Keep it simple. Sometimes simpler is better than complicated. Keep it as simple as possible. A website that is simple to maintain and easy to update will be more successful.
Clear goals are easier to measure.
Measure everything – Measuring your progress towards your goals is crucial to improving your marketing efforts.
Focus on conversion – Conversion means turning browsers into buyers.
Get feedback – Feedback allows you to improve your marketing efforts.
Track your results – Tracking your results allows you to identify areas that could be improved.
Repeat – It creates momentum.
Optimize your marketing efforts. Optimization is a way to ensure your marketing efforts are effective.
Stick to your guns – Consistency will keep your brand's name recognizable.
Reward yourself. – Rewards encourage you to keep going.
Learn from others. – It is a great way to avoid making the same mistakes.
Never stop learning – Always seek out new ideas and techniques.
You must think long-term. To sustain growth, it is important to think long-term.
Trust your gut. Sometimes, intuition can guide you through life.
Every day can be viewed as a test. While mistakes are inevitable, they can teach us valuable lessons that we wouldn't otherwise be able to learn.
Recognize your weaknesses. Knowing your strengths and weak points will give you the insight to how to overcome obstacles.
Don't get discouraged – Everyone fails at least once. But don't let failure discourage you. Don't give up.
Take risks – Sometimes taking risks is necessary in order to move forward.
Enjoy the ride – It's essential to living happy lives.
Be passionate – Passion fuels motivation.
Keep in touch with your authentic self – Building relationships requires you to be yourself.
Know yourself – Self-knowledge can be essential for self-improvement.
Find your tribe – Finding a supportive community of like-minded individuals is invaluable.
Vision boards are great tools to visualize your future.
Ask questions. Questions are the gateway into knowledge.
————————————————————————————————————————————–
By: Michael Brenner
Title: 21 Marketing Trends You Need to Know For 2023
Sourced From: marketinginsidergroup.com/marketing-strategy/marketing-trends/
Published Date: Wed, 12 Oct 2022 14:00:05 +0000