What are your goals with email marketing?
If you're going to achieve those goals and see a return on investment, then chances are you're not going to be able to do it without some level of automated email marketing.
What Is Automated Email Marketing?
Automated email marketing is a series of emails you automatically send to your prospects or customers. Using an autoresponder, you can schedule emails to send based on your audience's interactions with your business.
For example, when someone signs up for your newsletter, you can automatically send out an automated welcome email.

Don't let the automated part fool you, though.
To be effective with automated email, what you're producing should be far from spam. Instead, it's high-quality, personalized content that your audience has signed up for.
This may all sound a little bit complicated, but the great thing about modern automated email marketing is that the software is simple to use and offers you some powerful capabilities.
Why Should You Automate Your Emails?
The key here is scale. If you've got thousands of people in your sales pipeline, it's impossible to write out individual emails for everyone that signs up.
Instead, automated email marketing allows you to create email series that are perfectly tailored to your audience's needs and send them out at a specific time. Rather than spending all your time writing and sending out individual emails, you can focus on creating the perfect copy that inspires your audience to take action.
That's great, but don't you lose the personal aspect?
If you're writing everyone individual emails, then switching to automated email marketing reduces your level of personalization. Each email won't be unique, but it can still be personal.
Email responders allow you to segment your audience based on their interests and behaviors.
Say someone signs up for my email newsletter from a page titled "Link Building 101." I can put them into a link-building segment so they receive handy tips on how to improve their backlink profile. Someone who signs up through a page titled "50 Content Ideas for Niche Websites" will go into a different segment and receive different emails.
Segmentation means there are endless ways you can personalize your automated emails, so you're getting both convenience and personalization.
This combination clearly works because email automation is the most popular form of marketing automation, with 64 percent of businesses using it. With email marketing offering an average ROI of $42 for every $1 spent, this gives you plenty of reasons to automate your emails.
When to Use Automated Email Marketing
Automated email marketing can bring big results, but it's not always the best option. Here are a few of the times when automated emails can help you make the right impression with your target audience.
1. Abandoned Carts
Abandoned carts are highly frustrating.
The person has gotten so close to making a purchase, yet you've lost them at the last moment. There are many reasons why people abandon carts, but a common one is that they're not quite ready to buy yet.
Just because someone isn't ready to buy today doesn't mean they won't be soon, and an automated email is a perfect way to keep them engaged.
When someone abandons their cart, you can schedule an email to go out to them, prompting them to return and complete their purchase.
The average cart abandonment rate is estimated to be 77.13 percent, so bringing people back to your checkout page through well-timed emails can be invaluable.
2. Sending Automated Email Newsletters to Subscribers
Once someone leaves your website, you may never see them again.
If you've got their email address, you've got an opportunity to keep the connection alive and build a relationship (hopefully until they become a repeat customer). Just having someone's email doesn't achieve this, though, and instead, you've got to be able to offer something valuable.
In the case of a newsletter, you're offering your amazing content to grow the relationship and keep bringing people back to your website.
3. Promotional Emails
One of the key things with email marketing is providing value to the customer. It's no good spamming them with links to your product all the time because they're simply going to treat it as spam.
That being said, we're here to market our businesses, and sometimes that means sending promotional emails.
To get the maximum value from this, you want to make sure your promotions are part of a carefully planned email series, and it's almost impossible to do this without automated emails.
4. Welcome Emails
When someone signs up for your email communication, it's a good idea to send out a welcome email.
Of course, you can't be on your computer all the time, monitoring the moment everyone signs up for emails, so this is something that is best to automate.
It allows you to set expectations and explain the value proposition of receiving your emails. Once someone has a good idea of what they're going to receive from your emails, they're more likely to open them and interact with your content.
5. Automatic Replies to Customer Complaints
When someone has a complaint, they want to be assured you're taking it seriously. The longer they wait for a response, the more their frustration builds.
You can't be monitoring your inbox 24/7, so it's just not possible to be able to respond to each complaint right away. What you can do is set up an automated email that explains your complaint process and ensures you're working on fixing the issue.
This gives people confidence that you're taking their complaints seriously, and they can expect a response in due course.
When to Not Use Automated Emails
We talk about personalization a lot in marketing, and it's something that's very important when it comes to automated emails.
You can personalize automated emails, but there's a limit to what you can do. With automated email marketing, you're reliant on segments to personalize your communications. While putting someone in a segment means they're not just any person, it still doesn't mean they're an individual.
In many cases, segmenting email subscribers works because it's an effective way of offering them personalized content. However, there are times when you need to treat people as an individual, and automated emails don't work in these cases.
Take our previous example about replying to customer complaints. The immediate response might be an automated email, but the follow-ups should be personal.
This is something you need to keep in mind when setting up your automated email marketing. In what situations does it pay to address people as part of a segment, and when do you need to address them as an individual?
The farther people progress through your customer journey, the more likely it is they will need personalized communication.
Best Automated Email Marketing Tools
How can you get started with automated emails? The key is finding the email marketing tools that best fit your needs.
There's a lot of competition in this space, which is great for the consumer because it means there are some powerful tools available to us.
Here are some of the best automated email marketing tools.
1. Drip
Drip gives you all the tools you need to run successful automated email marketing campaigns. It's all about streamlining the process, and that's exactly why people turn to automated emails in the first place.
This is a straightforward tool to use, but it's also powerful. Attract more customers with high-converting forms and schedule creative emails with ease.

2. Sendinblue
Sendinblue combines email marketing services with SMS messages to offer a complete marketing tool.
It allows you to easily segment your audience, meaning you can work on personalizing your emails to your audience. When you create your content, the drag-and-drop feature makes it quick and easy to produce high-performing emails.
3. Mailshake
Mailshake offers excellent automated email tools, especially if you're doing cold outreach. With lots of plugins, it allows you to build out your mailing list, clean it to make sure you've got live emails, and schedule the perfect email sequence. It's also got great social integrations!
The A/B testing and scheduling features are extremely easy to use, which means you can keep testing your emails until you find the right formula.
4. Mailchimp
Mailchimp might be the biggest name in email marketing, and for good reason: It offers some great tools.
This is an all-in-one marketing platform that allows you to send drip emails, segment your audience, A/B test, and much more.
5. Emma
Emma is a great tool for large businesses with big marketing teams. Its tools allow for easy collaboration between team members and make the process of automating emails much more seamless.
With lots of handy integrations and great personalization options, it's a professional email marketing tool that can bring in serious results.
Examples of Great Automated Email Marketing Campaigns
There are plenty of automated email marketing tools out there, but what should you be looking to achieve with your campaigns?
Here are some great examples of automated email campaigns.
Automated Welcome Email
The welcome email is the first step in what will hopefully be a long and prosperous relationship. It's all about introducing your brand, setting expectations, and showing the value of what the person has signed up for.
Asana does this well in its welcome email.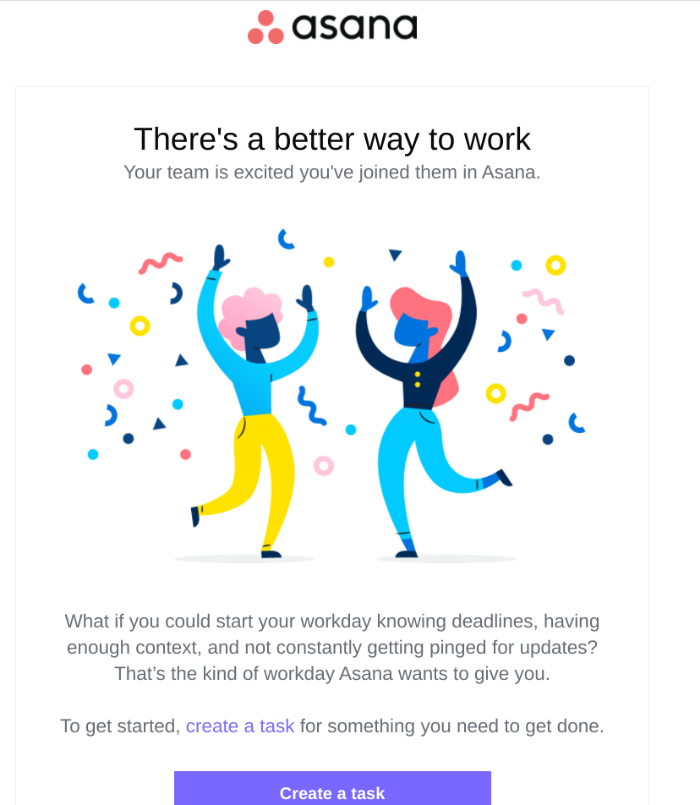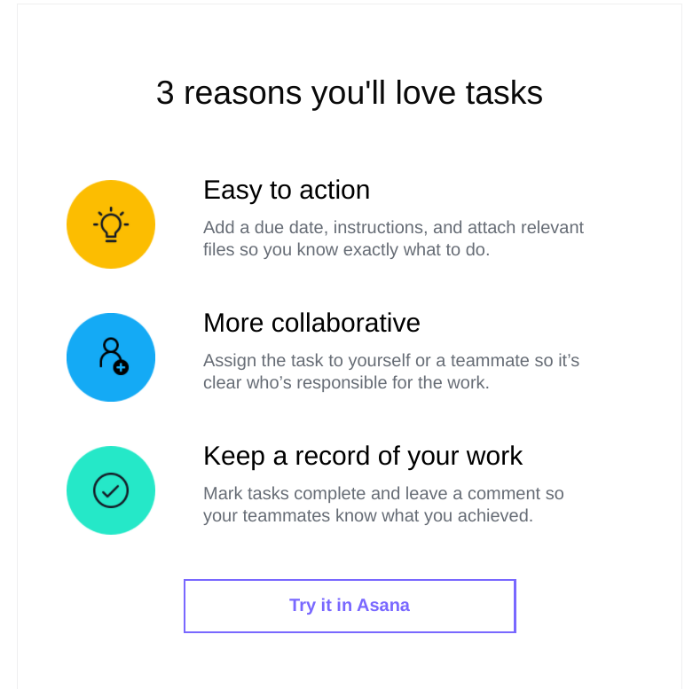 It focuses on the idea of teamwork, neatly showing you how its features can make your day that bit easier. It finishes with actionable tips, encouraging users to take the first step and engage with their software.
Abandoned Cart Automated Email
Your goal is clear with an abandoned cart email: You want people to come back and complete their purchase.
Marketing isn't always that straightforward, though, and you often have to put the customer's goals before yours. This means finding ways to help the customer make a decision, not just telling them to buy.
The first step is typically sending a reminder that they have left items in their cart. Casper does this well in the following email.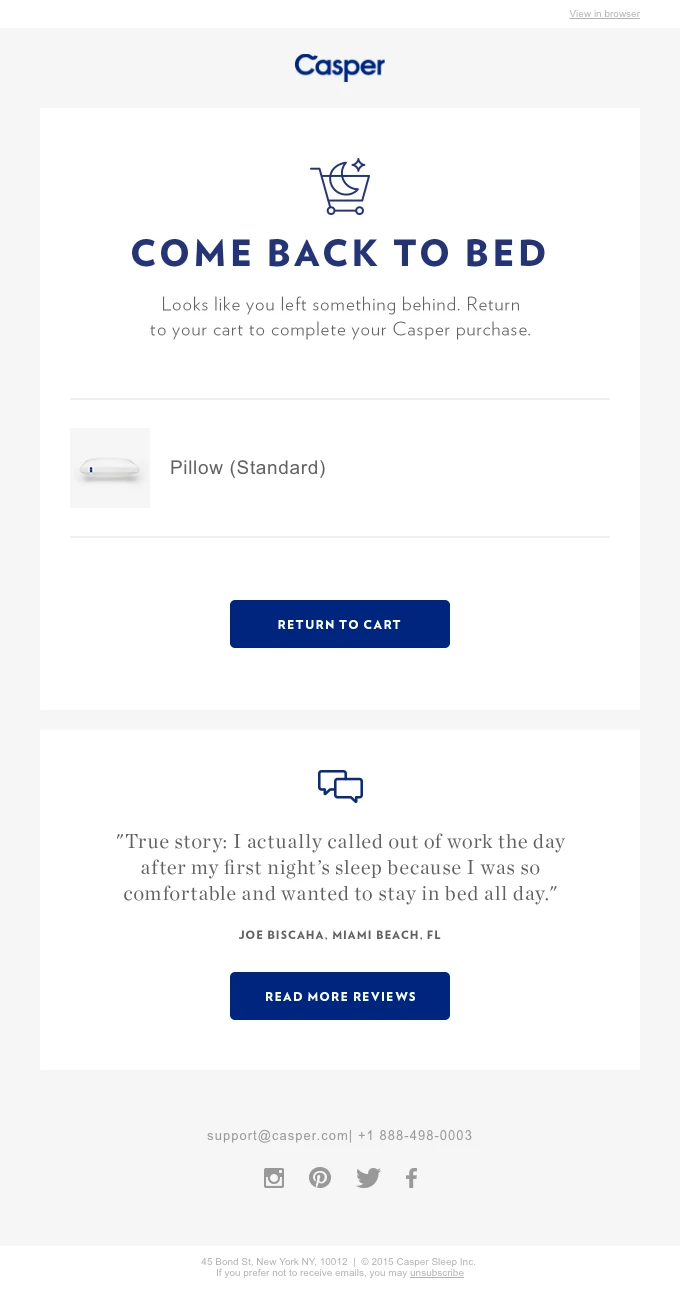 It's not pushy but has tons of character and playfully engages with the customer, highlighting the items left in the cart.
You've now reminded the customer that they've got an open cart, so it's up to them whether they return and make a purchase. Some will, but there will still be some people who aren't convinced.
The next email is an opportunity to overcome people's doubts by answering their questions and showing how your product solves their pain points, as this email from Dollar Shave Club does.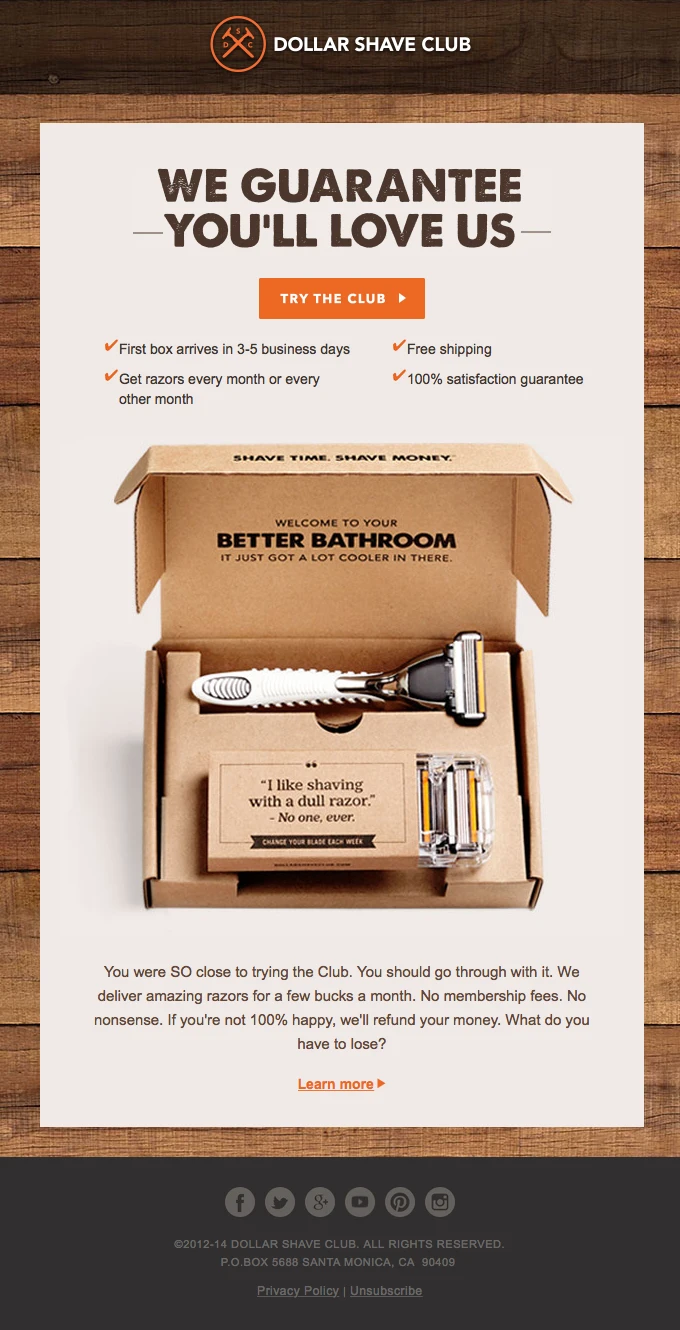 Sometimes an abandoned cart is just an abandoned cart, and there's no way to get people back. However, there's one last tool you have at your disposal: People love a good promotion. Try sending one to see if you can tempt them with a discount.
Newsletters
There are lots of ways you can use your newsletters to engage with your audience. How you approach it depends on your goals.
If you look at my email communications, you'll see my goal is pretty simple. I want to give people quick access to information that will help them achieve their goals, and I want to bring them back to my site.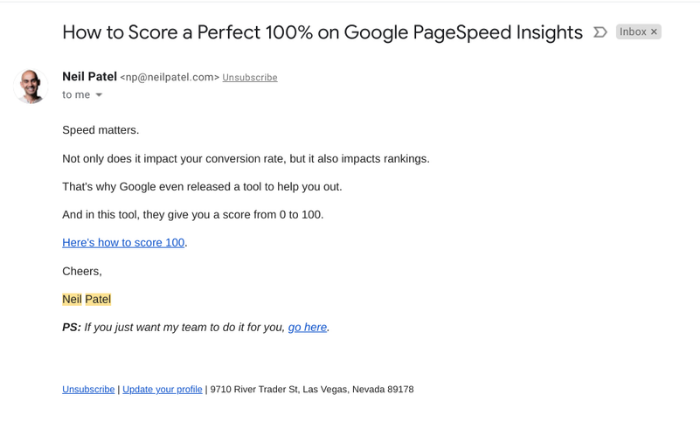 To do this, I use an engaging subject line and keep things extremely simple.
Your email campaigns will differ based on what you're trying to achieve, but the key is understanding what your target audience wants.
Automated Email for Marketing Frequently Asked Questions
How do you automate marketing emails?
You can automate marketing emails using email marketing software, which allows you to set up email sequences and auto-responses to streamline your email marketing campaigns.
What is the best tool for automated email marketing?
There are lots of different automated email tools. Some of the best include Drip, Sendinblue, Mailshake, Mailchimp, and Emma.
What are the types of email automation?
You can automate almost any type of email. Automated email marketing works especially well for abandoned cart emails, welcome emails, lead nurturing, and newsletters.
How often should you send automated emails to your leads?
The timing of your emails is an important factor. You want to keep them updated without being overly pushy. A good way to find the right balance is through A/B testing.
Automated Email Marketing Conclusion
It's just not feasible to create individualized emails for each person on your mailing list. Automated email marketing gives you the best of both worlds, allowing you to give your followers consistent updates while still offering a good level of personalization.
This is important because email marketing is still a valuable digital marketing tool. It helps drive people to your website, nurture leads, and boost conversion rates, so it's something every business should consider.
Luckily, there are some great automated email tools out there, and with a bit of hard work, they should allow you to maximize your email marketing campaigns.
How have you used automated email marketing to help your business?
————————————————————————————————————————————–
By: Neil Patel
Title: How to Utilize Automated Email Marketing
Sourced From: neilpatel.com/blog/automated-email-marketing/
Published Date: Tue, 20 Jul 2021 13:00:00 +0000