Disclosure: This content is reader-supported, which means if you click on some of our links that we may earn a commission.
Webcasting has quickly become a popular large-scale communication tool in the digital era.
It's a way for businesses and individuals to communicate with hundreds or even thousands of people worldwide. Webcasting can be leveraged for a broad scope of use cases, like lead generation, customer support, internal company communications, and so much more.
The terms "webcasting" and "webinar" are often confused with each other. Unlike a webinar, webcasting is a one-way flow of information. The host presents and the audience watches without really interacting. Webinars are typically more interactive.
This key difference makes it much easier to reach the masses. But having a successful webcast is reliant on finding the right webcasting service. Which one is the best? Let's dive in.
#1 – ClickMeeting Review — The Best For Monetizing Webcasts
ClickMeeting is an online communication platform with several different products and service offerings. They have solutions for marketing, product demos, online learning, training sessions, team collaboration, and more.
ClickMeeting also has webcasting services to accommodate events with up to 10,000 attendees.
ClickMeeting has unique features not offered by other webcasting services on the market—monetization tools. They have everything you need to generate a profit from your large-scale online event.
PayPal integration makes it easy to sell tickets for webcasts. It's even possible to connect ClickMeeting to platforms like Eventbrite with a Zapier integration.
If neither of these monetization options accommodates your needs, just use ClickMeeting's API to manage your unique payment method.
In addition to the monetization benefits, ClickMeeting offers additional webcasting features like:
Promotional registration pages
Social media sharing and email invitations
Certificates of attendance for viewers
Follow-up messages to attendees
Guest speaker invitations with presentation access
Panel discussions with up to four simultaneous speakers
Whiteboard tools, documents, and video sharing
Password protection and tokenization for events
These features are all easy to set up and use. I'm talking about a few clicks and a little planning–you're not trying to get different software to play nice together. It all just works.
ClickMeeting even lets you break up the webcast into smaller workshops with the ability to sell tickets for each session.
If you want to generate revenue with your webcasts, look no further than ClickMeeting. ClickMeeting offers a free 30-day trial for up to 25 attendees for live, automated, and on-demand webinars.
The Live plan starts at $25 per month, billed annually, for an unlimited number of meetings, six hours of recording storage, and one gigabyte of file storage.
They also offer an Automated plan starting at $40 per month. This lets you auto-publish on YouTube, DropBox, your profile page, and even lets you stream webinars on Facebook. It also automates processes like thank you emails, followups, and invitations to future events.
You'll need to contact ClickMeeting sales for a custom quote for the Enterprise plan, which includes webcasting services for up to 10,000 attendees.
#2 – GlobalMeet Review — Most Versatile Webcasting Service
GlobalMeet is a product offered by Premiere Global Services (PGi), an industry leader in the digital communication and collaboration space.
Formerly Talkpoint, GlobalMeet Webcast is trusted by Fortune 500s and enterprises across the globe. This cloud-based SaaS (software as a service) makes it easy for organizations to create high-quality webcasts for thousands of viewers worldwide.
GlobalMeet's versatility is what makes it unique compared to other webcasting services on the market today. It's used for town hall broadcasts, employee onboarding and training, investor meetings, marketing presentations, corporate communications, human resources, and so much more. They offer both managed and self-service support for webcasts.
With GlobalMeet, you'll benefit from basic and advanced features like:
Live and on-demand presentations
High-quality audio and video streaming
Live Q&A, audience polling, and social media feeds
Tools for managing attendee registration data
Powerful analytics and reporting
Enterprise-grade security
Seamless integrations with CRMs and marketing tools
In-event branding tools
Unlimited cloud storage for on-demand viewing
GlobalMeet provides white-glove event services as well. They offer solutions for event moderation, advanced training, event setup, event customization, and more.
In Short, GlobalMeet has everything you need to execute a successful webcast at scale, regardless of the use case.
GlobalMeet does not publish pricing for their Webcast Starter License, but you can easily contact the GlobalMeet sales team for a quote on webcasting services.
#3 – Cisco Webex Webcasting Review — The Best For Large Scale Events
Cisco Webex is another industry leader in the business communications space. They provide an extensive list of high-quality products for varying use cases—webcasting included.
Cisco Webex Webcasting can support up to 100,000 attendees worldwide, making it one of the best options on the market for massive events.
Running an event at this size is no easy task. But Cisco provides everything you need to ensure the webcast is produced without a hitch.
They offer all of the features you need before, during, and after the event. Cisco assists with registration and sending reminders to attendees before getting started. They'll even set up your audio and offer technical assistance during a practice run before the event itself.
Other top features and benefits of Cisco Webex Webcasting include:
One-click recording
Real-time tech support
Custom event enrollment
Attendee questions for lead scoring, tracking, and follow-ups
High-quality audio and video
Advanced security
Slide share, polling, Q&A, and chat
Unlimited broadcast time
Unlimited on-demand viewing
Cisco Webex's webcasting support is second to none. Their team of experts will provide you with training and an extensive library of resources to ensure success. When you combine this with the ability to reach 100,000 people, it's tough to find flaws with it.
Cisco does not list their pricing for webcasting services. Contact the Cisco sales team to get started.
#4 – ON24 Webcast Elite Review — Best For Audience Engagement and Conversions
Just because webcasts aren't as interactive as a webinar or web conference, it doesn't mean that you can't keep your audience engaged. ON24 Webcast Elite solves this problem.
Unlike other webcasting tools out there, ON24 goes above and beyond to drive engagement and take your webcasts to the next level.
ON24 Webcast Elite is a marketer's dream. The platform makes it easy to create data-rich webcasts that generate engagement and stimulate ongoing relationships.
Whether you're using a live or on-demand webcast, ON24 has real-time engagement and conversion tools designed for lead qualification and buying. You'll be able to quickly understand the buying intent and interest level of your audience, which improves sales follow-ups and future campaigns.
ON24 Webcast Elite has unique backend tools that automatically capture audience buying signals. You can seamlessly integrate this data with your CRM or marketing automation platform to optimize the way you nurture prospects.
Other top features and benefits to consider include:
20+ engagement and conversion tools
Lead qualification tools
Sales pipeline insights
Fully customizable audience dashboards
On-demand viewing
Surveys and attendee feedback
Provide related content and resources on the webcast dashboard
Make it easy for audiences to book a meeting, schedule a demo, or contact your team
ON24 Webcast Elite is more than just a webcasting service. This solution is built for driving engagement and generating conversions.
Try it free for 30 days to see if it is right for you, and contact the ON24 Webcast Elite team for a demo and quote.
#5 – Samba Live Review — The Best For Cross-Platform Live Streaming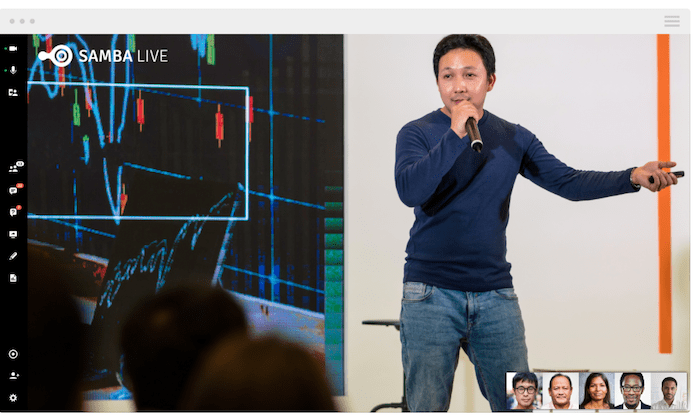 Samba Live by Digital Samba is a webcasting service with unlimited scalability. You can invite as many attendees as you want to your next event and potentially reach millions of viewers worldwide.
That's why global leaders like Deloitte, Ferrari, and McDonald's rely on Samba Live for webcasting.
What makes Samba Live stand out from the crowd is the ability to stream live across multiple platforms simultaneously. You can use the software to stream webcasts on Facebook and YouTube to maximize your potential reach.
The software is 100% browser-based and cloud-based, so you won't have to worry about downloads, hardware, or access restrictions.
Here are some other reasons why Samba Live ranks high on my list:
Simple and intuitive UI for presenters and audiences alike
HD audio and video
Supports multiple devices OS (Mac, PC, Android, iOS, tablet, smartphone, etc.)
File sharing and screen sharing
Custom screen layouts
Whiteboard markups and annotation
Custom registration pages and thank-you pages
Email invitations
Q&A, polling, and surveys
Samba Live is versatile enough to accommodate your needs, from virtual workshops and training events to sales meetings and company-wide announcements.
You can try it free for 14 days with no credit card required, then the Pro plan starts at $49 per month.
What I Looked at to Find the Best Webcasting Services
Before you can start evaluating different webcasting solutions, it's essential to understand what qualifications should be considered in your decision.
Below is the methodology that I used to come up with the top picks. Use these factors as a buying guide and weigh their importance against your personal webcasting needs.
Number of Attendees
How many people are you expecting for your webcast?
Most webcasting services will have limits on attendee lists. Some services might restrict you to 5,000 or 10,000 attendees, while others give you up to 100,000.
Compared to webinars and web conferences, webcasts typically have a higher number of attendees. Keep this in mind as you're browsing through different options. Make sure you factor in the attendee limits of each plan.
Audio and Video Quality
Since webcasts are typically broadcasted from a single presenter, the audio and video quality must be a top priority. Tens of thousands of people around the world could be viewing your webcast.
If the feed is lagging, grainy, or low quality, the message won't be as impactful, and attendees may drop out mid-presentation.
The quality of your webcast will be a direct reflection of you and your brand. This is definitely an area that can't be overlooked as you're comparing solutions.
Event Management Tools
Webcasts often require a significant amount of preparation. From the promotional materials to speaker lists and more, there's quite a bit of work that must be done before, during, and after the event.
Look for a webcasting service that simplifies event management. Even though webcasts typically aren't interactive, features like audience polling can be highly beneficial.
Recording and Editing Capabilities
Make sure the webcasting service you're evaluating allows for event recording. Not every webcast is presented live. Some are pre-recorded and available on-demand.
If you're pre-recording an event, take advantage of any built-in editing tools. Mistakes are inevitable during a live broadcast. But you can cut those out of an on-demand webcast with editing tools to add professionalism to any event.
The best webcasting services give presenters the ability to remove, add, or even reorganize content before archiving it for on-demand viewing.
Reporting and Analytics
Look for a webcasting service with sophisticated reporting tools. Most platforms offer the basics, like the number of attendees and their location.
But some webcasting services go above and beyond with poll results, audience interactions, and other key audience behavior. These deeper insights can help you define and create future presentations, which is crucial for sales and marketing webcasts.
Conclusion
Webcasting is an excellent way to reach thousands–or potentially millions of viewers across the globe. From a single office, or even your home, you can start to build brand awareness on a massive scale.
As you can see, my recommendations for what's "best" depend on what you are trying to do. Use my list as a place to start and my buying guide to help you narrow down your options. Here's a recap of a complete list of all my picks:
ClickMeeting — Best for monetizing webcasts
GlobalMeet — Most versatile webcasting service
Cisco Webex — Best for large scale events
ON24 Webcast Elite — Best for audience engagement and conversions
Samba Live — Best for cross-platform live streaming
There's a solution for everyone on my list. Whether you want to monetize a webcast, drive audience engagement, or something else, the recommendations in this guide will steer you in the right direction.
————————————————————————————————————————————–
By: Neil Patel
Title: Best Webcasting Services
Sourced From: neilpatel.com/blog/best-webcasting-services/
Published Date: Sat, 17 Jul 2021 13:00:00 +0000