You're likely to have heard of "growth hacking" in marketing blogs. This is the concept that focusing your marketing strategy on growth is the best way to achieve success.
Growth hacking is a term that refers to the way online services and tech startups gain new clients. However, an effective growth hacking mindset can be applied to ecommerce. Focusing on growth will result in more effective testing, campaigns, and marketing materials.
These growth hacking strategies will help you scale your e-commerce store. You can drive traffic and increase visibility by crafting your marketing strategies with purpose.


The Key Takeaways




Increase buyer trust and improve search engine credibility by including visual trust badges on your e-commerce website


Create a personalized user experience and show empathy for your target audience


Use testimonials and customer reviews to encourage new customers to invest in your business


Open communication is key to providing exceptional customer service and building buyer confidence in your brand

Simple growth hacking strategies are a great way to grow your business and increase sales.
1. Highlight what customers think

No matter how stunning your brand story and ads are, they won't convince as convincing as the recommendations of customers.
Because buyers trust social proof (evaluations, testimonials) to help them make informed decisions, word-of-mouth messaging is very effective. Before making a purchase, customers love to hear from others about their experiences with the product. Since they cannot physically inspect the product, it makes them feel more confident in their purchase decision.
Here are some ways you can start to showcase the opinions of your buyers:
Your online store can have more customer reviews. You don't have to place reviews on product pages. Customers can also leave ratings on your Homepage or About page. This will show potential buyers how satisfied they are with your brand.
Highlight testimonials. Testimonials are a bit more personal than ratings and allow buyers to share their positive experiences with your brand. In your online shop, in your email newsletters, or in your ads, you can highlight testimonials.

Image Source by Away

This content needs to be showcased. Yotpo is a tool that allows you to add testimonials and reviews to your online shop.
2. Write guest posts

Writing guest posts for blogs outside your company blog can help you reach new customers if your blog is only reaching loyal buyers.
You can reach many new customers by writing guest posts on blogs with similar audiences. You can make a list of blogs that are similar to your products and then reach out to blog managers to inquire about guest posting.
Want to know how to create a guest post outreach email? Mention has a blog post on this topic.
These tips will help you write a post that attracts new customers once you have secured a guest slot.
Don't make your blog post promotional. To those who read your guest post, it feels unprofessional to write a post about your product. Your writing should be industry-related and relevant to your reader. Bai, a drink company, teamed up to guest post on Refinery29 about a watermelon margarita recipe.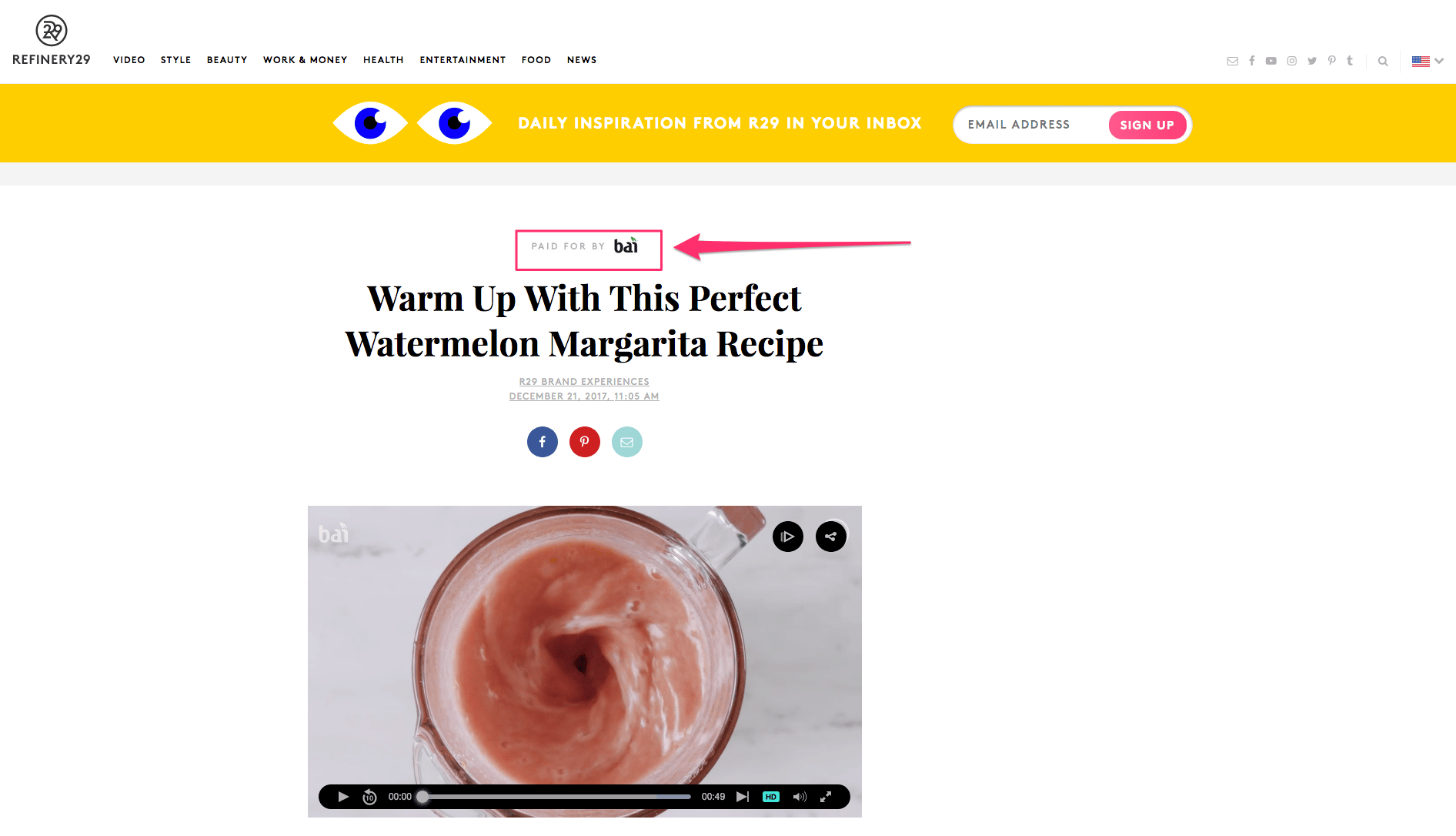 Image Source: Refinery29

Instead of writing an article on why people should drink Bai products the company demonstrated to Refinery 29 that their product is great — it's a delicious margarita ingredient!
In your guest post, link back to your blog. You can set up traffic tracking for your blog to see if backlinks have led people to it. If you need assistance setting this up, refer to our Google Analytics guide.
Write guest posts instead of writing content for your company's blog. This will allow you to reach new audiences and expand your reach.
3. Send thank you cards

Buyers will remember when you go the extra mile to make shopping memorable, whether it's a gift for free or a generous return.
It is easy to delight customers by sending handwritten thank you cards to potential customers. This small gesture is a great way to show appreciation in a world of robotic, automated support. Buyers will feel appreciated and be more likely to buy again from you in the future.
These are some tips to get new customers excited about you business by using thank-you cards.
Include a social media promotion in your card. Incentivize your new buyer to share your brand's message on social media. Send a personal note and offer a coupon or promo code.
Thankbot is a service that makes it easy to send thank you cards. Although the service is technically automated every card is still handwritten by an actual person. This is a great way to get new customers for your company, even if you have limited time.
Your thank-you cards have two benefits: You keep your customers happy and you attract more customers by including a way for them to spread the word about it.
4. A/B Test your Product Pages

One of the most popular growth hacks is running A/B tests. You can quickly determine what is working for your business by using trial and error.
You should A/B test product pages to increase sales as an ecommerce seller. To see which changes make the most impact on your sales, you can experiment with small changes to your pages' design, text, or images. These are some ideas to get you started with your testing.
Photos of the product size
Include or exclude a trust badge
Indicate when your supply is low
Your "Add to Cart" button's color
Optimizely has more ideas in this blog post. If your online store offers an app, you can also see these mobile testing ideas by Taplytics.
After you have a few ideas for testing, start to build a process. You'll be able run consistent tests and improve your product pages with a repeatable experimentation process.
5. Use Exit-Intent pop-ups

You spend a lot of your time as an online seller thinking about how to get more customers to your store. But what do you do to capture them before they leave?
Exit-intent popups are the key to capturing web visitors who leave your site without purchasing. You want to convince them to reconsider by offering discounts on your products or by capturing their email address to help you nurture them through your sales funnel.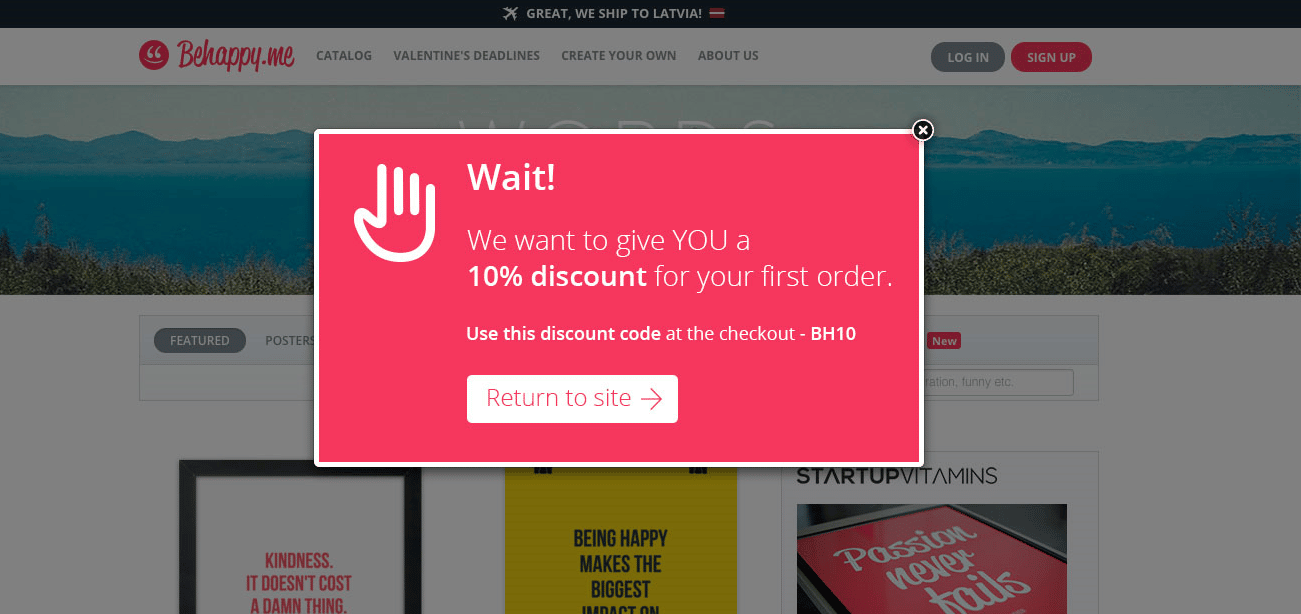 Image Source: BeHappy

These are some tips for setting up and crafting your first exit-intent popup.
As they are trying to leave, think about which offers your customers would find most appealing. A special discount that is instantly applicable to all products in your online shop would be a great place to start for e-commerce.
Choose a tool to quickly and easily add exit-intent popups to your site. SumoMe and Bounce Exchange are some of the most popular choices for creating exit-intent popups.
Your job in e-commerce is not over once you have made the first sale. It's only the beginning. Once someone converts and makes a purchase on your site, you can leverage that relationship to connect to more potential customers.
It is important to encourage your customers to spread the word about you business. This can be done by including a message in order confirmation emails and emails encouraging buyers to share their purchase via Facebook or Twitter.


Image Source: Amazon

These are some strategies to get your buyers to share your business and encourage them to tell others about it.
Share purchase information as easy as possible. Click to Tweet is a great tool that allows you to create a message for customers to share with their followers. Customers won't hesitate sharing the message if it is already written. A message example might look like this:
Just bought my brand-new [Your product] at @[Your store]! I can't wait for it to arrive in the mail! Get yours now [link to shop]
Incentivize buyers to share an offer. Many buyers won't feel motivated to share their shopping experiences unless they are particularly active on social media. Offer a discount to customers who share their orders via social media.
Your brand will become more visible to potential buyers by having more customers share their purchases.
7. Ask for Social Engagement Cards

Each company uses digital messaging to request social media share requests. This is because buyers have become used to this method of communication — pop-ups, emails — almost every day. These requests are more common for buyers to become accustomed to, so they will be less likely to respond.
You can spark social engagement with your customers by sending printed cards in customer order packages. These are intended to encourage sharing.
Customers are happy and excited when their packages arrive. This is the perfect time to encourage customers to take a picture and tag your business on Facebook and Twitter.
These are some strategies to send social engagement cards that encourage buyers to share.
You can either hire an external designer or use your own designer to design the engagement card. Do not give this design task to your intern. Buyers will disregard the card's message and won't share it on social media if it doesn't look polished and professional.
Incentivize your customers to share their requests on the card. Your customers will be told that they will receive a coupon or a free gift for sharing their social-media updates. A reward can motivate customers to engage on social media with your brand.
Buyers find it more exciting to receive a social media engagement card than receiving an email from a company. To encourage buyers to share your card, take advantage of this opportunity.
8. Send an "Buy Again!" Email

Your returning customers are more valuable than new customers. Remaining customers are twice as likely as new customers to purchase an item, have lower bounce rates and convert twice as often as returning customers. This value is why it's important to do everything you can to keep customers shopping.
Sending buyers an email inviting them to "buy again" is a great way to retain customers. Send the buyer an email inviting them for another purchase within 10 to 15 business days of their purchase. You can send the customer an email with a link to their last purchase or other related products.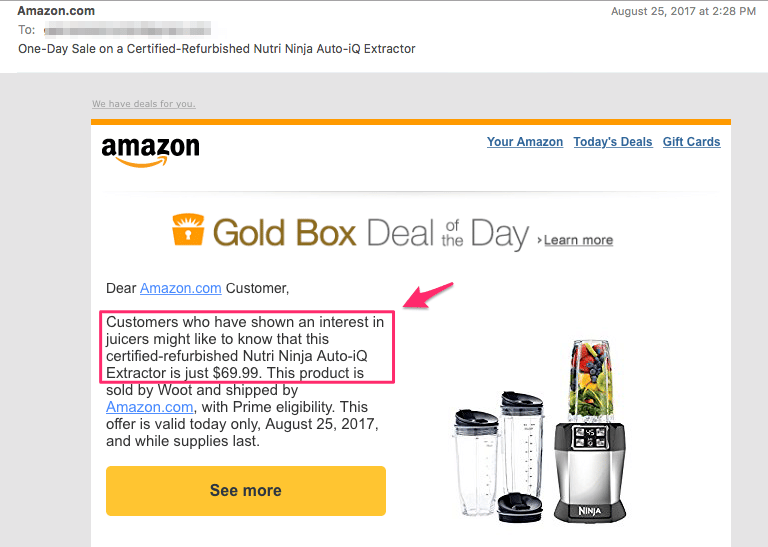 Image Source: Amazon

These are some simple tips to send persuasive emails encouraging customers to buy again.
Email marketing software lets you manage and design your messages. Campaign Monitor makes it easy to automate email campaigns by setting up drip channels with specific triggers such as "Send E-mail 15 Days after Subscription."
Incentivize another purchase. Offer something in return for purchasing again.
9. The Personalized Homepage

Shoppers are becoming more tech-savvy and their expectations for shopping have increased. They are more tech-savvy than ever and want more than an online store. They want their sellers to create a shopping experience that is tailored to their needs.
A personalization of your online store's homepage can be a great way for buyers to have a personalized shopping experience. Your online store can tailor its content to each customer by tracking user behavior. You can promote a product that a buyer viewed but did not purchase on their previous visit to your website. Your homepage can be used to show buyers what they are interested in and drive them to purchase.


Image Source: Amazon

We have a few strategies to tackle this hack for technical growth:
Do your research. It takes some technical knowledge to personalize your website.
You can create a customized online store by using a tool.
A personalized homepage allows you to target customers and increase conversion rates.
10. Establish a Referral Program

A referral system is an older but still very effective growth tool.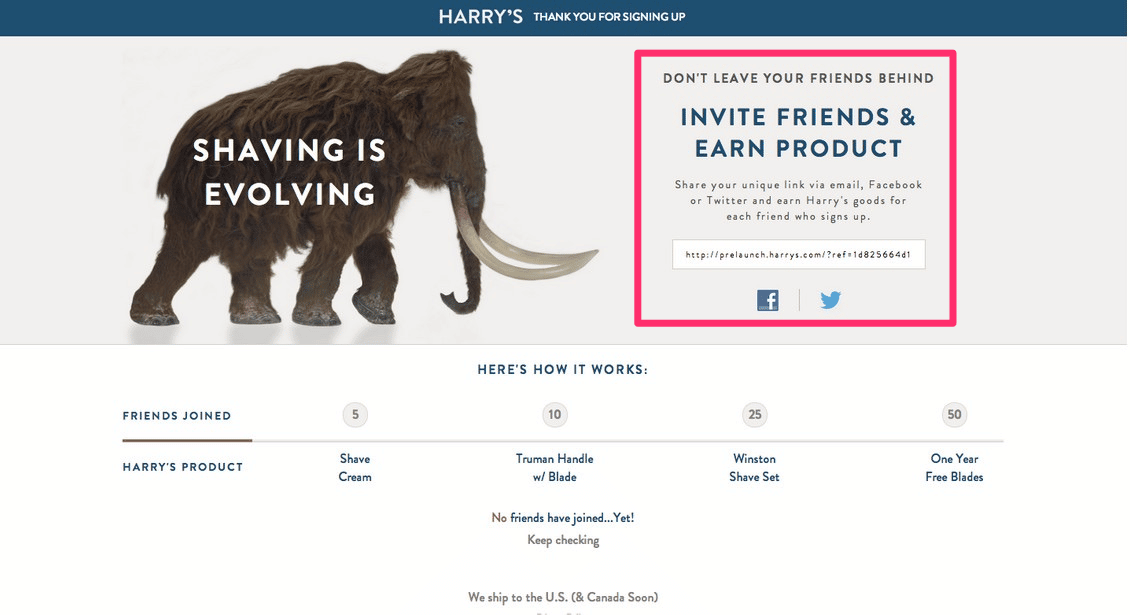 Image Source Harry's

Two benefits can be derived from a program that rewards customers who send new business.
To connect with potential customers, you will be given contact information.
Referring customers to get discounts or shopping rewards encourages them make more purchases.
This tactic can be started by setting up an account in a referral program software such as Ambassador, Sweet Tooth or Forewards. These tools can help you create a customized referral program without any programming skills.
11. Cross-Sell and upsell

A buyer may be only looking for one product when they visit your online store. However, that doesn't mean they can't be pushed to purchase more.
Instead of accepting a single order, increase sales by using two sales methods.
Cross-selling: Getting customers to buy additional items
Upselling: Getting buyers to upgrade their purchases.
Your ready-to-buy buyers are already interested at the order stage in your brand and product. This is the ideal time to upsell or cross-sell their order. Excited customers will be more inclined to purchase more expensive products if they see how they can increase their order's value.
Do not be afraid to guide buyers' orders. Cross-selling and upselling will give your customers more value and increase your sales.
12. Show how customers shop

Social proof is more than testimonials and reviews. It can also be a way to motivate buyers to shop online. Showing other customers' online shopping habits can help you drive more shoppers to your online store.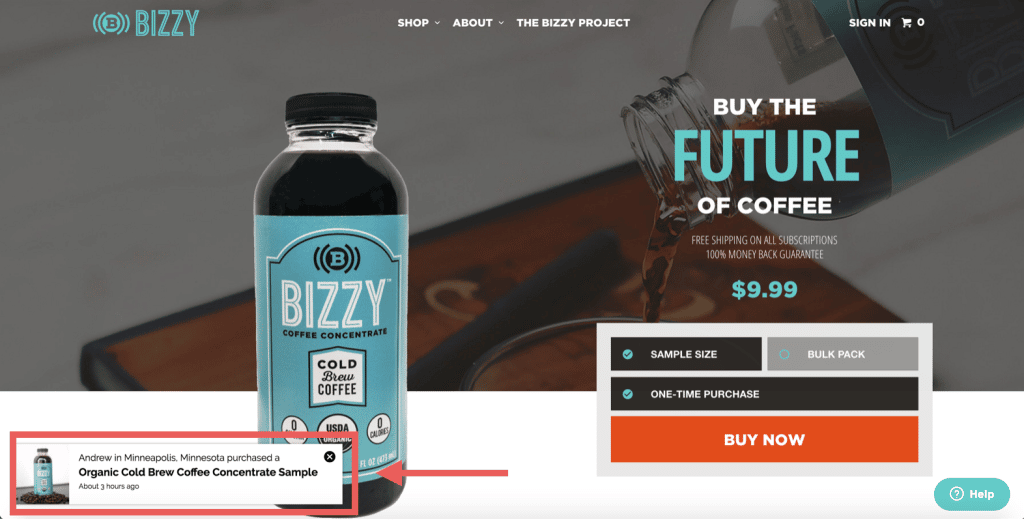 Image Source: Bizzy

These live interactions will give your business credibility. You're showing online buyers proof that your business is helpful and successful by displaying live notifications regarding customer service assistance and purchases.
Fomo is a great tool to get you started. Fomo allows you to easily add customer interaction notifications to your online store. You can measure the return on investment of customer interactions by integrating Fomo and Google Analytics.
13. Set up Retargeting Ads

Retargeting ads, like exit-intent popups can be used to capture visitors who haven't purchased from your site. This growth hack involves tracking visitors to your online store, and then showing ads for your products on other websites they visit.

Retargeting ads can be extremely powerful as they highlight items buyers are interested. Buyers feel more motivated to return to your store to complete their purchase when they see exactly what they are looking for.
With a tool such as AdRoll, Criteo or Criteo, you can start creating retargeting ads to your online store sign up. These tools enable you to create retargeting ads for your online store and track their performance.
14. To fuel sales, create urgency

Invoking FOMO (fear of missing out) is the best way to increase sales in buyer psychology. You can encourage buyers to buy more by playing into their desire to be included.
A sense of urgency on product pages is a great way to capitalize on buyer FOMO. Highlighting on your product pages will make your buyers feel urgency to purchase.
How much inventory remains
Temporary store deals: Time left
Temporary free shipping is still available
All these urgent statements make buyers feel like they are about to miss an opportunity to shop. The buyer is driven to make their purchase once FOMO kicks in.
You can use A/B testing to determine which products are most urgent. Try different urgent statements to see which one converts the most. Taplytics is an experimentation tool that allows you to set up and track your product page A/B testing.
15. Offer Content Upgrades

Blog on your online shop, but don't stop there. You can also offer content upgrades to increase sales and build buyer relationships.
Content upgrades are extra resources such as ebooks within a blog article. In exchange for their email address, you offer the reader the resource. This contact information can be used to add the reader into your email campaigns, nurture them through sales funnels, and ultimately convert them into customers.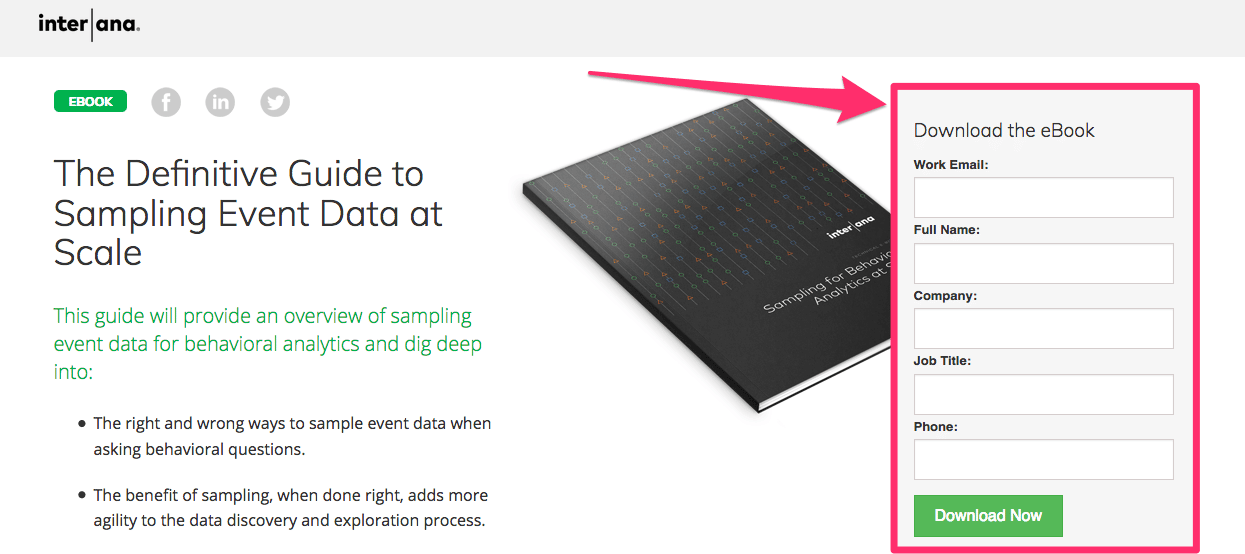 Image Source Interana

These are some strategies to offer content updates on your blog.
Repurpose your most popular blog posts and make a content upgrade. You can easily turn posts with high conversion rates and views into a checklist, ebook or worksheet to increase sales.
Create an email drip campaign to notify users when content upgrades are available. A link to the resource should be included in the first email of the drip series. Additional content and promotions for your online store could be included in any subsequent emails.
You can build relationships with your buyers by offering content upgrades. To make them long-term clients, you offer value and nurture them through your sales funnel.
16. Start Seasonal Campaigns

Black Friday and Christmas are great ecommerce holidays. Buyers are willing to spend a lot so be ready to promote seasonal shopping. You need to be ready to capitalize on the seasonal opportunities that these seasons offer to your business.
Although most campaigns revolve around seasonal promotions, there are many other ways that your store could attract seasonal customers. For example, you might get holiday-themed packaging to inspire buyers or a new line for holiday products.
Once you have a solid idea of your seasonal theme, it is time to launch your campaign and promote it. These are some tips to get you started.
A clear timeline should be established for your seasonal campaign. You should allow at least five weeks to prepare for the launch, coordination, and marketing of your campaign.
Use user-generated content to promote your campaign. To promote the seasonal celebration at your store, create an Instagram hashtag and launch UGC campaigns. Starbucks had an Instagram #RedCupContest for their holiday drinks.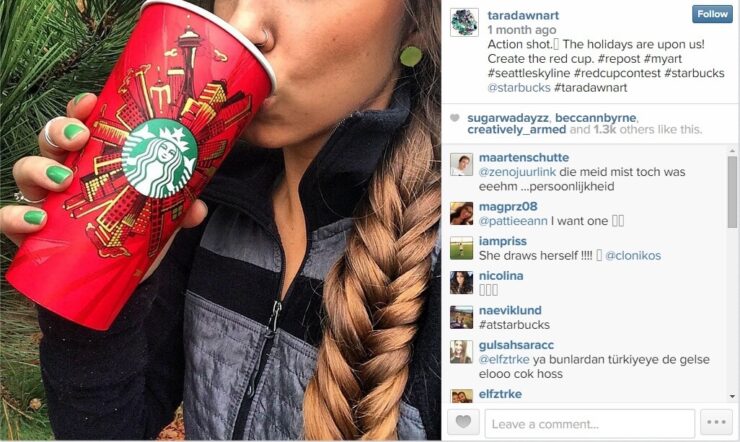 Image Source: taradawnart

17. Show Trust Badges

You can't underestimate the importance of building trust with your buyers as an online seller. You can't meet your customers face-to-face so you need to establish credibility online so they feel at ease making a purchase.
Visual trust badges are a great way to increase trust in your ecommerce website. You can make your buyers feel more comfortable sending payment information and other sensitive information to your site by displaying the logos of secure software.
Try out different placements for trust badges such as:
Your website footer
Your product pages
Checkout pages
Taplytics is an A/B testing tool that can help you determine which trust badge placements will increase your sales.
18. Incentivize Your Checkout Page

The reality of cart abandonment is very real. According to the Baymard Institute research, 70% of shoppers abandon their shopping carts before completing their purchase. The majority of users abandon their carts at the checkout page. This is why it is important to encourage buyers to continue the checkout process.
Coupon codes can be used to encourage customers to complete checkout. Having already been motivated by the discount, it makes it more likely that buyers will complete their order by forcing them to go to the last checkout page before they enter their code.
These are some tips to help you create coupon codes that increase sales.
Special offers should be made widely available. Promo emails, social media ads and other methods can be used to distribute discount codes to a lot of customers. You can get more people to the checkout page if you distribute more codes.
Every sale that you make, assign a discount code. You can attach a code to any promotion, even if it is a general sale. This will ensure that customers are motivated to go to the checkout page.
Coupon codes allow you to reward customers with lower prices, and your business with higher checkout completions.
19. Reduce input fields

We're all familiar with the frustration that comes with an extended online checkout. Although you are excited about the products in your shopping cart, and ready to make your purchase, you will need to provide so many details — your mobile number, optimal delivery times, etc. — in order to complete checkout. Many buyers prefer to abandon their carts than complete all the information.
You can increase your sales by making checkout easier and requiring fewer input fields. You should only ask for the essential information. Then, try to keep all input fields on one checkout page. You can also show buyers the steps involved in the checkout before they are complete. This makes it easier for them to understand.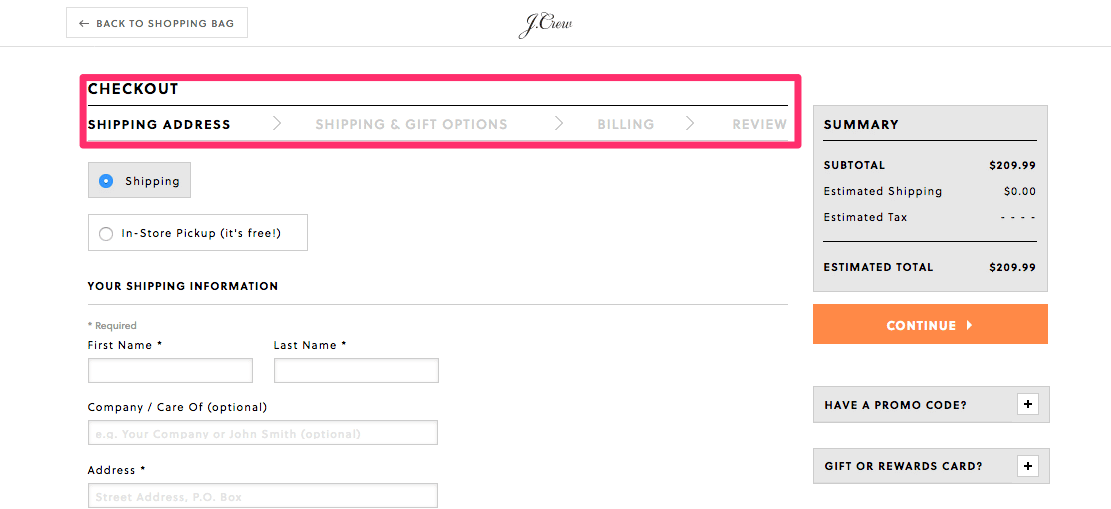 Image Source: J.Crew

They will be more likely to close their purchase if they have less work.
20. Embrace Conversational Commerce

Online stores may not be as popular as offline ones, but that doesn't mean they aren't available for customers to contact. Customers will be more satisfied with their experience with your company if they can communicate easily with you.
Conversational commerce, where buyers and sellers connect through messaging apps, is key to easy communication. Your buyers have access to round-the-clock communication tools that allow them to resolve any problems they may encounter with your company.
There are many conversational commerce tools that you can use. Drift is a popular conversational marketing platform that allows customers to chat directly with businesses from their website. Chatbots are also used by companies to communicate with customers via platforms such as Facebook Messenger or Kik.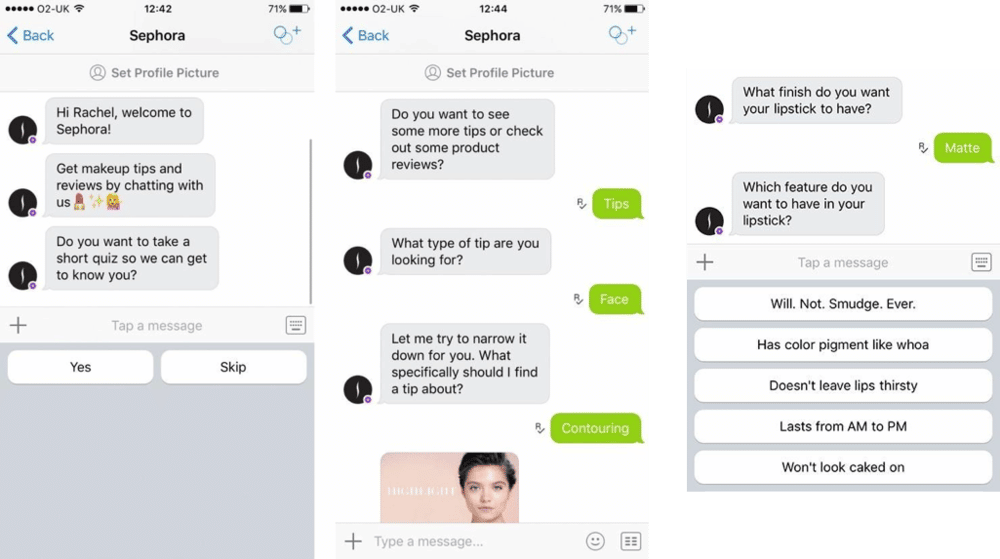 Image Source: Sephora

Learn more about how to implement this technology in our Everything You Need To Know About Chatbots In Ecommerce guide.
Learn more about Growth Hacking to see what works

A successful growth hacker does not require a single strategy. It's the opposite. You can use the same strategies that work for one company but fail well for another. This is why you need to try different approaches to increase your sales.
It is important to be agile and constantly iterating. You shouldn't try every growth hacking strategy you see. Instead, think about the reasons your previous approach failed and then use that information to help you choose the next one. You can quickly identify the best growth hacking strategies to increase sales and scale your business.

Digital marketing experts make it easy to generate leads and grow your business. Visit Marketing Insider Group's weekly blog to engage and convert customers.

Marketing Insider Group published the post 20 E-Commerce Growth Hacking Techniques to Try Right Now.
Frequently Asked Questions
What are the 4 functions in marketing?

Marketing is the art and science of creating demand for products or services.
It contains information about an organization's products and values as well as the impact they have on customers' lives.
Marketing is also a way to stimulate interest and increase awareness about an offering. It can even drive action (or purchasing) when an invitation is issued.
The following are the four functions that marketing has:
Creating Demand – This includes developing relationships with potential buyers and convincing them that there is value in purchasing your product or service.
Stimulating interest: This is a way to increase awareness about your product.
Building Awareness: This refers in part to making sure your consumers are well-informed about your product/service and why they might choose to buy it.
Driving Action – This is the act of ensuring that consumers purchase your product or service after being made aware.
What are the 5 Marketing Concepts?

The following five marketing concepts can be used:
Branding – A brand is an image that people have for you. It's what they think of when they hear your name. You need to create a brand identity that is consistent across all media.
Positioning – Your positioning is how you position yourself within your market. What is the best way to describe yourself?
Message – This describes the message. What is the point of your message? Why should someone buy from you?
Marketing mix – This is a combination of channels, pricing and promotions that enables you to reach your target audience.
Measurement – How do I measure success?
What is the difference of advertising and marketing?

Advertising is a type of communication that promotes products and brands. Advertising is usually accompanied by a clear call for action, such "Buy Now!" Click here or "Buy Now!"
On the other hand, marketing is a way of communicating your company's mission, vision, and values to potential customers. Marketing also helps build relationships with current customers and prospects.
For instance, if you sell shoes online, you may use marketing to tell your story about who you are and what you offer. You might talk about your background, philosophy, or commitment to quality. Perhaps you could give testimonials from happy customers. Perhaps you can even hold an event where people are encouraged to visit your website by giving away free shoes.
In short, marketing is about telling stories. Advertising is about selling goods.
What is search engine marketing?

Search Engine Marketing (SEM), one of the most important components of digital marketing, is essential. SEM includes pay-per-click advertising, sponsored links, display ads, paid inclusion, search engine optimization (SEO), social media marketing, video marketing, mobile advertising, etc.
What are 7 steps in an internet marketing strategy plan?

Internet marketing strategies are used for achieving business goals using online media. The seven essential steps of internet marketing include planning, research implementation, monitoring, analysis and optimization. Each step should be repeated regularly to ensure effective internet marketing.
Planning – This is the step that involves identifying your target market and creating a plan on how to reach them. You'll also consider what product or service you offer and who might buy it.
You can use research to understand the needs and interests of your customers so that you can choose the products or services that best meet their needs. It provides valuable insight into consumer behavior, trends, and other information.
You will need to choose a platform (e.g. Facebook) and decide where you want your ads placed. Once you've selected the platform(s), make sure they're properly configured. Also, consider whether to pay per Click or spend money advertising.
Monitoring – This is how you can see if your efforts have been successful. Google Analytics Analytics can be used to track traffic flow, conversion rates and customer demographics.
This allows you to compare results to benchmarks or previous performance levels. This step will guide you on how to improve if there are areas that are not performing well.
Optimization – Optimizing the site is about making improvements to make it more attractive to visitors. Your site could be enhanced with new features, or changed in the way that users navigate.
Evaluation – You can evaluate the progress of your campaign to determine how it's performing. Are there any opportunities for improvement? If not, you may not have reached your goals. If you still have issues to resolve, you will need another evaluation.
Statistics
External Links
How To
How can you tell if your branding efforts are working?

Ask your customers. This is the best way for you to measure success. Ask them to rate your brand. What do they most like about your company. What don't they like? How can you improve?
Surveys can be conducted on social media sites such as Facebook and Twitter. You can simply ask your followers how they rate your brand. You can then analyze the results and determine which aspects are most successful.
Check out customer reviews. People love to give their opinions about a business when they are happy with it. Take the time to read these comments and understand what they think about your brand.
Here are some suggestions to help improve your brand.
Be consistent. Keep your marketing materials consistent. You should keep your message consistent across all channels.
Multichannel marketing is a good idea. Promoting your brand should be done via email, social media and websites.
You must ensure that you give your customers exactly what they need. If you offer free shipping, make sure you deliver on that promise. Otherwise, you might lose customers who expect no-hassle delivery.
Your brand is more than a logo. Your company's brand is everything. It is important to take the time necessary to create a cohesive image.
Get feedback from your customers. You'll be more successful if you listen to your customers sooner.
Test different messages. You might find that one message is more effective than the others. You might have two messages that are very similar, but one receives more responses. It doesn't matter what, it is important to monitor your stats and see which message is doing the best.
Find ways to improve your brand. Are there areas you could do things differently? You could upload more videos to your site. Or maybe you could include more customer testimonials in your blog posts.
Make a plan. Once you've decided on your goals and objectives, you'll need to develop a strategy for achieving those goals. This includes establishing a timeline to reach each goal. This includes setting milestones to track your progress.
Measure your results. Stop measuring once you have reached your goal. Instead, establish a system to track your progress over time. This will help you to know if your progress is steady towards your ultimate goal.
Repeat! Now that you've established a solid foundation for your brand, you'll want to continue to build upon it. You might consider hiring someone to assist you if you have trouble keeping up with current marketing efforts.
Be positive. Negative feedback is something you should never ignore, but you shouldn't dwell too much on it. Instead, you should focus on how this information can be used to improve your brand.
Take advantage of technology. Technology has given us many tools we didn't even dream of before. Why not make the most of them? One example is a mobile app you could make for your company.
You can think outside of the box. You don't have to be afraid of trying something new. It's okay to try something new, but don't forget to think first.
Have fun. Marketing isn't supposed to stress you. Marketing can be described as "fun marketing." Try to have fun while you work.
Know when to quit. You can quit when you feel like you've done everything. You shouldn't give in too quickly. Sometimes, you need to keep at it until you get the result you want.
Keep your consistency in mind. Consistency is the key to success. So, invest some time into developing a schedule for your brand.
Be patient. You will take time to build a successful brand. It won't happen overnight.
Keep learning. Marketing is ever-changing. You can stay up to date by reading blogs, or even attending webinars.
Never stop improving. Even after you achieve your goal, you can still learn new skills.
Enjoy the journey. Marketing is fun. Marketing is not a chore.
————————————————————————————————————————————–
By: Lauren Basiura
Title: 20 E-Commerce Growth Hacking Tactics To Try Right Now
Sourced From: marketinginsidergroup.com/content-marketing/growth-hacking-ecommerce-20-tactics-can-try-next-month/
Published Date: Wed, 09 Nov 2022 14:00:00 +0000