When you're trying to drive traffic to your website and generate new leads, the goal is to make your content as attractive as possible. After all, with so much competition out there, it's important you stand out from the crowd and grab someone's attention right away, right?
The answer's yes!
Just like you spend time and energy creating visually appealing content for users to enjoy, you shouldn't forget the finer details: namely, your links.
Yes, really. URLs matter. Let me show you why link shortening is worth your time and what link shoortening alternatives to Goo.gl are worth trying.

What Is Link Shortening?
Link shortening takes longer links, with their confusing combination of numbers, letters, and special characters, and turns it into a short, readable link.
Here's an example from NASA's Twitter feed. The link is only a few characters long, it contains the NASA branding, and it's clear where the link redirects to: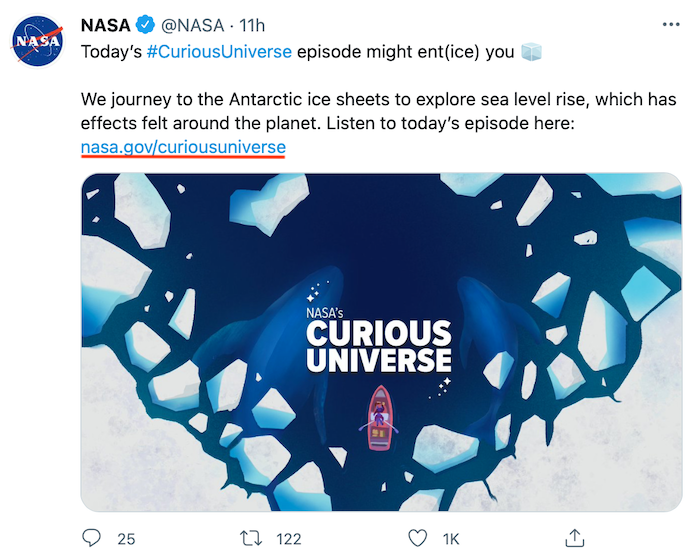 Here's another example. When you click the link, it takes you to a YouTube video. The destination is fairly clear from the short link (youtu.be) even though it's unbranded, meaning there's no mention of NASA's name in the link: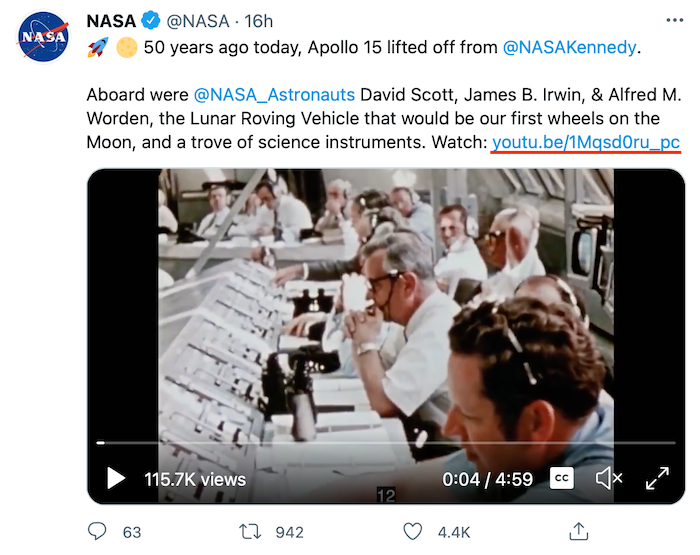 The original "longer" link looks like this: https://www.youtube.com/watch?v=1Mqsd0ru_pc
Which one do you think looks more attractive on a website or social media post? Which one would you be more likely to click on?
Chances are, it's the first option, and the reality is, your potential customers feel the same way.
Why Should You Use a Link Shortening Tool?
OK, so that's how link shortening works, but is it worth your time? Here's a bit more detail.
In most cases, URL shortener tools also track how many people click your links. You can track who clicked your link to calculate the success of ad campaigns or content marketing strategies you're running. From a marketing perspective, link shorteners are invaluable.
It's also ideal for social media posts, where you might have a limited number of characters to convey your message. Shortening URLs and focusing on content makes it easier to engage your followers.
Finally, short URLs are more attractive. They're easier to read and make your content more user-friendly. You can also create branded links with URL shorteners to reinforce your brand message at the same time.
Since great marketing is all about creating a great experience for your customers and building awareness, short URLs are a crucial tool.
To be clear, it's not always worth shortening URLs. For example, if you're just linking from one page on your website to another, there's no need to shorten the link.
If you need help figuring out which links to shorten and which ones to leave alone, check out my consulting services.
How Did Goo.gl Work?
Google's own URL shortening tool, Goo.gl, launched back in 2009.
At first, it only worked with Google applications, meaning you could only shorten URLs for the Google toolbar. However, Google made the tool available to the public in 2010, which made it simpler for all website owners to access and use.
Goo.gl offered a simple means to create shorter, more readable URLs. All you had to do was input your long URL and Goo.gl generated a smaller URL without lines of extra characters:

You didn't need a Google or G Suite account to create a one-off URL, either. However, if you wanted to keep track of all your custom URLs, you could create an account and view all your shortened links at a glance: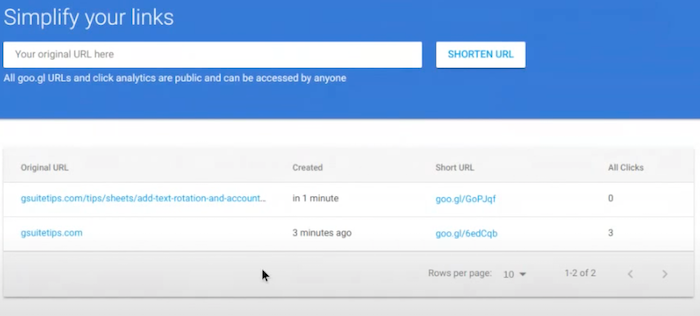 Website owners could also track how many people clicked the shortened URL, which helped with marketing strategy creation: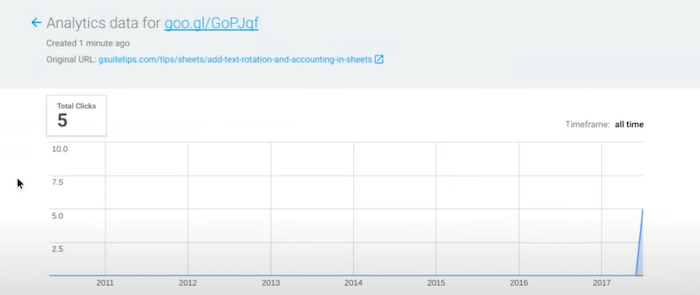 Why did Google shut down Goo.gl, though? Put simply, Goo.gl wasn't designed for anything other than desktop browsing. As browsing habits changed and it became more common for people to access the web through mobile devices or apps, Google realized the tool just wasn't flexible enough to stay competitive.
The answer? Firebase Dynamic Links, or FDL, which replaced Goo.gl back in 2019. As we'll see in a moment, FDL improves upon Goo.gl in a few ways, although it's not the only URL shortening tool worth considering.
7 Goo.gl Replacements
There are many other link shortening tools out there, so how do you choose the right one for your needs? To help you narrow your search, here are seven promising alternatives to Goo.gl you can try right now.
1. Firebase Dynamic Links
Since Firebase Dynamic Links (FDL) replaced Goo.gl, it's a good tool to start with if you're focusing on app creation and development.
Firebase works similarly to Goo.gl, since you're still creating short URLs. However, these URLs are no ordinary links: they're "smart" links, or Dynamic Links.
When a user clicks on a FDL link, they're directed to exactly where you want them to go in your Android or iPhone app… even if they don't already have the app installed. They simply download the app and the right page loads automatically.
Cool, right?
It doesn't matter whether they click through from a desktop browser or mobile device, either. They will be directed to a compatible version of your website, so there's no need for you to generate different URLs for each platform.
If you're focusing on app-based marketing, definitely consider FDL. There's a free plan available, although the paid plan has some nice features.
2. Rebrandly
Do you want to create unique branded links using custom domain names? Then Rebrandly could be for you.
Trusted by global brands like IBM and Shopify, Rebrandly is more than just a URL shortening tool. It's a link management platform designed to help you build entire marketing campaigns around branded links in just a few clicks.
Without leaving your browser, you can create and share links across over 100 integrated apps including Twitter, LinkedIn, and Facebook. Plus, you can measure your campaign results from the dashboard.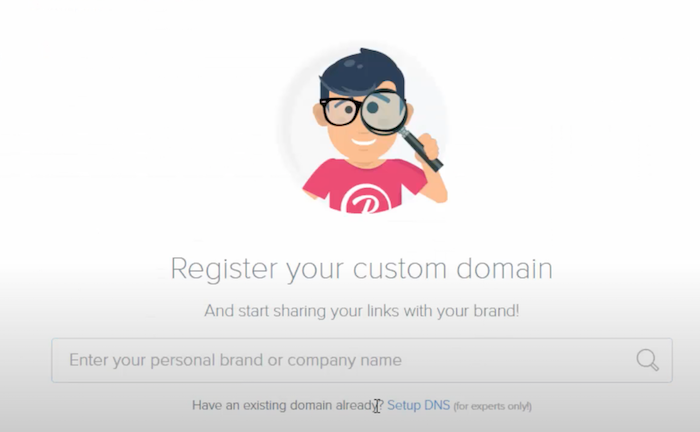 It's free to sign up, but paid packages start at just $29 per month, which gives you access to more detailed metrics and a larger number of branded links. If you're looking for an enterprise-level solution for larger teams, reach out to Rebrandly for a custom quote.
3. Ow.ly
If you're already using Hootsuite, Ow.ly is worth a look.
You can shorten any link posted to social media right from the Hootsuite dashboard. This lets you view everything from your campaign ROI to your link metrics at the same time. There's no need to switch between different tools (unless you're also using other platforms like Google Analytics.)

Ow.ly comes free with every Hootsuite account, too, so you don't need a paid subscription to benefit from the tool. Sounds good, right?
All that said, Ow.ly's only available to Hootsuite users, so it's not the right tool for everyone, but it's worth a try if you already use Hootsuite.
4. Bitly
For enterprise-grade link management, consider Bitly, one of the most comprehensive tools out there.
With Bitly, you're not just creating short, branded links. You're turning those links into valuable marketing tools. Bitly offers some of the most in-depth campaign management tools available to help you track everything from clicks to organic shares.
It's a useful tool for tracking customer journeys without hopping between different CRMs, making it ideal for larger companies looking to track data and grow their campaigns efficiently. You can even generate QR codes to engage customers and drive sales.
What's more, Bitly is trusted by the likes of Amazon, Disney, and Gartner, so you know it's a platform that delivers on its promises! Packages start at $29 per month.
5. TinyURL
No roundup of link shortening tools is complete without TinyURL, the very first program of its kind: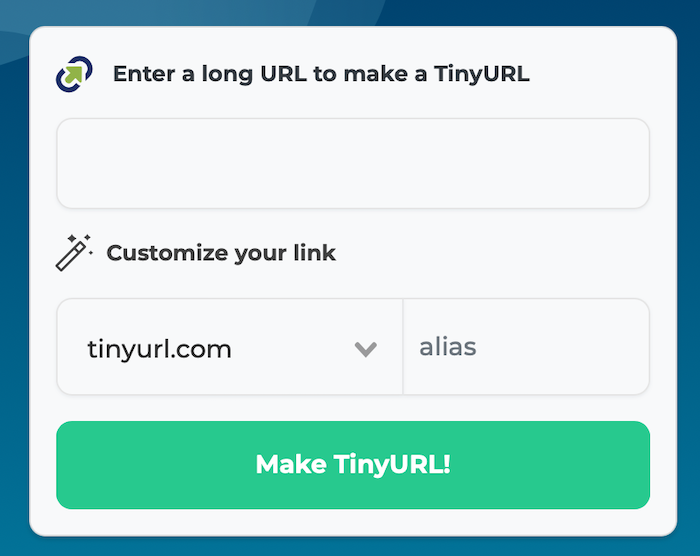 You don't need an account to shorten one or two short URLs. To get the most of the platform, sign up for a free account which allows you to create an unlimited number of URLs and track clicks.
The Pro package starts at $9.99 per month and offers advanced tracking options. For businesses looking to run high-volume ad campaigns, the Bulk package may be a better option at $99.00 per month.
If you're looking for a no-fuss way to shorten your URLs and track some metrics, TinyURL is worth a go.
6. BL.INK
Are you a small business owner looking to launch marketing campaigns but don't need a large-scale solution? BL.INK was designed for you.
With BL.INK, you can quickly share shortened URLs across social media channels and even send actionable links by SMS or messaging platforms. BL.INK seamlessly integrates with existing worktools and CMS, so you can easily track link performance and view the data alongside other metrics.
Packages start at $48 per month, making it one of the more expensive tools on the list. However, you can try it free for 21 days, which is a bonus.
If you're not looking for an enterprise-level solution but want more than just a basic shortening tool, consider BL.INK.
7. Sniply
Do you want to add a CTA to every shortened link you create? Now you can, thanks to Sniply.
On the surface, Sniply works like any other link shortener. However, it offers a unique level of customization: you can embed a colorful CTA button with every link you share across social media.
Not only do your links look more appealing because they're shorter, but they're more actionable than ever:

Pricing is reasonable, too, with packages starting at $29 per month. However, if you want to add more than one team member, you'll need to opt for a more expensive tier.
Link Shortener Frequently Asked Questions
What is link shortening?
Link shortening, or URL shortening, lets you change how a link displays to users. You can make a URL appear shorter or even add branding and still send users to the correct page.
What's the point of link shortening?
A link shortening tool turns a long, rambling link into something memorable to share with prospects, which is handy on social media. You can also track the number of real people visiting your website, which provides more accurate analytics information.
Why did Google stop supporting Goo.gl?
Google made the changes in response to how people use the internet. Its new tool, Firebase Dynamic Links, is more flexible than Goo.gl and lets site owners redirect users on mobile apps rather than just desktop websites.
When should you not use link shortening?
Since one of the main reasons we shorten links is for tracking purposes, you don't need to shorten links if you're just linking from one page on your website to another.
Link Shortener Conclusion
Are the alternatives to the Goo.gl link shortener worth your time? Absolutely. With the range of link management tools out there, you can quickly generate short, readable links to showcase your brand and drive traffic to your website.
What's more, there's a link shortening tool to suit every marketing strategy, whether you're looking for a no-fuss, budget-friendly option or want to invest in an enterprise-level solution.
Have you tried a link shortening tool yet? How has it improved your conversions or made it easier to track your performance?
————————————————————————————————————————————–
By: Neil Patel
Title: 7 Link Shortener Alternatives to Goo.gl
Sourced From: neilpatel.com/blog/link-shorteners/
Published Date: Fri, 30 Jul 2021 13:00:00 +0000