A website redesign mistake can make or break your business. Your website's design and functionality play an important role in generating revenue and ultimately decide whether your audience trusts your company.
How you redesign your website will determine its return on investment in today's digitally-dependent world. It is clear that you want your website to drive more traffic and increase brand credibility. But how do you go about making it happen?
We've listed some of the most costly mistakes in website design and how to avoid them.


Quick Takeaways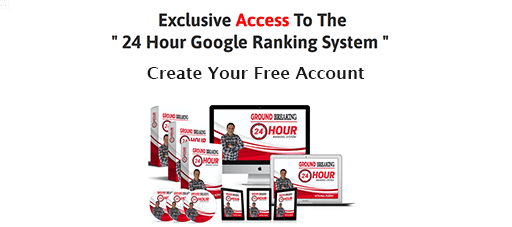 90% users abandon a website due to poor design and 94% say that webdesign is why they distrust a website


SEO should be included in the website redesign process in order to maintain your rankings and organic traffic.


Google reported 75% of internet users prefer mobile-friendly websites


65% of businesses lose organic traffic after redesigning a website. This is due to neglect SEO

You can avoid common mistakes in website design to ensure that your website maximizes growth opportunities.
How important it is to avoid making website redesign mistakes

A recent survey found that 90% of website users abandon websites because they are poorly designed. 94% of website visitors say poor website design makes them distrust websites. Your website is crucial to the success of your digital company.

Image source: Datachieve Digital

Your site design is not just about how it looks. It also includes its functionality. Your site's design can make a first impression on potential customers. However, it is its functionality that will determine whether you reach your target audience.
If you want to keep your hard-earned rankings, SEO (search engine optimization) must be included in the website redesign process. Failure to do this will lead to a loss in organic traffic and a fall from page one on the SERPs.
Redesigning a website is a complicated process. However, it can be simplified by understanding how will help your site's productivity and harm.
7 Mistakes in Website Design to Avoid

It doesn't take much to improve your site's appearance, keep your SEO in good shape, and avoid traffic loss. Avoid these seven mistakes when redesigning your website to improve its functionality and visual appeal.
1. Prioritizing Form Over Function

It's important to not place too much emphasis on the form of your website when redesigning it. Modern, sleek features can be great but they shouldn't sacrifice functionality and practicality. Site visitors expect a certain level of functionality and design when visiting a new website.
Instead of focusing on innovation in your new design you should focus on maintaining a traditional layout encouraging action. A two-column layout is visually appealing and can be converted easily.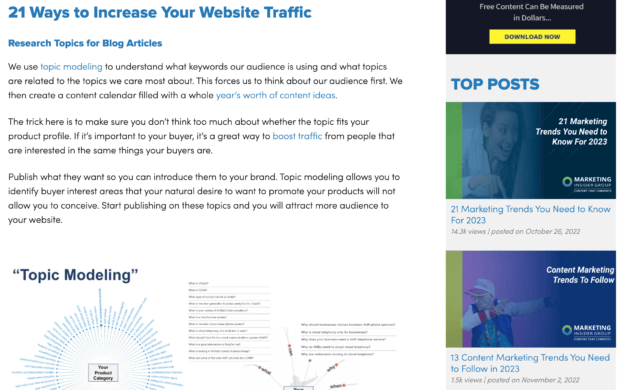 This is what we are seeing more often with website redesigns for clients: Single-column designs look great but offer no conversion opportunity!
It is possible to attract more leads by balancing beauty and usability. This will also help avoid technical problems like slow-loading pages. Engaging site visitors will be made easier by making small changes to improve their experience.
2. CTAs that are ineffective

Ineffectively or not using CTAs (calls-to-action) is one of the most common mistakes in website redesign. CTAs are designed to help visitors take the next step towards purchasing from your business. CTAs are essential for prospects to be able to locate what they need. Include CTAs:
The top of all web pages
The end of all blog articles
2. Column 2 of the blog page
In a welcome pop up message
In email marketing content
Your audience will not be distracted by your CTAs as they visit your site. CTAs should be concise and clear to ensure that they are effective. Watch the video below to learn how to create an effective CTA.

Video Source: LemonLight

3. Neglecting SEO

A website that isn't optimized for search engines won't reach your target audience. Neglected SEO can lead to 65% of businesses losing organic traffic.
It is important to incorporate SEO strategies throughout your website in order to maintain visibility. You should, for example:
Send a sitemap to the major search engines
Old URLs should be updated, but not deleted
Secure your network with an SSL certificate
Transfer articles, bogs and white papers to a new site
Unique meta titles and meta descriptions should be used on all pages
SEO is crucial to the success and relevance of landing pages, product pages, blogs, and other pages. SEO is a must-have for any website redesign.
4. Not Designing A Mobile-Optimized Site

Website functionality is best when it seamlessly works with different browsers and operating systems. Your website won't work on the device your prospect uses, and you will likely lose their business.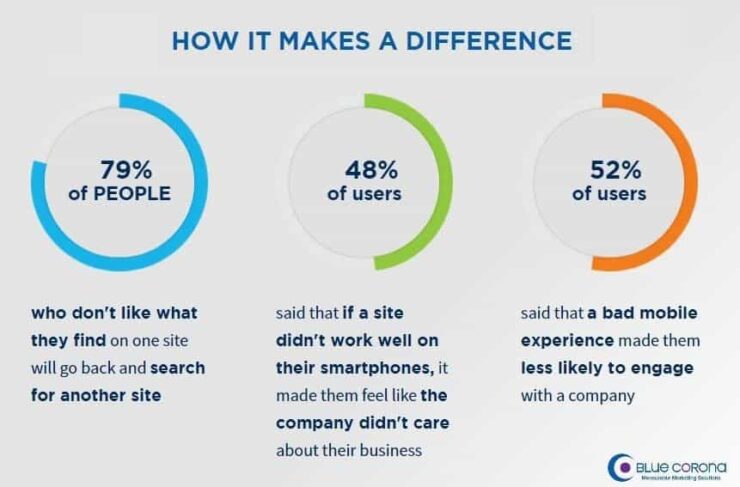 Image Source: Blue Corona

Google reports that 75% of internet users prefer mobile-friendly websites. Your new website design should be compatible with all mobile systems, as most internet users search on mobile devices.
Neglecting the user experience is the biggest mistake in website redesign. Users will be more inclined to look elsewhere for information if navigation issues are not addressed.
Today's customer demands can be met quickly in today's digital world. Site visitors will abandon your site if they are made to wait. To keep your potential customers coming back to your site, ensure that your new navigation menu is easy-to-find and easy to use.
6. Strategy for Content Strategy

High-quality content is a key component of a well-designed website. Use keywords with high search volumes and post consistently to ensure your content reaches its intended audience.

Many types of content can be used to attract leads and customers.
Blog posts
Videos
Ebooks
Templates and tools
White papers and reports
Case Studies
No matter what content you share, it is important to have a solid content strategy before you launch your website redesign. You can ensure that your efforts lead to quality leads and sales.
7. Not optimizing for lead generation

While visual appeal and technology are important, they don't make the money. Failing to optimize your website in order to generate new leads is one of the most common mistakes made when redesigning websites.
Your website redesign is a great way to convert visitors into customers. Strategically using the right formatting, text and graphics can help to ensure that your website converts visitors into customers.
This is best illustrated by a CTA button in your main navigation, which highlights the most important action that you want visitors to take. We want our visitors get more traffic (with our weekly blog service, obvi!)


For you, this could be "Get a Demo" and "Talk to a Consultant." Using a secondary colour can make your product stand out.

PS- We are currently redesigning our website so these examples will look and work even better.

Avoid Making Mistakes in Website Design Today

Digital marketing professionals can help you avoid making costly mistakes in website design. A well-designed website will see more organic traffic, generate quality leads, and increase revenue.
Marketing Insider Group can help you improve your website's functionality and visual appeal. Get started on your website design by visiting our weekly blog content service or scheduling a consultation today!
Marketing Insider Group published the article 7 Mistakes in Website Design.

Frequently Asked Questions
What is the difference in marketing and advertising?

Advertising is a type of communication that promotes products and brands. Advertising typically has a clear call-to-action, such as "Buy now!" Click here or "Buy Now!"
On the other hand, marketing is a way of communicating your company's mission, vision, and values to potential customers. Marketing also helps build relationships with current customers and prospects.
For instance, if you sell shoes online, you may use marketing to tell your story about who you are and what you offer. Your history, philosophy and commitment to quality could be discussed. You could also share testimonials from customers who are satisfied with your products. Or you might even create an event where you give away free pairs of shoes to encourage people to visit your website.
Marketing, or telling stories, is in essence about telling stories. Advertising is about selling products.
What is search engine marketing?

Search Engine Marketing (SEM), is an essential component of digital marketing. SEM includes paid advertising, sponsored ads, display ads and paid inclusion. It also includes search engine optimization (SEO), mobile marketing, social media marketing, video advertising, mobile advertising, and other related services.
Are there any risks associated with digital marketing?

Yes, there are several risks involved in digital marketing.
Protecting your online reputation is the first thing you should do. Be careful about what and how you speak on social networks.
It is important that you ensure your content is original, and not copied from others.
You also risk losing control over your brand image if your online presence is not monitored closely.
You could also be vulnerable to identity theft if your personal details are used without your consent.
How to Protect your Online Reputation
Pay attention to what you post on social networks
Ensure that All Content Is Original, and Doesn't Infringe upon Any Other Intellectual Property Rights
Monitor Your Brand Image
Strong Passwords
Use personal details only with permission
Report Any Unauthorized Activity Immediately
Don't Post Photos Of Yourself Or Others In A Disturbing Way
Never divulge any Social Security Number
Stay up-to-date with the most recent news
Stay Away from Scams
Select a Secure Password
Always check for updates
Don't share too many details
Take care when you give credit card numbers
Do Not Send Money Through E-Mail
Beware of fake websites
Remember that bad reviews can cause problems for your business
Regularly review your credit reports
Be vigilant about your privacy settings
Ask someone you know before sharing anything
What are some direct marketing examples you can think of?

Direct Marketing Examples include postcards, brochures, flyers, e-mails, etc.
Direct marketing helps reach people from anywhere, at any time. It's the best way to communicate with customers who have already chosen your product or service over another brand.
You should know which message will appeal to your target market the most.
It is important to understand your customer's needs and give it to them.
Direct marketing is a great way to promote your brand. You could send potential customers catalogs or advertise in local newspaper.
Another option is to create your own mailing list from existing customers. You can easily add subscribers to your existing customers list if there is a good database.
Ask your customers if they would like promotional material. Special offers may be offered by some companies to get discounts.
What should I budget on my first digital marketing campaign for?

It all depends on the campaign you launch. Your first campaign may cost you between $50 and $100.
Advertisement space can be purchased for search engines such Google or Bing. These ads usually cost around $10 per click.
Banner ads can be placed anywhere on your website that you own. This will help attract new visitors, and also bring back old ones to your site.
You can also hire a freelancer to design some banners for you. Freelancers usually charge between $20-$30 per hour.
Once you have created your first ad, you can begin tracking results. There are many analytics tools available for free on the Internet.
You can also manually track data. You can also keep track of data manually to gather information about your campaigns.
These data can be used to assess the success of your campaign.
If you don't find one that works, you can experiment with different techniques until you find one.
Statistics
External Links
How To
Six Types of Ecommerce Marketing

How can I market and sell my eCommerce store?
Ecommerce marketing represents one of most difficult marketing tasks. It requires that you understand your customers and their buying processes. You also need to understand how your products and service interact with them. You can then create a strategy that will help you achieve your goals.
There are six kinds of eCommerce marketing strategies.
Product Strategy – The first step is determining what kind of product you want to sell online. There are three main categories: physical goods (things), digital goods (services), and membership sites. After you've chosen which category of goods you want to work with you will need decide whether you offer wholesale or regular retail prices. Wholesale pricing is when you decide the price at which you will sell your products. Retail pricing means that you charge your customers directly for your products.
Pricing Strategy: Next, decide how much you want to earn from selling products. You should consider profit margins, competition, shipping costs, taxes, etc. You can increase your profits by lowering your cost per sale or increasing your sales volume when you are deciding on your pricing strategy.
Promotion Strategy: Now comes what? Your business needs a promotion plan that is most effective. You can offer free shipping, special discounts or coupons. You can also brainstorm new promotional ideas if you don't already have them.
Shipping Strategy – Now that you know how to promote your product, you can think about how to get it to people. You can ship via USPS or FedEx. Do you intend to use a fulfillment facility or do all the work yourself?
Merchandise Management System- The software you use to manage your inventory, track orders or fulfill orders is called the merchandise management system. You can choose from many different systems depending on your budget and preferences.
Customer Service Strategy: Finally, it is important to create a customer-friendly strategy for your company. Do you plan to offer phone support or email? Can customers contact you through live chat, social media, or even snail mail?
————————————————————————————————————————————–
By: Michael Brenner
Title: 7 Website Redesign Mistakes To Avoid
Sourced From: marketinginsidergroup.com/content-marketing/website-redesign-mistakes-to-avoid/
Published Date: Mon, 06 Feb 2023 11:03:05 +0000