Link building is the cornerstone of SEO. Any good online marketer or SEO needs to know how to build links to their site to rank well on Google.
The goal of this post is to provide something that all marketers with any skill set can use. Whether you're new to link building or have been building your backlink profile for 10+ years, you'll likely find some useful nuggets in this post.
Link Building Resources for Beginners
New to link building? These guides explain the basics and get you set up for success:
What Is Link Building? A Beginner's Guide: If you don't like the other guides, this one is more targeted towards beginners. It has some useful tips and provides more background on why link building is so important.
The Beginner's Guide to Link Building: A comprehensive link building resource for beginners. It has everything you need to get you started before you move onto more advanced tips and tricks.
How to Start a Link Building Campaign Fast (And Systematize Everything): Once you know the basics of link building, learn how to launch a campaign that gets you results, fast.
Comprehensive Link Building Guides
Want to skip the 500-word articles and go straight into a deep dive on link building? These massive free guides can help:

Link Building for SEO: The Definitive Guide: One of my favorite guides. Read it if you want a full background on link building. Learn how to get high-quality links—and what to avoid doing.
The Advanced Guide to Link Building: Broken up into twelve chapters, QuickSprout's guide is helpful if you're looking for tactics to build links.
Link Building for SEO: How To Do It Right: A massive link building guide with an estimated reading time of 40 minutes. Grab a snack and start learning.
Link Building Strategies
Let's look at some posts with a wide variety of link building strategies.
Link Building Strategies: The Complete List (2021): Here, you'll find over 170 link building strategies, tips, and tactics.
8 Unusual Link Building Strategies That'll Catapult Your Rankings: Looking for some unusual link building tactics? I've got 8 for you in this post.
3 White Hat Link Building Techniques That Go Far Beyond Links: Ryan Stewart is a former black hat SEO turned white hat. Here's what he learned about the most effective white hat link building techniques.
A Simple Guide to Turning (Unlinked) Brand Mentions Into Links: Your brand is probably mentioned in hundreds or thousands of places around the web, but not all sites link to you. Here's how to turn that around.
9 Easy Link Building Strategies (That Anyone Can Use): Just starting out? Use these simple link building strategies to start growing your DA and moving up in search results.
10-Point Link Building Cheat Sheet: Here are ten things you can do right now to help build your backlink profile.
9 Evergreen Link Building Tactics That Will Never Go Out of Style: When link building, you'll want to focus on the things that will matter years down the road. Here are nine tactics that will still be important in the years to come.
How to Spy Out Your Competitor's Backlink Profile and Gain 20% More Links to Your Site: Use these tips and my free tool Ubersuggest to find out exactly where your competitors are getting their links from and how to use this information to your advantage.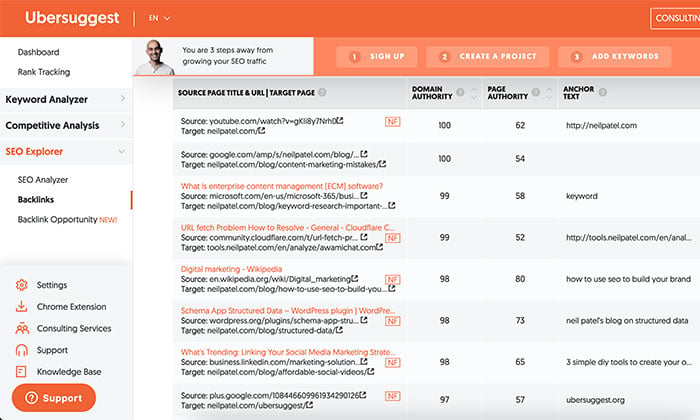 Broken Link Building: What You Need to Know to Get Links: Learn how to identify broken links on other sites, and recommend your resource as a replacement.
Organic Link Building With Content
Since content is becoming increasingly more important, here are some posts on link building with content:
The Ultimate Guide to Content Link Building: This guide by QuickSprout outlines how marketers can build links through lists, PDFs, images, and microsites.
3 Simple Ways to Build Links With Images: The great thing about using images for marketing is that it's one of the most efficient ways to build brand recognition and acquire natural mentions to a website.
6 Linkable Asset Types (And EXACTLY How to Earn Links With Them): Not into writing? This guide shows you how you can still create linkable content without putting pen to paper.
How to Use Video for Link Building: Learn about the SEO benefits of video, where to place video, video sitemaps, and places to pitch your new video for potential links.
How to Get High-Quality Backlinks With Infographics (And Boost Your SEO): This resource offers a step-by-step guide on creating infographics that add value to your audience and generate high-quality links from other bloggers.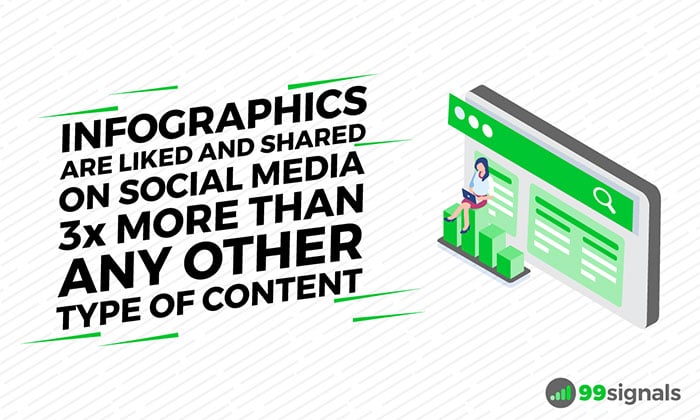 How To Do The Skyscraper Technique (To Get High-quality Links): Not familiar with the Skyscraper Technique? It's one of the best ways to get links and outrank your competitors in search.
What Is Link Bait? 8 Examples To Show You How It's Done: Creating content and getting zero links? Here's how to use link bait to reverse Uno your link building strategy.
Resource Page Link Building: The Only Guide You Need: A resource page (like the one you're currently reading) is a scalable link building tactic and one of the most popular ways to get backlinks.
Think Pieces on Link Building
These links are a little less how-to and have more insightful content on link building. If you're looking for link building tactics, skip this section. If you want to know about the essence of link building and why so many online marketers and SEOs focus on it, these articles can help provide that background.
The Beginner's Guide to Link Building: If you're new to the SEO world, you may wonder why so many are focusing on link building. This article answers why it gets so much attention.
5 Myths About Link Building: The fast-growing WordStream blog gives you some myths around link building.
What's the Cost of Buying Links?: Buying backlinks are a big no-no and violate Google's guidelines, but some still do it. Here's what it costs.
Link Building and Ethics: What You Need to Consider for SEO Efforts: This piece takes a look at ethical link building and SEO practices.
8 Experts Weigh in on the Past, Present, and Future Evolution of Link Building: Is link building still important for SEO? Top link building experts weigh in on how tactics are changing and what's no longer relevant.
Link Building Practices to Avoid
Just as important as the links you should be building is knowing what links you shouldn't be building. Remember that spammy links pointing to your site is a problem you need to take care of.
Link Building Techniques: The Good, the Bad, and the Ugly: The link building techniques that get you to the top of search results, as well as which ones will waste your time and hurt your website.
When & How to Disavow Backlinks in 2021: If you do have a lot of spammy links pointing to your site, you can use Google's disavow tool to ask Google not to count those links pointing to your site. This post from Moz shows you how to do that.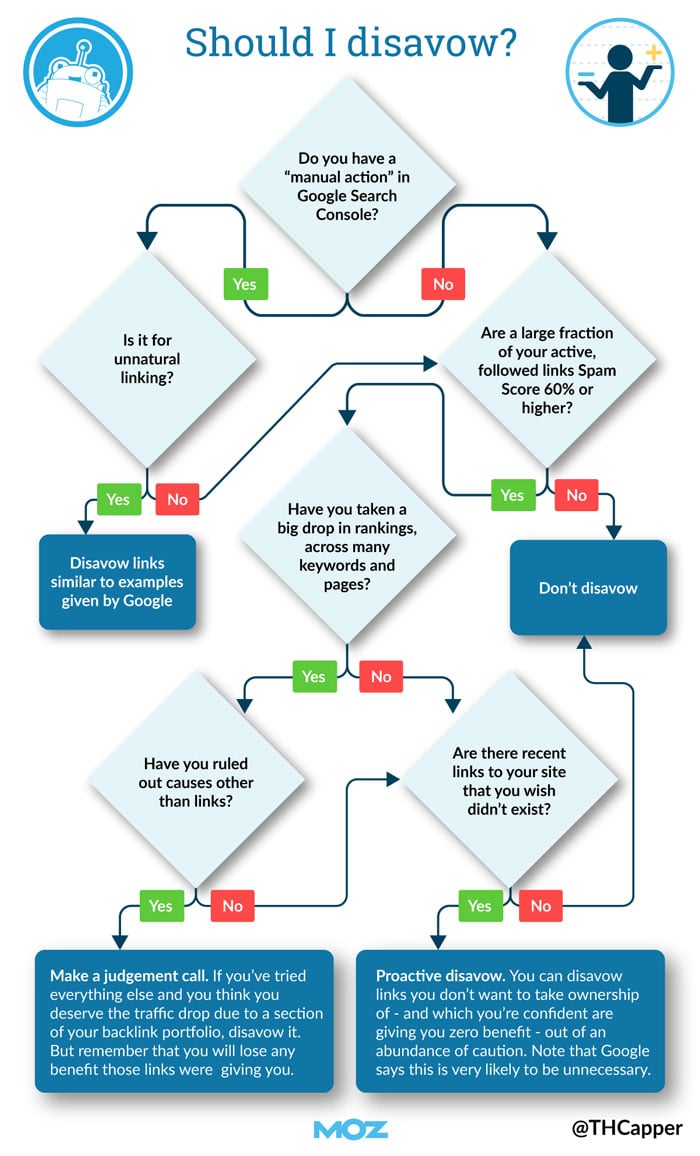 5 Types of Bad Backlinks You Don't Want: Not every backlink is equal. Here's how to clean up those bad backlinks hurting your link profile and search rankings.
Avoid These 8 Link Building Mistakes To Future-Proof Your SEO Efforts: Avoid these eight link building mistakes and stay in Google's good books.
5 Reasons Your Content Doesn't Attract Links (And How You Can Fix It): Not getting links? Here's how to fix that.
Building Local Links
If you have a local business, these link building strategies are made just for you.
Local SEO: A Simple (But Complete) Guide: This comprehensive guide tells you how you can get your local business to rank in search.
15 White Hat Link-Building Strategies for Local Business: Take a look at these 15 ways (including some unconventional methods) local businesses can get links.
13 Ways to Drive More Customers to Your Local Business Using Content Marketing: How you can take advantage of content marketing (blog posts, working with local content creators, etc.) to get quality links for your business.
Event Link Building: The Complete Guide: Whether you're a small local business or an international company, hosting local events is a great way to build your brand, both offline and online.
What Is a Local Link & How to Find More Local Link Opportunities: Don't know where to start with local link building? This post points you in the right direction.
50 Local Link Building Tactics for ANY Budget: The ultimate resource for local businesses, no matter how small.
Link Building With PR and Social Media
Think PR and social media have nothing to do with link building? Think again.

How to Construct and Use Personas for Link Building and Social Media: Learn how to use created personas in link acquisition and social media marketing practices by using them as ambassadors and helping scale the process of marketing a brand over the web.
Link Building Made Simple: How to Build 61 Links Using Social Media: Discover how to use social media to impact your SEO efforts and how the two can work together to grow your business.
HARO Link Building Service: How We Land BIG Links for SEO Clients: A breakdown of using HARO to get free press and backlinks for your website.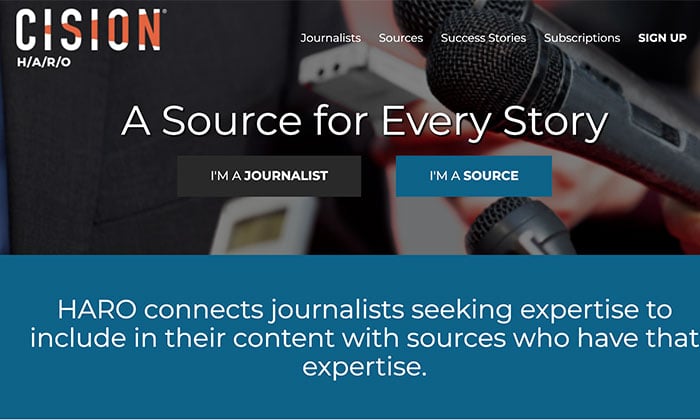 A Guide to Digital PR and Why It's Important for SEO and Link Building: This guide shows you how to use digital PR in your link building strategy to gain a competitive advantage.
How to Use Surveys to Tap into Trending Conversations (And Build Links): Find out how to use surveys to attract the attention of writers at top publications.
Link Building Tools
Nothing makes link building more productive and effective than the right tools. Here are posts reviewing some favorite link building tools:
Ubersuggest: I created Ubersuggest to help you find the best keywords for your content marketing strategy. Besides keyword research, it also has a robust backlinks feature which details who is linking to you (as well as your competitors).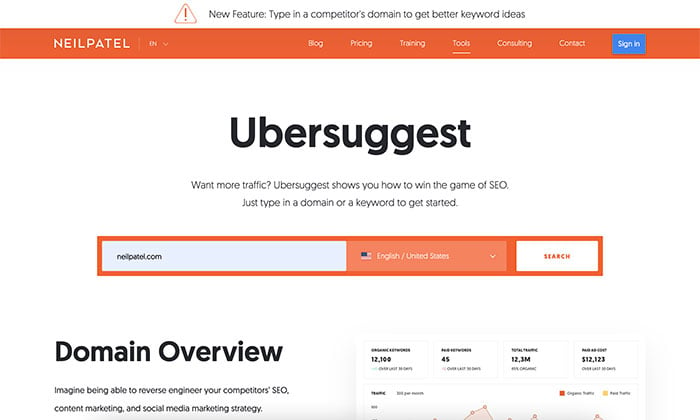 82 Experts Rank Best Link Building Tools: What is the best link building tool? Robbie Richards reached out to SEO experts to find out what's a hit or a miss.
10 Tools That Will Get You More Backlinks: This list is also useful if you're looking for more tools to monitor and grow your link juice.
10 Backlink Analysis Tools That'll Help You Understand Your Link Profile: It's not about link building blindly. You need to know who is linking to you and which ones you'll need to disavow. These nine tools can help you with that.
15 Awesome Link Building Tools: Backlinko gathered up a list of all the best link-building tools that they've used to get links from sites like Entrepreneur.
Best Link Building Blogs
Want to keep up with link building news? Here are the top SEO blogs link building categories.
Link Building on Moz
Link building on Backlinko
Link Building on Search Engine Land
Link Building on Search Engine Watch
Link Building on Search Engine Journal
Link Building on Ahrefs
Link Building on Wordtracker
Link Building on KaisertheSage
Link Building on BuzzStream
Link Building on SEMrush
Q&A on Link Building
Have questions about link building, or want to demonstrate your link building expertise? Here are some places where you'll find lots of people asking about link building:
Link Building Q&A on Moz
Link Building on Quora
Link Building Subreddit
Link Building Resources Conclusion
There you have it! More than 60 great link building resources to chew on.
As you can see, there isn't one way to gain backlinks. There are many strategies you can use to start establishing yourself (and your business) as an industry thought leader.
The earlier you start putting effort into gaining links, the quicker you'll gain authority in search results and start outranking your competitors.
What are your favorite link building resources?
————————————————————————————————————————————–
By: Neil Patel
Title: 50+ Incredible Link Building Resources to Increase Your Search Rankings
Sourced From: neilpatel.com/blog/9-link-building-resources-thatll-increase-your-search-rankings/
Published Date: Wed, 07 Jul 2021 15:30:00 +0000